Quick shooting and eye-catching, the small-bore Henry shotgun models are instant classics.
What these Henry Shotguns offer:
Based on Henry's .45-70 Government rifle.
Available in two models: 20-inch barreled Rare Carbine and 24-inch shotgun.
Carbine has semi-buckhorn sights and blade front with brass insert.
Shotgun has simple brass bead front sight.
Carbine has integral cylinder choke, the shotgun a removable invector-style choke.
Chamber 2 1/2-inch shells.
5-round capacity.
Both models weigh around 7.5 pounds.
Each is stocked in straight-grained American walnut.
Not exactly continuing where Benjamin Tyler Henry left off, Henry Repeating Arms nevertheless has kept the classic lever-action not only relevant in the age of semi-autos, but sought after. Masterworks in hardwood, steel and brass, perhaps no single gunmaker has inspired more devotees in the past three decades than the New Jersey concern.
Honestly, Henry fans' enthusiasm knows no bounds and they have the bulging gun racks, cabinets and safes to prove it. Get behind a Big Boy, or any of their other lever guns really, and you'll quickly understand their fanaticism.
Henry rifles — faithful replicas and modern-day improvements alike — have and are the company's bread and butter. However, the manufacturer struck out in a new direction in 2017 with a pair of lightning-fast smoothbore lever-actions that are as fun as they are timeless. Chambered in mild .410, the lever-action Henry Shotgun and Rare Carbine Shotgun offer shooters of nearly any age possibly the classiest and most unique small-bore scatterguns to pitch shot around today.
Perhaps not as versatile as others in their class (namely because they're not a dual-purpose .45 Colt — no rifling), the shotguns still prove desirable and, for small jobs, practical. Jackrabbits in the sage, pigeons on the roost, coyotes too curious for their own good — none are safe with a Henry shotgun loaded and a capable man or woman on the lever. Equally so, any fun-gunning target of which you can conceive.
It's not much of a stretch to claim, Henry may have turned out one of the most enjoyable smoothbores in recent times. One any shooter would be proud to add to their collection.
Surveying The Henry Shotguns
Likely to spark a bout of déjà vu, the Henry shotguns seem very familiar. Hadn't the company done this before? In fact, they had and do, except as a .45-70 Government.
Based on the blued model of the large-bore rifle, the small-bore shotguns are, for the most part, spitting images. The echo between rifle and shotgun is especially pronounced with the 20-inch barreled Rare Carbine, given it boasts a fully adjustable semi-buckhorn rear sight, in addition to coming fully drilled and tapped for a scope, like the .45-70. The 24-inch barreled model, on the other hand, has a much more shotgun feel to it, with a simple brass bead.
Both configurations of Henry shotgun feature a tubular magazine that holds five 2 1/2 -inch shells. The shell size is adequate, but certainly won't win accolades from those who insist on 3-inch magnums. Yet, there is plenty of exceptional fodder to feed on in the 2 1/2 pasture — there are loads for nearly any operation you could possibly demand of a .410.
Aside from sights and barrel length, the choke is the other point of departure in the shotgun models. The Rare Carbine has a cylinder bore integral to its barrel; the 24-inch barreled shotgun has a factory-installed removable invector-style full choke, opening up patterning options.
Built for practical use, the .410s boast a number of features modern shooters will find convenient. Steel swivel studs help make the guns more mobile. The absence of a cross-bolt safety makes them faster to get into the game. And thanks to a transfer-bar safety, the guns can be safely carried with a round in the chamber and the hammer down. Additionally, the shotguns lack a half-cock position for the hammer.
Then there's the aesthetics, which both shotguns have in spades. Similar to almost every Henry, the head-turner of the guns is their richly finished sticks of straight-grained American walnut. The hardwood is set off with rich bluing. The only complaint in the looks department — no brass-receiver model.
Ammo Options
Buckshot, such as Remington HD Ultimate Defense or Federal Premium Person Defense, performs admirably out of the shotguns. Tight-patterning in general, once you get over the fact you're shooting self-defense shells you appreciate the potential for other targets, such as close-quarters coyotes. For small game up to turkey, No. 4 and 6 shot is more than enough medicine and nearly every ammo maker offers something in this range — Winchester and Remington leading the way. There is also an abundance of slugs, which opens the Henry shotguns up for deer season or a bit more distant attempts at running dogs. Brenneke has a 1/4-ounce option and Winchester a 1/5-ounce. In either case, they should prove more than adequate 50-yards and beyond.
What's It Good For?
Not a world-beater compared to a 12- or even 20-gauge, the .410 is still a potent bore. Whitetail (it is legal for deer in many states) and smaller quarry are all fair game. There is no more testing game than sub-small gauge skeet. And for general firearms enjoyment, there are few that hold a candle to the smallest commercial bore.
Certainly, you're working with fewer pellets per trigger pull, but learning to close in on quarry can make up the difference. The Henry's alleviates some of the density issues with a leg up in speed. With practice, lever-actions are among the quickest shooting firearms short of a semi-automatic. Add in the light recoil of the .410, the Henry shotguns have the potential of blinding speed shot to shot. Where this pays off particularly, outside of a missed single in skeet, are bulk shooting opportunities. Arguably, there are few potential pest eradicators more suited for the job than the Henrys, whether you're talking about a den of pesky raccoons or a hayloft full of rock doves.
Furthermore, the Henry shotguns' bores are well suited for the job, particularly in ever-more-common crowded rural areas. Unlike a .22, there's little worry of most reasonable shots endangering an unseen neighbor out trimming a bush or clearing brush. And the report is minimal enough to make a noise complaint improbable.
How about self-defense? Undoubtedly, the Henry shotguns could fill the role in a pinch and there are ample loads to transform this fun gun into a defensive maven. However, given the guns' large sizes and the dubious effectiveness of some .410 loads, they might not top the list of self-defense long guns.
Parting Shot
Given the multitudes of larger bores, it's difficult to get whomped up about a .410. Henry, nevertheless, has found a way. The drawback of the guns are their steep prices, particularly for a small bore. The 24-inch barreled model runs $947 and the carbine a slightly more affordable $893. Examples of more economical smoothbores are legion and possibly more attractive for casual shooters.
If money is no object, then these Henry shotguns are what jackrabbit hunting dreams and high-speed casual shooting sessions are made of. All in all the guns are quite a feat. Like the lever-action itself, Henry has found a way to make the smallest commercial bore not only relevant, but desirable.
Shotgun Specs
Barrel Length: 24″
Barrel Type: Round Blued Steel
Rate of Twist: Smooth/Full Invector Style Choke
Overall Length: 44.5″
Weight: 7.54 lbs.
Chamber: 2 1/2″
Receiver Finish: Blued Steel
Rear Sight: none
Front Sight: Brass Bead
Scopeability: N/A
Stock Material: American Walnut
Buttplate/Pad: Black Ventilated Rubber Recoil Pad
Length of Pull: 14″
Safety: Transfer Bar
Choke: Screw in Invector Choke
MSRP: $947
Rare Carbine Specs
Barrel Length: 20″
Barrel Type: Round Blued Steel
Rate of Twist: Smooth/Cyl. Bore
Overall Length: 40.5″
Weight: 7.33 lbs.
Chamber: 2 1/2″
Receiver Finish: Blued Steel
Rear Sight: Fully Adj. Semi-Buckhorn w/ Diamond Insert
Front Sight: Brass Bead
Scopeability: Drilled and Tapped
Stock Material: American Walnut
Buttplate/Pad: Black Ventilated Rubber Recoil Pad
Length of Pull: 14″
Safety: Transfer Bar
Choke: Cylinder Bore
MSRP: $893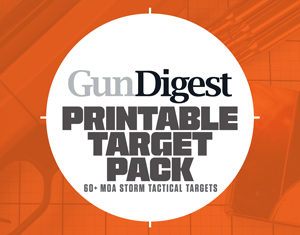 Next Step: Get your FREE Printable Target Pack
Enhance your shooting precision with our 62 MOA Targets, perfect for rifles and handguns. Crafted in collaboration with Storm Tactical for accuracy and versatility.
Subscribe to the Gun Digest email newsletter and get your downloadable target pack sent straight to your inbox. Stay updated with the latest firearms info in the industry.