Paired with Aguila's Minishell, the new Mossberg 590 Shockwave is taking the personal defense world by storm.
What makes the Mossberg 590 Shockwave so exciting?
It has a 14-inch barrel but avoids NFA classification by being factory produced with a pistol grip instead of a stock and because it's just above 26 inches in overall length.
With the addition of an OpSol Mini-Clip, a rubber adapter, the gun reliably feeds Aguila's Minishells.
At its heart, it's still Mossberg's utterly reliable 590 pump action, just in a much more compact package.
The name of the game is not only to be the best, but also to be first. Mossberg can check both items off its list for 2017, having introduced its Mossberg 590 Shockwave into the marketplace as really the first of its mass-produced kind: a super compact shotgun, perfect for personal or home defense, that features a 14-inch barrel but conveniently avoids classification as a National Firearms Act (NFA) firearm.
Since its introduction at the 2017 SHOT Show, the Mossberg 590 Shockwave has taken the gun industry by storm, and other manufacturers like Remington — which introduced its own Model 870 TAC-14 at the NRA Show in April — have been forced to follow suit. When Gun Digest editors first shared news of the new Shockwave on our Facebook page, the hum of online chatter immediately went through the roof, signaling the widespread popularity and rapid cult following the compact shotgun was to receive.
And all for good reason. The beauty of the 590 Shockwave is its simplicity: As the name implies, it's built around the legendary and ultra-reliable 590 platform and features a 14-inch barrel with Shockwave Technologies Raptor grip, giving it an overall length of 26.32 inches.
How does it avoid classification as an NFA-governed item? According to the BATFE, an NFA shotgun would be classified as one having a barrel less than 18 inches in length, or an overall length less than 26 inches. For such NFA items — which include short-barreled rifles (SBR), machine guns and suppressors — there is of course the $200 tax stamp and a mountain of bureaucratic red tape tall enough to warrant the interest of serious alpinists.
Because the Shockwave is fitted with a pistol grip at the factory instead of a shoulder stock, however, it is considered a Pistol Grip Only (PGO) firearm, and as long as the overall length remains greater than 26 inches the barrel can be shorter than 18 inches (hence the 26.32 inches of overall length provided by the Shockwave Raptor grip). Per Mossberg's website, this means the buying age is 21 years and state laws still apply, so do your research.
I first got my hands on the 590 Shockwave at the SHOT Show 2017 range day, and my first thought was that it'd be a perfect fit for Aguila's Minishell. The problem with the Minishell, as I've discovered with previous reviews of the pint-sized load, is that it doesn't function well in pump or semi-auto shotguns — because of its length, the shell has a tendency to flip over in the action, creating an obvious functionality problem.
I've also used it in sporting clays competition in Mexico with a Benelli over/under shotgun, though, and in that capacity it is phenomenal for its ability to minimize recoil, something that'd obviously come in handy with a small-sized firearm like the Shockwave. If only, I had postulated at the time, there was an adapter that would fit a receiver and keep the shell from tumbling.
Mossberg really did think of everything on this project, which is why the Shockwave is compatible with an OpSol Mini-Clip, a rubber adapter that turns your 590 into a Minishell-loving machine. The rubber block ($15 on Amazon) presses into the rear underside of the loading port and is angled to function as a feed ramp for the Minishell.
For review, I rapid-fired 40 rounds of 1¾-inch Minishell buckshot loads without a single failure to feed. Not only did the Minishell function flawlessly, the recoil difference between it and the 2¾-in. shells I also fired through it was astounding.
After six shots with the full-size loads, my left hand, placed inside the nylon forend strap, screamed for a cease-fire. There's no way I would have shot 40 times with full loads — it's simply that uncomfortable to shoot, and all the more reason, in my opinion, that this particular platform works precisely because of the pairing with Aguila's Minishell.
Shotgun Features
The Shockwave is, at its core, a 590 Mossberg pump action, so all controls and features are the same except for the barrel length and Shockwave Raptor grip. The shotgun, which has been tested and proven true by military and law enforcement personnel, features dual extractors, positive steel-to-steel lockup, twin action bars, and an anti-jam elevator for smooth, reliable operation. The 590 also features a top-mounted safety for ambidextrous functionality.
A strapped forend helps keep your forward hand from clearing the muzzle, while sling studs are attached to the magazine tube and grip. The Raptor grip is designed to minimize felt recoil, though for my money the greatest aid to recoil mitigation is the Minishell.
In terms of capacity, the Shockwave holds eight plus one of the Minishell, five plus one in 2¾-inch shells, and four plus one if you're brave enough to shoot 3-inch loads, in which case a good pair of shooting gloves would be highly advisable. The Shockwave also comes with a rugged, black case and carries an MSRP of an unbeatable $450.
Range Ready
While it does obviously lack a typical stock for shouldering the shotgun, it's a common myth that you can't raise a pistol-grip shotgun like the Shockwave to eye level and use your sights. After all, there's a front brass-bead sight for a reason. Even with 2¾-inch loads and the increased recoil, the shotgun is not going to hit you in the face (unless you seriously and intentionally noodle arm the thing for the sake of a viral YouTube video).
That said, with just a little bit of practice you can make hip shooting an effective tool in your defensive shotgun craft, especially at close range. The general tendency is to shoot high, so training with a steel target will help you lower your aim. Once you shoot a few rounds it's easy to get the hang of it.
As I said earlier, the Minishell is the perfect pairing for the Shockwave. Without it, I'd probably opt for a different defensive shotgun option or forend, but with the 1¾-inch buckshot I'm simply in personal defense heaven. At standard defensive ranges, the buckshot loads are absolutely lethal, making the Shockwave the ideal bedside or truck companion. As it so happens, the Shockwave and Minishell are also lethal on kamikaze ground squirrels, albeit completely overkill.
The 1¾-inch buckshot Minishell grouped admirably at 10 and 15 yards, as did the 2¾-inch sporting loads, both excellent products from Aguila. I had exactly zero functionality issues with either load, and the OpSol Mini-Clip worked 100 percent as well as advertised.
Parting Shots
As far as I'm concerned, the 590 Shockwave from Mossberg, when paired with the Aguila Minishell and OpSol Mini-Clip, is an absolute home run. Not only does it make for an extremely compact, lethal personal defense shotgun, it can also be had without going the death-by-paperwork route of a typical NFA governed item. Now that I've reviewed it, I can't imagine a better bed- or truck-side companion. Or, for that matter, a better price.
This article is an excerpt from the Summer 2017 issue of Gun Digest the Magazine.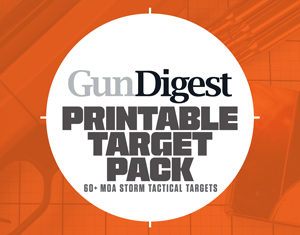 Next Step: Get your FREE Printable Target Pack
Enhance your shooting precision with our 62 MOA Targets, perfect for rifles and handguns. Crafted in collaboration with Storm Tactical for accuracy and versatility.
Subscribe to the Gun Digest email newsletter and get your downloadable target pack sent straight to your inbox. Stay updated with the latest firearms info in the industry.