South and Central American wingshooting destinations require shotguns be able to handle abuse and high-volume shooting.
What shotguns can handle high-volume hunting:
No wonder all the shotguns are blazing. You can see thousands of doves in the air. Your shotgun's muzzles are doing a mini dance back and forth as you decide which winged target to zero in on. You know your gunning partners are experiencing the same excitement. This is only your first afternoon of shooting, but you are already realizing that the billing and extreme shotgunning about this trip have not been exaggerated. In fact, the shooting is already even better than expected.
In the few seconds you've been thinking this, you realize your gun is empty. As you break that over/under open, the spent shells go flying, but before they hit the ground your shooting assistant (they used to call them bird boys) is already inserting new shells. Time to pick out another dove target!
I was first introduced to this type of shooting in 1972. That's when I realized I was "born" for such shooting, so I've made it a point to return and return, and my next trip will be number 56 — and this does not include many trips to shoot in Mexico. Consequently, I've learned a lot about where to go, and, because I almost always take my own guns, I have found out a lot about the ones that "work." Further, these days most outfitters rent shotguns for this shooting — so what can you expect from those shotguns?
---
More Shotgun Articles:
---
I don't bang away as frequently on these trips as I once did, but I do know it's common for most shooters to fire 500 to 1,000 shells each half-day of shooting. If you round that off to 750 shells times eight hunts (afternoon hunt on day of arrival, two hunts a day for the next three days and a final hunt the day of departure), that's 6,000 rounds. Any gun you take must be up to that degree of punishment. Further, on some of these hunts, daytime temps are in the 80s, sometimes higher — such hot weather will also take a toll on the gun(s) you take.
In 1972, outfitters had no rental guns. Traveling shooters took their own. These days, probably more than 80 percent of the thousands and thousands who flock to the likes of Nicaragua, Argentina, Uruguay, Paraguay and Bolivia rent guns from the outfitter. Since you're reading this, I'm betting you're a shotgun guy, so you'd like to take your own shotgun(s) on such a trip. I will return to the rental-gun aspects after some suggestions for taking your own.
Guns That Make The Cut
The bottom line on this: Take the best, most reliable shotguns you have — not the least expensive. Feeling edgy about traveling with your best guns internationally? In all my previous 55 trips, I've never lost a gun in transit or while away. I did have a fine over/under experience a trigger problem once, but the outfitter jury-rigged it so it worked, and I had it properly repaired when I got back home. I've never heard of anyone losing a gun on these trips. One or two shooters, due to negligence of attention, had their guns kept in foreign customs. All were eventually returned.
Why such an excellent record of not losing guns? First off, working through your outfitter or their agent, proper gun paperwork must take place well in advance of your trip. When you arrive at your departure airport, you will have copies of that paperwork for the ticketing agent. When you arrive at your country of destination, authorities will be waiting with those paperwork originals.
Upon departure from your hunt, you must check those guns out of the country — this is to assure no guns are left behind. Upon arrival in the U.S., you need a signed U.S. Customs form #4457 to get your guns back into our country. The form will have your gun's make, model and serial number. This form is good for life — so have that form plasticized.
Suggestions For Taking Your Own
Remington 3200
One of the first shotguns I took to Colombia was a Remington 3200 over/under with 26-inch barrels. This 12 gauge was relatively heavy — which dampened recoil a bit due to its 9-pound weight. That O/U made many trips to Colombia, and it held up perfectly. The 3200 has not been made for many years, but it's a good one — and readily available on the used market. The lockup is solid and, despite the weight, the 3200 swings well and is in balance.
Beretta 682 O/U
A second gun that made many a trip was a Beretta 682 O/U. These guns are still made — though maybe with a slightly different cosmetic look compared to my original. The 680 series Berettas have an exceptional record of holding up well to thousands of competition rounds, so it's no wonder that they work so well to, say, 6,000 rounds on a typical hunt to Argentina.
The 680 series is made with no under-locking lugs — thus, a receiver with less depth results. Theoretically, such guns are easier to shoot because the hands are in closer relationship with the barrels. Barrels pivot on trunnions. Two conically shaped bolts move forward from near midway in the receiver — to engage matching milled cutouts adjacent to the top barrel. The 680 series' final lockup is the "shoulders." Several different Beretta semi-autos are popular as rental guns in these countries, and I'll talk more about those in the rental-gun section.
Krieghoff Model 32 Or K-80
During my years of competition skeet shooting, my two-man team partner often remarked — if I had a gun problem — "Someday, you'll get a Krieghoff." Eventually, I bought five of them, and I still have two.
One of the latter has made many, many trips to South America. This one is not a K-80 — the Krieghoff in production today — but the K80's predecessor: the model 32. Though not currently made, they are offered regularly on the used market — and at prices that are very low compared to the K-80.
Essentially, the two are the same gun — at least in design and lockup. K-80s have great triggers, but if one ever wants a K-80 trigger, they are made to fit the model 32 as well. Further, the K-80 has a casehardened receiver; the model 32 does not. There are other differences between the two models, but not that many. Both models lock up with the sliding top lock — a system that was originated with the Remington Model 32. There are no under-locking lugs, so this is another receiver with no additional depth, and the barrels pivot on trunnions.
Krieghoffs are well-known for their total reliability no matter how many thousands of rounds are put through them — thus, another perfect choice for high-volume South American shooting. The one I take with me wears 28-inch barrels and a recoil-absorbing JS Air Cushion stock.
Caesar Guerini Summit Sporting
Caesar Guerini hasn't been in business for decades, but since their introduction in 2003, this company has gobbled up a huge share of the over/under shotgun market. In that first year, I bought the manufacturer's Summit Sporting model in a 28 gauge with 32-inch barrels. That gun made more than one trip to both Argentina and Uruguay, but I eventually had that gun fit with a set of 20-gauge 32-inch barrels. This 20 bore has made many trips to Bolivia, Uruguay and Argentina.
The Summit Sporting is one of Guerini's least expensive over/unders, but they're all built with the same locking system; barrels pivot on trunnions, a receiver-wide bolt in the bottom of the receiver moves forward upon closing — where that bolt engages lugs milled into the bottom of the monobloc — plus, there are dual recoil lugs milled into the bottom of the monobloc that nestle into matching recesses in the bottom of the receiver.
Also, the checkering is very well done and at an unprecedented 26-lines to the inch. The 32-inch barrels are not for everybody, but this Guerini weighs 7 pounds, 5 ounces. If it were an 8.5-pound 12 gauge, I don't think I'd like those long barrels, but I shoot this one well. It's an elegant-looking gun, too. Further, this Summit Sporting has been shot thousands and thousands of times — with never a hiccup.
Perazzi MX8
This brings me to Perazzi, a favorite of many smoothbore aficionados, and a particular favorite of mine. Perazzi makes several models. Mine is the MX8. Lockup is similar to the Boss from England made decades and decades ago. Barrels pivot on trunnions, and two locking bolts move forward upon closing — to engage two milled-out matching recesses in the monobloc. The MX8 and other Perazzi models have an unparalleled reputation for reliability, especially in trap circles. This one carries 28.5-inch barrels.
Beretta A400
Bill Straub and Debbie Meade have accompanied me on my last three trips to both Jorge Molina's lodges in Bolivia. They bought and take along the Beretta A400 semi-auto in 28 gauge. Both these guns also have the Kick-Off recoil reduction system in the stock — for virtually no recoil — especially in their 28 gauges. Most all Beretta semi-auto shotguns are well-known for their reliability, as various Beretta semis are depended upon by some of today's top sporting clays shooters. These guys and gals shoot 12-gauge Beretta semis in competition — but most all of them opt for the Kick-Off.
Reliable Rental Guns
Beretta 390 and 391
What about rental guns in these countries? As you might guess, Berettas are very popular. I don't see many A400s yet, as that model is relatively new, but I do see plenty of Beretta semi-auto models — 390s and 391s. If you're accustomed to shooting one of these in the U.S., check with your outfitter before departure to see if you can reserve one for yourself. Gas-operated, these Berettas suck up recoil; plus, they handle extremely well.
Benelli M2 Field
Two years ago, Bolivian outfitter Jorge Molina purchased 50 Benelli M2 semi-autos. He knew from previous experience that Benellis certainly held up. The idea in buying 50 of all the same model was that it would be easier for his gun staff to work on; plus, they'd be able to buy the same typical spare parts that break and have them on hand. This philosophy has worked well for both his lodges, and most of his clients rent — and they like the M2 despite these guns not being gas-operated.
Ammo-wise, he carries both Rio and RC (made in Italy) shells — the 12 gauges at 7/8 ounce (24 gram) and 1,350 fps, and he also has 20- and 28-gauge shells at the same 24 grams and same high velocity. Maybe the added velocity ensures reliable working of the semi-autos.
Molina still has his Beretta semis from previous years, though not a lot of them. They have been functional for maybe a decade. Do the math. Say these guns are fired 10,000 rounds a week from April through October. That's seven months at say 28 weeks times 10,000 rounds. That means roughly 280,000 rounds every season. For 10 years! Which would you rather be shooting — one of the rentals or your own?
This article originally appeared in the November 2017 issue of Gun Digest the Magazine.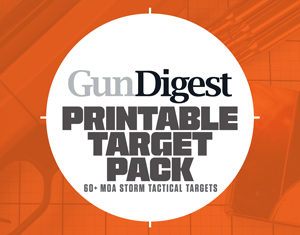 Next Step: Get your FREE Printable Target Pack
Enhance your shooting precision with our 62 MOA Targets, perfect for rifles and handguns. Crafted in collaboration with Storm Tactical for accuracy and versatility.
Subscribe to the Gun Digest email newsletter and get your downloadable target pack sent straight to your inbox. Stay updated with the latest firearms info in the industry.