Rugged enough to survive the harsh conditions of the duck marsh and put meat on the table, these are among the top waterfowl shotguns available today.
Updated 4/28/2022
What Are The Top Waterfowl Shotgun Choices:
At one time considered a generalist, in its modern iteration, the shotgun has become a specialized too. Gone are the days when your granddad would shoulder his good ol' Browning Auto 5 to bag anything with feathers or fur.
Waterfowlers in particular finicky about what smoothbore they take with them into the blind.
And why not? A shotgun meant to knock down quails on the wing most likely won't excel at taking down a goose on a high pass shot. With that in mind, we've put together the top waterfowl hunting shotguns available today. The guns are tailormade to survive the harsh conditions of the duck marsh and put meat on the table.

Browning BPS
The Browning BPS (Browning Pump Shotgun) has been around for more than 50 years and has proved itself in the field. Browning saw fit this year to make a few improvements to this shotgun—which is no stranger to the duck marsh. A redesigned stock and forearms, the addition of Browning's Inflex recoil system and a larger, more glove-friendly trigger guard are all changes the duck and goose hunter will have no problem with.
The BPS is also now available with a Mossy Oak Shadow Grass Habitat camo pattern for waterfowlers. This model weighs 8 pounds and has a 3½-inch chamber for when you want to shoot the big stuff on geese. It ships with three Invector Plus chokes, has a 26-inch barrel, 14½-inch length of pull and comes with sling swivel studs to better pack it through the swamp. This is a lot of shotgun.
MSRP: $829.99; Browning.com

Benelli Super Black Eagle 3

There's no question about the quality of Benelli shotguns. From hunting to sporting to tactical applications, Benelli is sure to have a model that is considered to be at the top of its class. When it comes to waterfowl shotguns, that model is the Super Black Eagle 3. The standard model is 12-gauge and features a 3.5-inch chamber, but 20- and 28-gauge offerings are available with a variety of chamber sizes as well. Speaking of options, the Super Black Eagle 3 is also offered with several different finishes, barrel lengths and in both right- and left-handed configurations.
The SBE 3 should be incredibly ergonomic as well, thanks to its stock, controls and redesigned loading system. They call the stock the Comfort Tech 3, and it was designed to dramatically mitigate recoil by way of embedded shock-absorbing inserts and a butt pad. The latest iteration now also incorporates a cheek comb pad to soften impacts on the face. The shotgun also features an oversized safety and bolt handle for easier manipulation of the weapon, and Benelli claims that the new loading system makes reloading effortless.
MSRP: Starts at $1,799; BenelliUSA.com

Remington V3 Pro Waterfowl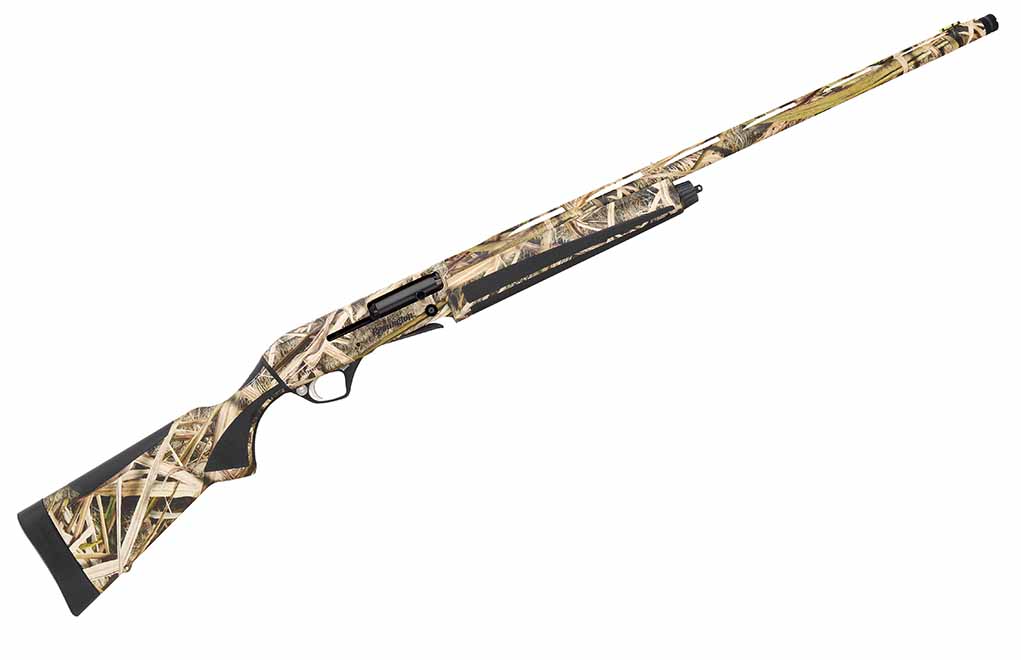 Following on the heels of its daddy (the VersaMax), the V3 has established its place in the world as a soft-shooter. The revolutionary VersaPort Gas system enables this shotgun to shoot the lightest target and dove loads while also handling magnum goose and turkey loads.
Remington stepped up its game with the advent of the V3 Pro series, adding an oversized bolt handle, safety button and bolt release, along with carving out the loading port for easier loading with bulky gloves. The real deal here for duck hunters is the Cerakoted receiver inside and out, because nobody is as hard on a shotgun as a duck and goose hunter.
The V3 Pro Waterfowl includes three black, extended chokes—improved modified, modified and full—and shims to adjust drop and cast on the stock. The barrel is 28 inches long, and the length of pull is 14¼ inches. This could be the indestructible duck gun you've been looking for.
MSRP: $999; Remington.com
---
On The Mark With More Shotgun Info:
---
Stoeger M3500 Waterfowl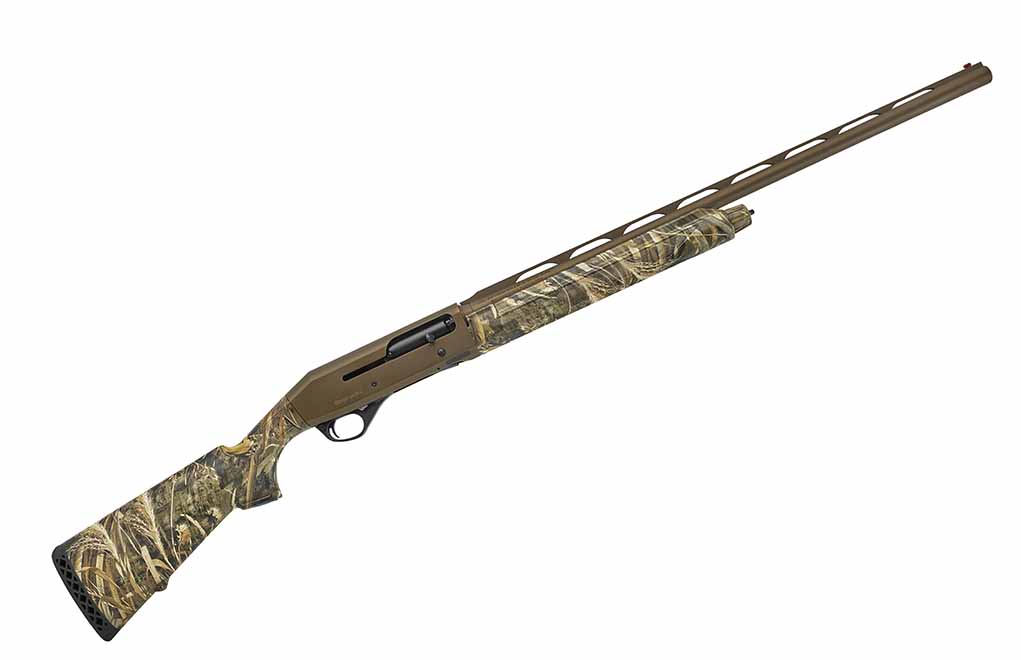 Stoeger answered the call from waterfowlers in 2019 with new features on its M3500 Waterfowl shotgun. In my view, the biggest advantage for the waterfowl hunter here is the Cerakoted barrel and receiver in Flat Dark Earth finish. The stock and forend are Realtree MAX-5 camo.
The M3500 is an inertia-driven gun, and loading, unloading and operating it in cold weather is made easier by the oversized bolt handle and bolt-release button. A specially machined and beveled loading port makes feeding shells into the magazine tube with gloved hands quick and efficient. Five (IC, M, XFT, close-range and mid-range) extended choke tubes and a wrench come standard with the Waterfowler.
A shim kit is also included; it allows for adjustment of the gun for drop and cast. The full-length vented rib is topped with an easy-to-see red-bar front sight that stands out in low light. The receiver is drilled and tapped for the addition of an optic, and it ships with a paracord sling. The M3500 shoots 2¾-, 3- and 3½-inch ammo, has a 14 3/8-inch length of pull, weighs 7.8 pounds and comes with a five-year warranty. This is a lot of duck gun.
MSRP: $849; StoegerIndustries.com

CZ-USA 1012 Synthetic Mossy Oak Bottomland Camo
Hunting shotguns should do one thing without fail: go boom! every time you pull the trigger. The new CZ-USA 1012 in Mossy Oak Bottomland camo is a semi-auto that will shoot whatever you stick in it—from light, 2¾-inch loads to heavy, 3-inch Magnums.
This isn't a gas-powered shotgun that can be a little finicky when it gets dirty; the 1012 uses the energy of the recoil to eject the spent shell and load the next round. CZ-USA put the 1012 through the wringer—firing more than 5,000 rounds without cleaning or any lubricant. The 1012 Synthetic has a 14½-inch length of pull, 8mm flat vent rib, 28-inch barrel, extended black chokes and weighs a surprising 6.5 pounds.
MSRP: $749; CZ-usa.com
TriStar Viper Max 3½-Inch Magnum
TriStar has added a 3½-inch, chambered gun to its semi-auto line for the waterfowl hunter. The Viper Max allows you to shoot light target loads to heavy waterfowl loads utilizing a two-piston system. The Viper Max comes with light- and heavy-load pistons.
The light-load piston is used for 2¾-inch shells; heavier magnum rounds use the heavy-load piston. The secondary piston can be stored in the forearm for easy retrieval. The Viper Max comes with four Beretta/Benelli Mobil Chokes (SK, IC, M, F), as well as overmolded rubber grips on the stock and forearm for added comfort.
A newly developed recoil pad and swivel studs are also included, and the Viper Max is backed by a five-year warranty.
MSRP: $825 (for the Bronze or Mossy Oak Blade model); TristarArms.com
The article originally appeared in the October 2019 issue of Gun Digest the Magazine.
---
Adam Borisenko contributed to this article.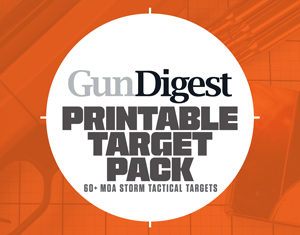 Next Step: Get your FREE Printable Target Pack
Enhance your shooting precision with our 62 MOA Targets, perfect for rifles and handguns. Crafted in collaboration with Storm Tactical for accuracy and versatility.
Subscribe to the Gun Digest email newsletter and get your downloadable target pack sent straight to your inbox. Stay updated with the latest firearms info in the industry.