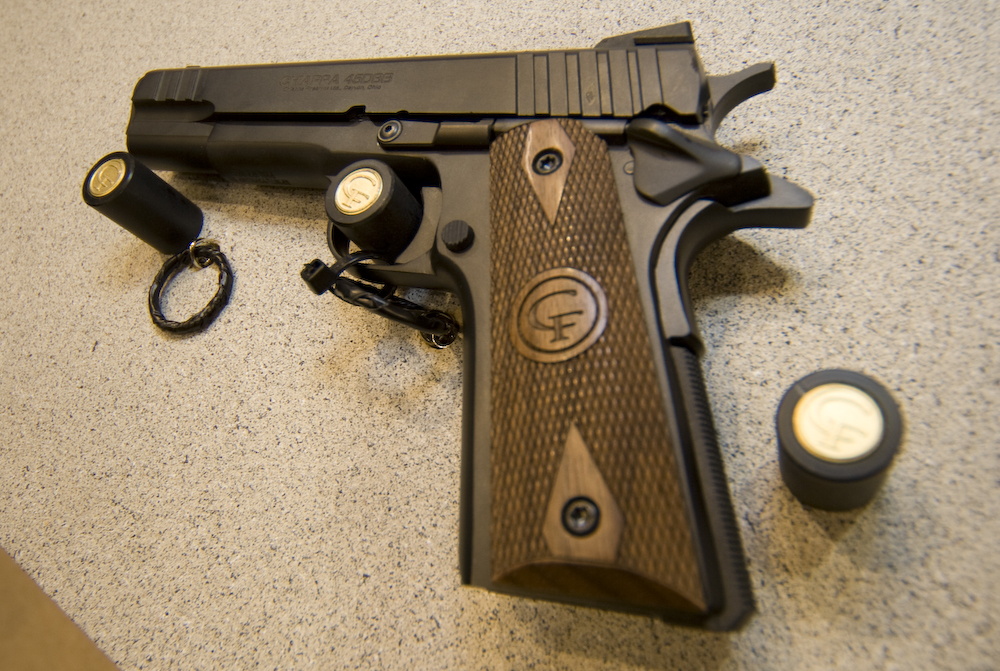 Chiappa has challenged orthodoxy again with its 45DBB, a delayed blowback 1911, unveiled at SHOT Show 2012.
It makes perfect sense when you think about it. But apparently no one has yet dared to … think about it. Or at least no one has felt brazen enough to radically tinker with the guts — that is, the very design — of Browning's timeless 1911. Until now.
Chiappa (pronounced "Kee-ah-Pah!) has designed a delayed blow back 1911 — and it's none too surprising that it comes from those ever-daring folks from Italy, the same people that had the guts to bring to market the Rhino, which is just about the strangest-looking revolver in the world.
Strange-looking, sure, but it's hard to argue with the results. Some say it's the best wheelgun you can buy today.
It could be that the company will be rewarded again for thinking outside the box. While this new 1911 sticks to plain-Jane orthodoxy in the looks department, it's what's under the hood that will make some die-hard 1911 traditionalists take notice. Some will cheer, while others will spin in circles and vomit pea soup.
Designated the Chiappa 45DBB (for Delayed Blowback), President Ron Norton was happy to give Gun Digest a first peek at the innovative semi-auto on opening morning of SHOT Show 2012, the gun industry's trade show being held this week in Las Vegas, Nevada.
A 1911 re-design is a radical concept for sure, but this one could arguably make John Moses Browning proud. Norton thinks that it'll be competition shooters who'll notice its benefits. But when he started talking about decreased recovery time shot to shot, I immediately started to think about tactical shooters and defensive gun uses.
Here's how it works. The Chiappa 45DBB is designed with a locking lug positioned on the bottom and aft end of the barrel assembly. This lug is pinned to the frame. There are small gas port holes cut into the barrel that drive the delayed blow back action of the slide.
"It's like the difference between a Remington Model 1100 and an 870," Norton said.
According to him, the pistol's inherent design yields very fast cycle speeds. This is due to its shorter travel and reduced barrel assembly movement (which, again, is locked down). It's said to give accuracy in a production gun that would normally require extensive machining and hand-fitting to acheive.
Yet, because it doesn't rely on "tightness" — one traditional means employed by machinists to improve accuracy in the 1911 — it can boast both accuracy and reliability.
Reduced recoil is another benefit touted, although Norton was careful to say that the recoil will be "less or equal to" that of a traditional 1911.
Platform Breeds Interchangeability
One additional thing the Chiappa 45DBB promises is interchangeability between calibers.
Norton says the company is developing conversion kits for the gun that will allow you to switch between .45ACP, .22LR and 9mm.
There'll be no gunsmithing involved; you'll simply drop in and pin the new barrel to the frame assembly and off you go.
The Chiappa .45DBB will retail for less than $800 for the full pistol, and the conversion kits are expected to go for under $400.
Time will tell what say the shooters about the Chiappa 45DBB. But methinks it's a testament to both a classic design — and to those who dare to tinker.
For more information, visit chiappafirearms.com.
---
NEXT STEP: Download Your Free Storm Tactical Printable Target Pack
62 Printable MOA Targets with DOT Drills - Rifle Range in YARDS
This impressive target pack from our friends at Storm Tactical contains
62 printable targets
for rifle and handgun range use. Target grids and bullseye sizes are in MOA. Ideal for long-range shooting!
Subscribe to the Gun Digest email newsletter and we'll send your print-at-home target pack right away.
Just enter your email address below.
---