When Browning set out to celebrate 100 years of John Browning's 1911 pistol, she certainly could have done the predictable thing and offered just a commemorative version in .45 ACP. Instead, we got a very nice, scaled-down 1911 A1 in .22LR. That means this is one 1911 you can afford to shoot — lots!
Ideal for target practice and making training affordable, this one will be a classy addition to anyone's gun collection. Like I said, it's scaled down to 85% of the full-size 1911, which makes it a joy to hold.
Depending on which version you're talking about — the A1 sports a 4 1/4″ barrel; the Compact model a 3 5/8″ tube — the weight comes in between 15 or 15 1/2 ounces respectively. The barrel has a target crown and the slide is aluminum with a matte blued finish. I really liked the dark brown grips; they gave the pistol an old-fashioned golden-age charm.
All of the controls are standard 1911 — functioning grip safety, manual thumb safety, and the magazine holds ten rounds. The sights are fixed, nothing fancy there. The barrel block is a shiny stainless steel, which sets it apart from the blued slide.
Pistols shipped in 2011 will include a special first year of production collector's certificate plus a free limited edition commemorative canvas and leather zippered pistol case with 1911-22 pistols shipped during 2011.
The Browning 1911-22 retails for $599.99.
For more information click here
---
Recommended 1911 Resources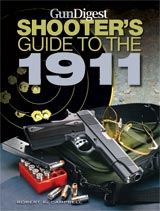 New! Gun Digest Shooter's Guide to the 1911
Massad Ayoob's Greatest Handguns of the World
1911 Series Disassembly-Reassembly DVD