The new PSAK-47 Gen2 Classic Red remasters the iconic Soviet rifle south of the Mason-Dixon Line.
When you are in the red, it is not generally a good thing. There's bump-in-the-night red, someone-walking-in-my-home red, or back-forty-with-hungry-wolves-between-you-and-your-mule red. In these situations, you need a weapon that you can rely on but one that is chambered in a caliber that will get the job done fast. You need something like Palmetto State Armory's (PSA) Classic Red, a traditional take on the historic AK-47 rifle completely manufactured in the U.S.A. Think of it as a détente between Palmetto State and Mother Russia. Though the design might be Comrade Kalashnikov's, PSA has redefined the AK-47. Not only does the Classic Red look retro cool, it also performs like only an AK can.
PSA has been creating quite a name for itself, essentially flying under the radar and churning out exquisite AKs, and yes, "exquisite" is not such an exaggeration when talking about PSA's AK-47s. Not only are they made in the U.S.A. and run hard, they are also available at a very affordable price. The PSAK-47 Gen2 Classic Red is 100-percent manufactured in the U.S. Prior to Gen2 models, the trunnion, a critical piece in an AK build, was made offshore.

When PSA decided to bring an American-made AK to market, it looked at Russian, Chinese, Romanian and Bulgarian blueprints and decided to build a rifle that was a blend of all the good characteristics.
"We took what we felt were the best features from each design and incorporated them into our AK design," said Adam Ruonala, chief marketing officer at PSA.
Russian, Bulgarian and Romanian guns are known for their durability and can be considered the epitome of AK design. PSA AKs are a mixed breed, what PSA likes to refer to as an American Standard of AK design and manufacturing. While PSA tricks out some of its AK rifles with modern polymer furniture, the Classic Red is traditional.
"With the Classic Red, we tried to stay as close as possible to the original form of the AK," said Ruonala. "We partnered with Boyd's Gunstocks, which produces the buttstock, handguard and pistol grip in traditional wood."
Boyd's uses maple stained with a reddish finish that almost looks like it is lacquered and allows the wood grain to show through. AKs are not typically known for the beauty of the wood stock and handguard, and part of the reason is that most AKs in the U.S. use surplus furniture that has seen honest and sometimes hard use. For the Classic Red, PSA kept the traditional lightening cut on the sides of the buttstock and placed a hard, course-textured buttpad. Not that the 7.62x39mm produces a tremendous amount of recoil, but the recoil pad is similar to military style and works effectively. The stock is also equipped with a sling swivel. The handguard has the traditional cooling slots, and the pistol grip is similarly shaped as a traditional grip. The Classic Red is a gorgeous AK.
Since there are limitations on importing AKs and other hurdles like 922r compliance, swapping U.S.-made parts for original parts, a few manufacturers have decided to build AKs here of totally U.S. made parts. From a business perspective, it makes a lot of sense because the quality of rifles can be controlled in lieu of rebuilding rifles from de-militarized, imported parts. AKs are made around the world, but an AK slightly differs depending on where and when it was built. U.S. manufacturers have taken that guesswork out of the equation.
AKs are legendary for reliability, and PSA takes an extra step to ensure that. PSA tests each rifle with both inexpensive steel-cased ammo and brass-cased ammo and runs through 15-20 test rounds to ensure reliable functioning.
"We wanted our rifle to not only perform exceptionally well but look good doing it," Ronala said. "PSA wouldn't produce a gun that was not 100 percent…When our prototype AK was in development, we took 25 rifles and ran them through a 10,000-round torture test. We wanted to be sure it would run smoothly and reliably."
But this performance didn't come at the cost of looks. The fit and finish were superb. The Red features a stamped receiver made of one-millimeter thick, heat-treated carbon steel that is mated via a trunnion to a 16.2-inch 4150 steel barrel that is melanite treated. The barrel has six-groove rifling with a 1:9.5-inch twist. The classic slanted muzzle brake is screwed onto the end of the muzzle, and a cleaning rod is secured on the underside of the barrel. Sights are classic 800-meter rear sight adjustable for elevation and the front sight is adjustable for windage. A side mount allows an optic to be mounted. A PSA mil-spec, single-stage, double-hook trigger is used along with the standard size magazine release.

The trigger had a bit of take-up before it broke at a clean 5.5 pounds. The reddish wood furniture is smooth and feels good in hand. The stock has a 13-inch length of pull (LOP). The gun comes with a Magpul 30-round PMAG magazine. Total weight unloaded is 7.5 pounds; add another 1.5 pounds with a fully loaded 30-round magazine.
I fired it offhand using open sights at 25 yards. The five-shot groups were small and whetted my appetite for distance. I mounted a Russian-built PK-01 VS red dot optic from Kalinka Optics (KalinkaOptics.com), which offers a variety of surplus and new Russian-built optics. Simple and rugged, the PK-01 VS features a 1 MOA red dot reticle with eight brightness settings; turrets are open and marked in Russian. It runs off one AA battery. The optic uses a clamp mount that slides onto the side mount of the PSAK-47 and clamps down tight.
I expected accuracy to be 4 MOA or better. Using a rest, I was able to get well under 4 inches—about 3.7 inches—with Hornady 123-grain SST bullets and Wolf 122-grain HP. Inexpensive Tula Ammo ran at 4 inches consistently. The trigger is meant for combat and not precision target use, but I was still able to eke decent accuracy out of the Classic Red. That is good accuracy for an AK and good for the applications most shooters will use it for.
I also ran the rifle for speed wearing a Strike Hard (StrikeHardGear.com) AK chest rig, which holds four magazines secured with a shock cord retention system. It features an X-harness, so toting the magazines is comfortable. The 13-inch LOP on the gun made operating the rifle comfortable while wearing the chest rig. I ran the Classic Red with polymer PMAG and metal surplus Polish magazines. My preferred technique with AK reloads is rock-and-lock: using a fully loaded magazine to sweep the AK's magazine latch to drop the empty magazine, then hooking the forward edge of the loaded magazine into the magazine well and rocking it into the magazine well until it locks. It ran flawlessly on all the ammo. While operating the Classic Red it was evident PSA put time into the action. It operated smoothly, and the safety selector worked positively, too.
The indigenous PSAK-47 Classic Red is an American take on traditional AK-47 design, and it looks as good as it performs. For more information, visit PalmettoStateArmory.com or call 803-724-6950.
Specifications
PSA PSAK-47 Gen2 Classic Red
Caliber: 7.62x39mm
Action: Semi-automatic, long-stroke gas piston
Barrel Length: 16.2 in.
Overall Length: 35.25 in.
Weight Unloaded: 7.5 lbs.
Buttstock: Red polished maple, fixed
Length of Pull: 13 in.
Handguard: Red polished maple, smooth
Grip: Red polished maple, smooth
Sights: Sliding tangent notch rear/winged post front; optic side mount
Finish: Blued
Capacity: 30+1
MSRP: $849
Performance:
PSA PSAK-47 Gen II Classic Red
Hornady 123-gr. SST
Average Velocity: 2,154
Accuracy: 3.75 in.
Tula Ammo 122-gr. FMJ
Average Velocity: 2,336
Accuracy: 4.00 in.
Wolf 122-gr. HP
Average Velocity: 2,347
Accuracy: 3.87 in.
This article originally appeared in the May 2016 Issue of Gun Digest the Magazine.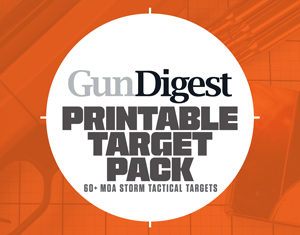 🎯 Exclusive Offer: Get Your FREE Printable Target Pack!
Dive into precision shooting with our 62 Exclusive MOA Targets featuring DOT Drills. Perfect for both rifle and handgun enthusiasts, these targets are designed for accuracy, especially for long-range shots.
Why You'll Love This Pack:
🎯 Expertly Crafted: Brought to you in partnership with the renowned Storm Tactical.
🎯 Versatile Use: Suitable for both rifle and handgun range sessions.
🎯 Precision Design: Target grids and bullseyes meticulously measured in MOA for the best shooting experience.
Bonus: By grabbing this offer, you'll also be subscribing to the Gun Digest email newsletter, keeping you updated with the latest in the world of firearms.
Don't miss out!
Simply enter your email below, and we'll send your downloadable target pack straight to your inbox.