The new Toric Ultra HD from Tract Optics offers a ton of performance at an accessible price point.
Just in time for some early season prairie dog shooting, Gun Digest magazine requested I take a hands-on look at a new riflescope brand coming to the outdoor market labeled as Tract riflescopes. The scope provided appeared to be a tight package using quality materials and optic coatings that offered a good medium-range, big-game optic or varmint hunting system.
In terms of this review, I was sent a sample scope labeled as a "Toric Ultra HD." This scope makes use of a 3-15x42mm objective lens and mounts a reticle design centering on the basic T-Plex etched glass system. As indicated by the manufacturer, the Toric scope can also be obtained with a BDC Reticle as a second option. More on this element of the scope's design a bit later.
The scope makes use of a 1-inch main tube and capped turret adjustments that would appear to be ¼ clicks per inch. The model tested was a prototype and directional marks weren't readily apparent on the turrets, which made things a little more challenging; however, I addressed this by simply looking downrange at impact points and adjusting as necessary.
The turret housing on the Toric glass sight retains the third adjustment for parallax / focus correction at given ranges. The focusing eyepiece (at the rear of the scope) makes use of a full 4-inch eye relief, which will fight off "ring eye" from heavy, magnum calibers. Magnification graduations from 3x-15 were selected for use in this optical system. Tract Optics built this scope in the first focal plane, which indicates that as magnification is increased or decreased, the cross hair or other reticule design will remain the same. Second focal plane scopes will change the size of those cross hairs as magnification changes. I personally like the first focal plane system.
Rifle

In terms of a test rifle I chose the new Sisk Star custom-built .308 Win. This modular sniper rifle is handmade one at a time by Charlie Sisk, and as such it is a tack-driver out to its zero range. Based on my testing of the system at Gunsite Academy in Arizona, it is a solid MOA performer in law enforcement circles to any normal, urban sniper range limit. My test ammunition was all handloaded and used the new Sierra 168-grain Match King (Tipped) bullets, Lake City US Army "Match" cases, Federal LR primers, and 43.3 grains of H-4895. Muzzle velocity on this load was a mild, but deadly accurate 2,600 feet per second (fps).
In the Field

I mounted the Tract scope on a Sisk-built Weaver rail with heavy, tactical-style rings and took the system out onto the test range for basic zeroing at 100 yards. I then conducted a series of special optic tests so as to gain more information as to the basic function of the new scope system. After bore sighting and sending shots downrange for zero, I shot a cross-shaped pattern consisting of 8 MOA of elevation from zero using the scopes turret clicks. After re-centering to zero, I turned eight more MOA clicks to send bullets to the 6 o'clock position below the center zero point. Now with a second, and third return to center, I then shot both left and right 8 MOA spreads.
At the completion of the test, the target returned a cross pattern indicating that the scope was performing correctly and returning each time to the correct zero setting. No drift or failure to make corrections was noted. It's worth noting that even when I was doing basic zeroing, walking the bullet to dead-on zero was only a three-round event after bore sighting the scope to the rifle. However, I would still have liked to see indicators denoting up, down, right, and left on the turrets. With plenty of time and no pressure, it's easy to remember which direction to adjust, but what if you find yourself suddenly faced with a 180-score whitetail standing at 450 yards? Would you be able to remember which way to turn those elevation adjustments in a more high-pressure scenario such as that?
As a second test, I selected a warm target (prairie dog) at a ranged 300 yards, centered the cross hair on the target, adjusted the focus control by the knob on the left side of the turret, then increased the scope's magnification from 6x to a full 15x. The observation was to see if the target blurred with a change in magnification. When reaching the 15x mark, it required a full one-half turn on the parallax knob to bring the dog back into focus. This is a normal function, and there are few scopes under about $1,000 that are so accurate in matching the focus knob to varied target ranges that the knob can in effect be used as a range finder of sorts in a pinch.
On Target

The local test range is setup as basically a one-stop shop, with a square mile of dogs running amongst the steel targets, and the transition from steel targets to live prairie dogs is instantaneous. The scope's lens system was clear to the edges and offered good positive identification from young to old dogs quickly. With a week of rain and now high winds and clouds, shooting was less then great, but I did get enough rounds downrange to adequately assess the effectiveness of the optic. My conclusion was that the scope returned good, positive field results. That said, there were a few areas that I feel need to be addressed.
As live targets changed position and it became necessary to advance or retard range during target acquisition, the duplex-style standard reticle was of no help and required me to reach for the turret knobs and advance or retard clicks for changes in target range. What I feel would move this optic into a whole new ball game would be the inclusion of a basic MOA military-style reticle, which would make for a game changer when rapid targeting is the order of the day. I realize the system makes use of a special order BDC reticle, and I know the system well. However, it is not an MOA search-and-destroy reticle by any means, as it falls into line with one of many brand-designed reticles that are often slaves to one cartridge load choice.
Couple the MOA reticle with the fact that this turret retains a full 45 MOA clicks beyond the basic 100-yard zero setting when pulling for ultra-long-range elevation shots, and this scope can turn into a mail-sending long-range optic of the first order. As it was, given that the .308 Win. is not a flat-shooting cartridge, I was required to hunt and peck using more rounds than necessary on warm targets from 300 to 500 yards. Also with the scope using that first focal plane, it is a natural for MOA reticle applications.
With the scope priced at the $400 mark, I feel that based on my short-term testing this optic is a value for the money, and with a few small changes, this system can push its ranging optics limits a good deal further than it currently does.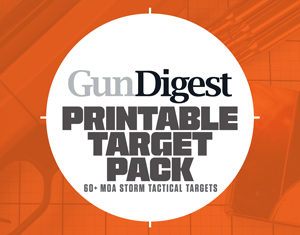 Next Step: Get your FREE Printable Target Pack
Enhance your shooting precision with our 62 MOA Targets, perfect for rifles and handguns. Crafted in collaboration with Storm Tactical for accuracy and versatility.
Subscribe to the Gun Digest email newsletter and get your downloadable target pack sent straight to your inbox. Stay updated with the latest firearms info in the industry.