From the first Advanced Tactical rifle to the new SOC II and SRC II configurations, Kimber continues to prove it's much more than a high-end handgun company.
How the Advanced Tactical series excels at long-range shooting:
Model 8400 action parallels the stout Winchester Model 70.
Match-grade chamber.
2.5-pound trigger.
Stainless steel, button-rifled barrel.
Monolithic aluminum stock.
Adjustable drop at heel and comb.
In many shooting circles, Kimber has been known as a big-time high-end handgun company. Still, the fact remains that this firearms company is also right up front in the game of supplying the military, police and civilian marksmen with high-grade, long-range tactical firearms as well.
During some 5 years hunting Australia for commercial 'roo and hogs, as well as covering the American West for everything from grass rats to big game, several Kimber rifles in the long-range Kimber Model 8400 group have returned some very successful results as precision shooting systems on targets that were anything but close.
As a personal rifle built by Kimber, I have coveted my Model 8400 in the Advanced Tactical .308 Win. variant of the company's product line. These rifles were once chambered on both .308 Winchester and .300 Win. Mag. prior to the current craze covering the 6.5 Creedmoor as a long-range shooting option.
Rest assured my friends — the 6.5 Creedmoor, being Hornady's new long-range variant, is a shooter, and I own several of these rifles as standard go-to 1,400-yard tools. However, to set aside the .308 Winchester, being the mother case for just about everything new nowadays, is not befitting in terms of my personnel reflections as to rifles and cartridges that can hit targets well into the next zip code.
Therefore, in support of this review, my own Kimber Model 8400 Advanced Tactical in .308 Winchester will be the go-to rifle regarding the workhorse side of real-time, live-fire field coverage.
This approach is not to set aside the current advancements being made by Kimber in the long-range rifle department, and as such I will parallel my views on the brand's current models regarding field performance, and therefore keeping their new tools of the long-range road in mind along the way.
Regardless of whether you call the Kimber action a series 84-M or Model 8400, this is a Mauser long-extractor design that parallels the old-school Winchester Model 70 very closely. Why not? The old 70 has carried the mail just about forever, and as such Kimber lost no time in getting on board with this design as an example of a precision rifle action. Tack on a 22-inch match-grade chamber and barrel guaranteed to shoot ½ MOA, and you've got an effective long-range shooting platform.
My Kimber Advanced Tactical carries a Leupold MARK IV military-grade optic in MOA graduations, and it retains a solid, bolted weld to the 1913 mil-spec Picatinny rail. Military grade bases and rings are employed to hold the system together, and so far this has been exactly the case in terms of field performance.
The new Kimber Advanced Tactical SOC II makes use of the also new McRees Precision custom chassis stock, which uses the full-bridge Picatinny rail over the 8400-M receiver. I have indicated this information about the rifle stock because, for the most part, this is primarily what separates the two rifles.
As for barreled actions, these rifle are just about the same. Keep this fact in mind because it will help to understand the performance ability variations between the Kimber Advanced Tactical rifles (my current M8400), as well as the new chassis-stocked Advanced Tactical ll addition to the line.
Downrange Dominance
At the 100-yard mark by way of some Black Hills Ammunition 168-grain Sierra TMK's, I drilled a three-shot sighting zero check in a clean Birchwood Casey Shoot-N-See target measuring 0.761 inches, but the group was 1 inch high. Dropping five clicks so as to be painting a dead-on 100-yard zero, it was time to turn loose a round much further downrange. My Kimber is not anything close to foreign to me, and I feel that the Leupold Mark IV optic is like a set of reading glasses. With the 2.5-pound Timney trigger, the rifle is definitely an old friend.
---
More Precision Rifle Articles:
---
Loading three rounds into the "hidden" magazine, which has sense been changed to a box designed system much like that found on the AI (Accuracy International) rifle, I set my crosshairs on the 400-yard steel after elevating my turret adjustments 5.7 MOA. My Hornady database had indicated some drop-figure firing solutions all the way to 1,000 yards, and the information given back by my computer was dead-on the money.
After sending three rounds into the 400-yard steel target, I then clicked up an additional 3.0 MOA on the elevation turret dial. I was now on an impact-corrected sight picture as applied to the 500-yard steel, and promptly sent a series of three rounds downrange. What returned to me was the solid slap of a jacked bullet against armor-plated steel for a second time.
The final flat-land shot was at the 600-yard steel, which is a 48-inch gong, with a secondary target being my AT steel torso. With my drop adjusted to 12.9 MOA, I proceeded to send eight rounds in slow fire downrange. The first round sent mud high into the air as I realized I had pulled low — then, settling down, the next seven rounds slapped the big gong hard.
As a final series of rounds for group accuracy, I shot the clean white AT target with three slow-fire rounds, which returned by a later measurement a 4.5-inch group. The Kimber was shooting sub-MOA at 600 yards.
Moving up and down range on the gongs with some additional two-shot sequences was about as effortless and shooting a .22 rimfire at a 5-foot-tall duck inside a closet. It was time to make a move.
Dead Horse Ridge
My range is located at a place called Dead Horse Ridge because horses are buried right under my feet in terms of where I have placed my shooting bench, high above a wide and deep valley that stretches for a full mile from north to south. This shooting position is among my very favorite because I can drive right up to it, unload my gear and be sitting at 300 feet high with a very massive prairie dog town and steel targets all lined up across the valley flats in front of me. This location is where more than one long-range shooter has developed a "feel" for the craft.
This time, I was setting up my Kimber .308 Win. Advanced Tactical rifle, with its standard-of-the-breed Kimber 8400 action, and McMillan custom composite aircraft bedded aluminum stock. My objective? I was preparing to send some 168-grain Sierra TMK's downrange at my 1,000-yard diamond-plate gong.
Chambering my .308 Win. handloads — consisting of once-fired Lake City Match brass, Federal LR primers, 35.0 grains of Varget and topped off with the 168-grain Sierra Tipped MatchKing bullet — it was time to run the 2,844-fps rounds over the wild blue yonder toward some solid, cold steel.
For those who can appreciate how much the details matter, the air was mild at 78 degrees Fahrenheit, the winds were starting out very light out of the northwest, with a 33 percent value factor in terms of adjusting for a right-to-left bullet drift.
With no spotter, I was forced to spot with my own rifle scope, and with the time lag of a couple of seconds between trigger press to impact, I was able to adjust my scope sights so as to observe a hit or miss at the target. In most cases, I'm also able to tip off an ear muff so as to pick up the "clang" of the steel plate upon bullet impact as well.
With the well-stocked 14-pound Kimber producing some recoil reduction, this task is not at all hard to accomplish, but it does have some effect on my follow-through. If I had been shooting the new Kimber Advanced Tactical II, the muzzle is set up for a suppressor, and this would have aided greatly in noting the sound of a bullet hitting home.
The day also provided a few additional elements that we often see when targets are located in the next zip code: At the point, I was about to send the first round downrange, a puff of wind hit my left ear at a rough angle of 25 degrees, which indicated a complete switch in the wind. Downrange, however, about 500 yards away judging by moving prairie grass, it was blowing in the opposite direction.
Not only had the wind shifted, but it was blowing my bullet impact sound away from me, and that meant two nasty events were about to take place: First, I could not hear my bullets impact, and secondly, the mud-coated earth was not about to give back an indication of a short round or wide hit air-to-ground strike bullet impact signature ("splash" as it's call in the business.) In effect, I was shooting as blind as a bat.
Flipping off the wing-arm-style Model 70-type safety, I set a sight picture after turning up my MOA clicks 33.5 graduations. Off the high ridge, my bullet was dropping about the height of a four-story building and acting more like a bomb than a bullet by the time it reached the 1,000-yard mark. Good luck on this one, I muttered to myself as I broke 2.5 pounds of smooth trigger pull.
Silent Precision
After firing six timed rounds, I had no idea where — or if — I had hit. For two of the rounds I thought I could hear a dull thud, which could have indicated a couple of hits. With no point in shooting more valuable hand-made ammunition, I packed up the gear and jumped on the ATV for a check downrange.
Reaching my steel targets, I found that I'd hit the large gong with four out of the six shots fired. The bullets had gone low and right, indicating that the left-to-right winds indeed had an effect on the shots. As usual, the Kimber Advanced Tactical had come through, lacking any indication whatsoever of an issue regarding the handling of a long-range bullet.
The basic group size at 1,000 yard came in at 8.0 inches, which, like the previous 600-yard group, illustrated that the Kimber was sending sub MOA groups at 1,000 yards.
Kimber long-range rifles are available through many sources, and even my rifle — an early model — is still very much in demand. The Advanced Tactical II in .308 Win. wears an MSRP of $3,838, the Advanced Tactical SOC .308 Win. retails at $3,898, and the Advanced Tactical SRC II features an MSRP of $2,160. Patrol Police Sniper Tactical Models are available for an MSRP of about $2,158.
With most models chambered in .308 Win. — or 7.62 NATO, if you will — the current new models are chambered in 6.5 Creedmoor as well. I believe that, with the advancement of the .300 Win. Mag. within the American Army's sniper circles, the Advanced Tactical will come back in the .300 Win. Mag. as well.
Kimber Advanced Tactical Specs:
Caliber: .308 Winchester
Weight: 11.8 pounds
Length: Adjustable
Accuracy: Sub 0.5 MOA
Barrel: Stainless-steel
Finish: Matte black Kimpro II
Barrel Length: 22 inches
Twist Rate: Right-hand, four-groove, 1:10
Chambering: Match-grade
Muzzle: Threaded
Trigger: Factory, 3.5 pounds
Stock: Aluminum
Length Of Pull: 13.7 inches
Stock: Folding
Accessory Rail: M-Lok, night vision mount
Magazine: Box, 5-round
Safety: Three-position, Model 70-type wing
Action: Mauser long-claw extractor
Editor's Note: This article originally appeared in the Long-Range Shooting 2018 issue of Gun Digest the Magazine.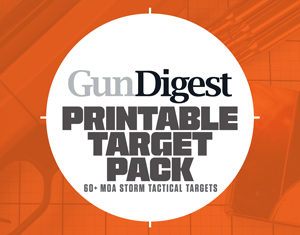 Next Step: Get your FREE Printable Target Pack
Enhance your shooting precision with our 62 MOA Targets, perfect for rifles and handguns. Crafted in collaboration with Storm Tactical for accuracy and versatility.
Subscribe to the Gun Digest email newsletter and get your downloadable target pack sent straight to your inbox. Stay updated with the latest firearms info in the industry.