The Mauser Model 98 is a true classic when it comes to bolt-action rifles. And with the company's return to this iconic design, it is again turning out a highly engineered gem.
What eventually became the Mauser company began in 1811-1812 as a Royal Arsenal in Oberndorf, Germany, a small village in the Black Forest region. The Mauser brothers, Wilhelm and Paul, came on the scene in about 1867 when they invented a vastly improved rotating bolt system for breechloading rifles, and in 1871 their Model 71 rifle was adopted by the German army as its standard rifle.
Between that event and 1898, the brothers developed several different improvements featured in succeeding models, culminating in the development of the standard upon which just about all bolt-action rifles today are based in one manner or the other, the Model 98.
In 1897, the old Royal Arsenal was turned over to the Mauser brothers, becoming Waffenfabrik Mauser AG. In 1898, the German army bought the Mauser design and its 7.92×57 cartridge as their standard combat rifle.
It was the most important arm in the hands of German troops in World War I. It went through a few modifications to eventually become the K98, the main battle rifle of the German army in World War II.
In addition to manufacturing rifles for the German army, Mauser also produced a line of sporting rifles during the period between the World Wars. These rifles, if in original condition, are highly desirable collectors' items today.
They also made and sold actions to the trade. Mauser's agent for the United Kingdom for many years was the respected firm of John Rigby. Rigby custom rifles built on Mauser actions became renowned among big-game hunters around the world.
The factory in Oberndorf was gutted after the war ended and the equipment confiscated and much of it moved to France. Most of the records were destroyed, although some were saved by former Mauser employees. Three Mauser engineers, Alex Seidel, Theodor Koch and Edmund Heckler went on to establish the firm of Heckler & Koch, which is still going strong today.
Like most of the German arms companies, Mauser kept going during the postwar period and its prohibition against arms production by producing other products. In the case of Mauser, they made precision measurement instruments and tools such as micrometers. When they were permitted to do so, Mauser resumed producing hunting and sporting rifles.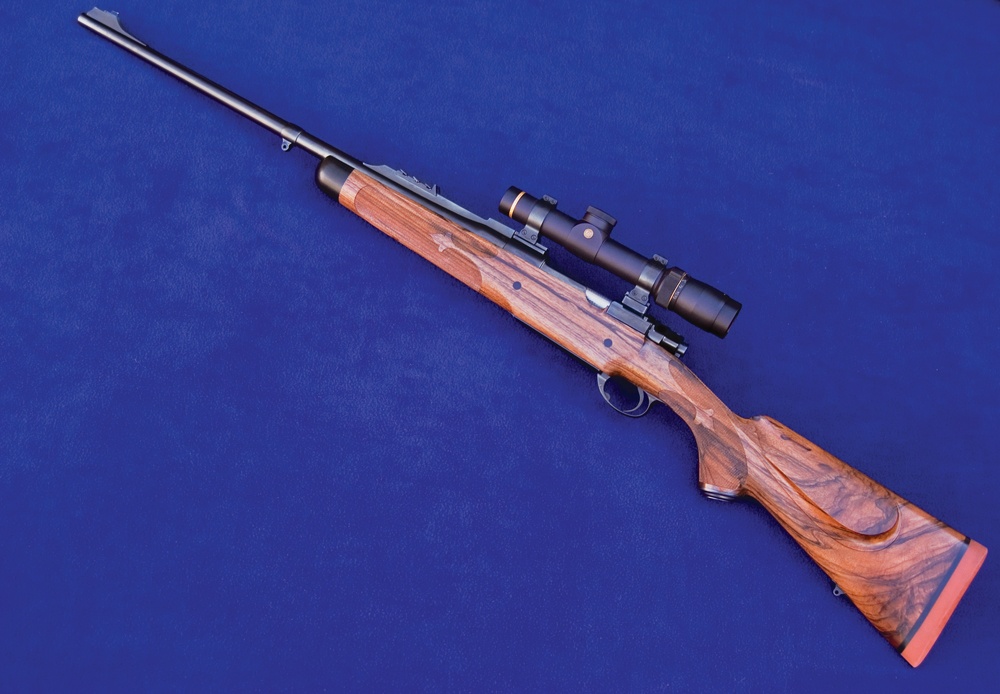 In 1966, the Mauser plant introduced a rifle to the sporting market of a totally new design. It was not a Mauser design, but rather one by Walter Gehmann, a well-known inventor, competitive shooter and firearms dealer in Germany. Mauser acquired the production rights to the Gehmann design and began production.
The Mauser Model 66 featured a very short action, quick interchangeability of barrels and calibers. It offered many advantages over standard sporting rifles, but – typical of German fascination with engineering – contained a zillion parts, was expensive, overly heavy and was ugly as sin.
That's my personal opinion of course, but apparently most in the marketplace agreed with me. I don't know how popular it was on the Continent, but in the U.S. market it went over like the proverbial lead balloon. The few Model 66s that were sold in this country went mainly to guys named Müller, Schmidt, Fenstermacher and the like.
In the mid-1970s, Mauser entered into an agreement with the old German firearms manufacturer F. W. Heym, to produce a series of rifles — the Models 2000, 3000 and 4000 — which were more or less of traditional design. Unlike the controlled-round feed of the Model 98, however, it was a push-feed action.
They were available in a wide variety of calibers and marketed in the U.S. under the banner of Mauser Bauer. These rifles did enjoy a degree of success in the U.S. for Mauser. When the agreement was terminated, Heym made a few modifications and marketed the rifle worldwide as the Heym Models SR-20, 30 and 40.
Mauser introduced a new rifle and a new design in 1977 called, what else, the Model 77. The Model 77 was also pretty much conventional in design. It was a push-feed action that had a few new features.
I had one of these rifles for a while chambered for the .30-06 cartridge. It shot well and was a good, solid rifle. It also did not do well in the U.S. market.
The company was taken over by the Rheinmetall Group in 1995 or thereabouts, and from then until about 2000 or so Mauser built and marketed a series of rifles, namely the Model 96 and 97. In celebration of the 100th birthday of the Model 98 in 1998, they produced a few military Model 98s and also a few original Model 98 sporting rifles.
In about 2000, give or take a year, Rheinmetall sold the civilian arms portion of Mauser production to the Lüke-Ortmeier group of investors who then formed Mauser Jagdwaffen GmbH. The group also owned the firms Blaser, SIG and Sauer.
They moved the company from Oberndorf to Isny, Germany, and co-located it with Blaser and Sauer. It is still a separate company with separate manufacturing facilities, but co-located.
In the interim, the company marketed a few very nice Model 98 sporters; however, I believe that these early 98s were produced by someone else in Germany and marketed by Mauser. A couple of companies had been making and marketing copies for a few years.
Two that I'm aware of are Johannsen and Prechtl, and recently I've learned of another, FZH. The prestigious firm of Hartmann & Weiss also makes its own actions.
The Lüke-Ortmeier group also introduced the Model 03 in 2003 and the Model 12 in 2013. The M 03 had a suggested retail price starting at around $4,500 and went up from there depending on the variation, and the M 12 starts at around $1,500 and goes up from that figure. The flagship of the Mauser line, the M 98, starts at a base price of $12,495.
The Lüke-Ortmeier group also purchased the old London firm of John Rigby after numerous ownership changes and tremendous confusion about the company, finally consolidating both the company and its historical records under one ownership. Rigby is now, once again, producing rifles in London using genuine Mauser actions from Germany.
I am not a big fan of modern European firearms design in general, but the return of Mauser to its roots, the Model 98 action as the basis for production, was super interesting to me. The Teutonic fascination with engineering apparently above all else has resulted in some interesting designs, to say the least.
I tend to follow the guidelines my dad taught me many years ago. One of his most important lessons was, "if it ain't broke, don't fix it." The 98 Mauser has never been broken, and is in no need of fixing.
I prepared a wish list to send to Mauser requesting a test rifle. Before doing so, however, I waited a couple years to ensure this was not a pipe dream, but rather a serious effort at resurrecting the previous glory of the name Mauser. It is, and I sent in the request.
The company sent me a Magnum Model chambered for the .375 H&H cartridge. It features all the bells and whistles of a London-built Express rifle.
It has a slightly extended magazine to permit loading an additional cartridge. It holds four in the magazine and one in the chamber. It also features express sights consisting of one standing leaf for 50 yards and two folding leaves, one for 100 yards and the second for 150 yards.
The action features double square bridges, which are milled to accept Recknagel quick release scope rings. It features a banded ramp front sight with a relatively small bead.
My tired old eyes and a small bead do not go well together, so I asked my son Jeff to come along to the range and do the shooting for me. Anytime I have some serious range work, I usually ask Jeff, likewise an avid hunter, shooter and gun nut like his dad, to tag along just in case I have an off day. The older I get, the more off days I seem to have.
It really is a beautiful rifle. The stock is crafted from a very nice stick of European walnut, well figured and with nice pleasing color.
It is styled like a typical English Express rifle, which is to say, pretty near perfect. It is nicely checkered in a point pattern in what appears to be about 24 LPI and is exceptionally executed, some of the best I've ever seen on a German-made rifle. It features nondetachable sling swivels, with the front swivel on a barrelband base.
There is a steel grip cap with the Mauser logo, a black fore-end tip, apparently of ebony, and a black recoil pad. It also features two through-bolts to reinforce the stock. On the downside, however, I noticed a fair number of unfilled pores in the wood finish, indicating that the finisher had quit his chore a mite too soon.
The rifle has a three-position wing-type safety that locks the firing pin when on safe. The trigger is fully adjustable, and the test rifle has a fantastic trigger that fits the old saw "releases like breaking glass." According to my trigger scale it releases at 3 pounds.
The rifle will soon be available in .375 H&H, .416 Rigby, .450 Dakota, .458 Lott and .500 Jeffrey. Plus, it will eventually be offered in standard calibers, I am told, but exactly when I've not been able to find out. The best I've been able to determine is "next year at the earliest."
Having said all that, all positive, the rifle is not perfect, at least not by my standards, whatever they might be worth to anyone else. My first criticism is a simple fix.
My test rifle has a stock length of pull of 14¾ inches. That would be about right for Shaquille O'Neal. I'm over 6 feet tall, weigh 205 pounds and wear a 34-inch sleeve length, and my rifles are 137⁄8-inch LOP.
Since I lived in Germany for a bunch of years, and have worked with the German firearms industry for about four decades, I understand why this happens. Why are German scope mounts always too high for American shooters?
It is simply that Germans shoot differently than we do. They hunt a great deal from high seats. They usually have lots of time to make their shot. They are taught from an early age to hold their head high when shooting.
Americans, on the other hand, are taught to weld their cheek tightly on the stock. As a result, American shooters demand very low scope mounts, and the German shooters much higher.
That also affects the LOP. The higher the cheek, the longer the LOP required. Simple solution, a hacksaw!
The next problem is also not difficult to solve.
For my use, the barrel is about 2 inches too long. There is no advantage that I am aware of to a 25-inch barrel on a .375 H&H, over one that is 23 inches long.
I can think of a couple disadvantages, in particular. If you've ever wrestled through the alders and willows in Alaska, or the mopane scrub in Africa with a long-barrel rifle, you know what I mean.
Some of the ultra high velocity cartridges benefit from long barrels, sometimes significantly so. The .375 H&H, however, is not one of them. This is just my personal opinion though, as some shooters do prefer longer barrels.
Being an ounce or two shy of 10 pounds for a .375 H&H rifle is too heavy by 1 to 1½ pound. It is particularly so when the rifle is empty and unencumbered with a scope and mounts. Scoped, with a sling and fully loaded, it wouldn't miss the 12-pound mark by much, if any.
I suspect the reason for this is that the magnum calibers that Mauser chambers for are most likely all on the same platform. By that I mean the same action, same barrel contour, etc.
If that is the case, naturally, the .375 would weigh the most, as the hole in the barrel is smaller, thereby causing it to weigh more. That is certainly understandable from a manufacturing perspective, but not from a functional one.
Another thing that I would change, had I the power to do so, is the finish on the middle of the bolt release, the bolt knob and bolt long extractor. These three items are polished to a high gloss finish and reflect light like a mirror. Aside from aesthetic objections, I suspect the reflections could spook game from a long distance away.
Before leaving for the range with my son Jeff, I went through my stash of ammo. I was working on a very tight deadline and had no time to order in a bunch of new ammo.
I found a couple boxes of handloads, one box loaded with 260-grain Ballistic Tip bullets and IMR 4320 powder, and the other 285-grain Speer bullets, pushed along by IMR 4064 powder. I also had one box of factory ammo, Federal Premium Cape-Shok loaded with Barnes 300-grain TSX bullets.
We first set up at 50 yards since the standing leaf rear sight was adjusted for that distance. We learned quickly that the rifle liked neither of our handloads.
While the groups would have killed any large game at that distance, we knew the rifle could do better. Jeff fired a group with the Federal factory ammo and bingo, we found in short order what this rifle preferred.
We moved back to the 100-yard range and shot the remaining Federal ammo. Considering we were shooting with open sights, the accuracy was outstanding.
Jeff shot the best group that measured 1.062 inches, a great group shooting with a scope – let alone just open sights. None of the three-shot groups exceeded 2 MOA.
To say this rifle is a shooter is a gross understatement. If it belonged to me, I wouldn't even waste time developing handloads for it. I'd just lay in a supply of Federal 300-grain TSX ammo and go hunting. A 300-grain slug leaving the muzzle at 2,470 fps is sufficient to lay most anything low.
Welcome back to the fraternity Mauser. Paul and Wilhelm would be proud.
Editor's Note: This article is an excerpt from Gun Digest 2017.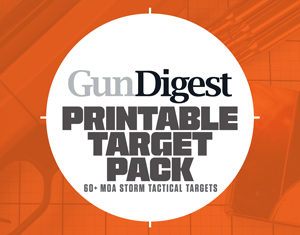 Next Step: Get your FREE Printable Target Pack
Enhance your shooting precision with our 62 MOA Targets, perfect for rifles and handguns. Crafted in collaboration with Storm Tactical for accuracy and versatility.
Subscribe to the Gun Digest email newsletter and get your downloadable target pack sent straight to your inbox. Stay updated with the latest firearms info in the industry.