Combined with a Nightforce ATACR 4-16×42 F1 Scope, the Howa KRG Bravo smashed expectations.
How the Howa KRG Bravo is set up for long-range shooting success:
Howa's 1500 barrel-action.
Stock has a full-length aluminum spine that gives it rigidity.
Ample M-LOK slots on the forend for accessories.
Grip hook to pull the rifle snugly into your shoulder.
Adjustable cheek riser and LOP.
3 lbs., 10 oz., trigger-pull.
KRG Bravo bridges the gap between tactical and hunting.
My first long-range rifle took a chunk out of my savings to the tune of nearly $6,000 buckaroos, and so did the second one I had built. These custom rifles also took better than six months to complete from the time ordered. Since those days — just a few short years ago — the cost of entry into long-range shooting has come way, way down.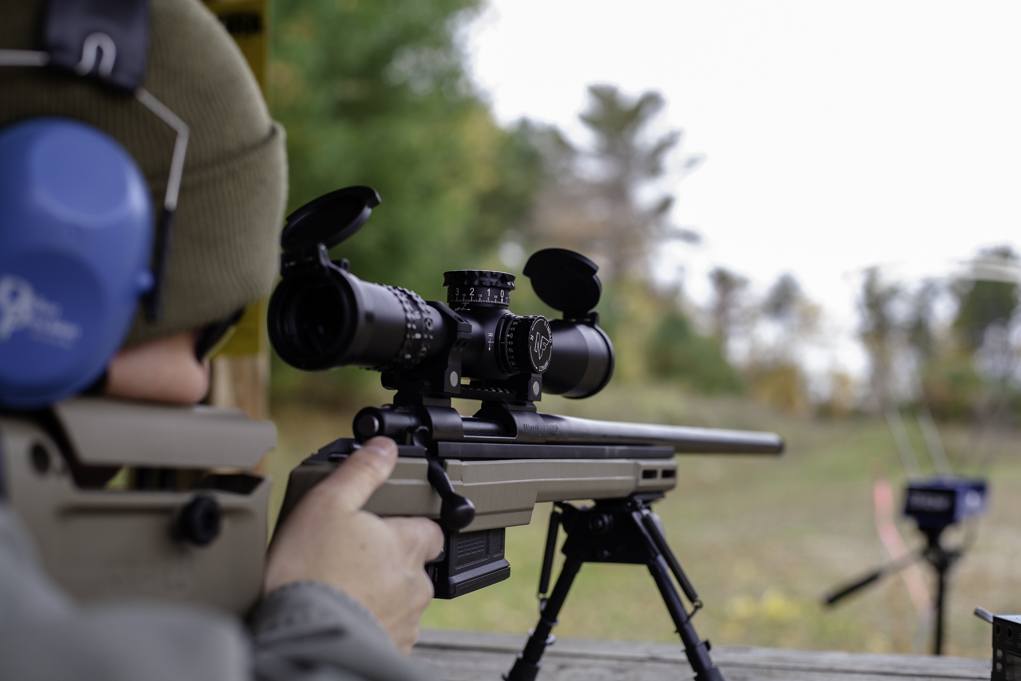 It's benefitted from the repeatability of CNC machine tools and innovations in stock-to-action fit that promotes accuracy. Partnerships between rifle makers and the burgeoning aftermarket stock industry help, too. Expectations of sub-minute-of-angle (MOA) precision are now assumed. The message from the shooting public: Make my groups small and keep my rifle around a thousand dollars. And companies like the Japanese concern Howa, imported and distributed by Legacy Sports International of Reno, Nevada, have delivered. Case in point: The Howa KRG Bravo.
Howa KRG Bravo .308 Review
Built on Howa's 1500 barrel-action, which has come to be regarded as one of the best in the industry, the KRG Bravo was introduced at the 2018 SHOT Show and features the Kinetic Research Group (KRG) Bravo stock. Clearly competing with crossover models like the Bergara HMR (Hunting Match Rifle), Howa's KRG Bravo bridges the gap between benchrest, tactical, law enforcement, Precision Rifle Series (PRS) competition and hunting. All polymer, the stock is not really a true "chassis" type, but more of a hybrid design with just enough modularity so you can customize to your heart's content. Yet, it still feels like a traditional stock. The stock has a full-length aluminum spine that gives it backbone rigidity while keeping the weight down. Since I'm accustomed to bedded rifle actions in heavier fiberglass stocks, like those from H-S Precision and McMillan, I found the Howa KRG to have a somewhat top-heavy feel, but I quickly got used to it.
The Howa 1500 KRG Bravo is available in black or Flat Dark Earth (FDE) color schemes and is packed with features. For one thing, the barrel comes threaded to accept a muzzle brake. The KRG Bravo stock has an in-built grip storage compartment that would be a good spot for small tools and a Bore Snake-type cleaner. A removable section under the buttstock comes off with the turn of an Allen screw and reveals a grip hook to pull the rifle snugly into your shoulder while shooting. In addition, M-LOK slots adorn the forend section for even more customization. The stock also includes a quick-release stud that fits into a milled recess near the top-right side of the buttstock, just in front of the recoil pad. I took advantage of this feature and installed a Magpul quick-detach sling swivel. That made it simple to attach a Rhodesian sling from Andy's Custom Leather to support field operations (hunting). The system was flawless.
Speaking of the recoil pad, the modular system includes three spacers to customize the length of pull (LOP). The rifle came without them installed, and the out-of-box 12.5-inch LOP was way too short for me. To rectify this, I simply removed two Allen screws accessible via holes in the recoil pad, added the three spacers and put it all back together for a final LOP of 15 inches. The adjustable cheek riser gives you an instantly perfect cheek weld and eye alignment through the scope.
---
More Long-Range Shooting Info:
---
The Howa's action and bolt throw are remarkably smooth for a factory rifle. The two-position safety is located next to the action and is operated easily with your thumb. The trigger is exceptional, breaking cleanly at an average 3 lbs., 10 oz., as measured with the Lyman trigger-pull gauge.
Optics and Accessories
When it comes to optics, there are two ways to think about a "budget" precision rifle build. There are now a lot of excellent riflescopes in the $500–$800 price range that would make an ideal and affordable match for a rifle system such as the Howa KRG Bravo. Indeed, many shooters go this route and it's a winning combination — even in competition. The other way to think about it is to use the money saved on the rifle and put it into high-end optics. That was my thinking behind contacting Nightforce, which supplied an ATACR 4-16×42 F1 scope with the Mil-C reticle. They also sent along the excellent Nightforce TS-82 spotting scope, which allows you to count nose hairs on flies at 500 paces (and spot black holes on black targets at 300 yards or more — exceptional resolution).
The ATACR scope's features would require a full dedicated review to even begin to do it justice. This first focal plane scope has glass that stands with any of the premier German makers in edge-to-edge clarity, resolution and light transmission. Clicks are solid and precise and the built-in illumination — activated by a simple push of the gold button on the left parallax turret — makes this military-grade optic extremely versatile for any tactical application one might face.
While there have been many advancements in bipods in recent years, the gold standard remains the Harris S-BRM 6-9 in. notched model, which provided all the support and adjustment needed for bench and field shooting.
Howa KRG Bravo Benchrest Test Results
One note about the Howa 1500 barreled-action: While it is often compared to the Remington 700 (it is indeed very similar), the scope base hole pattern on the receiver is uniquely Howa and you will need a Howa base.
I tested four selections of ammo from 100 yards. Those included the Federal Gold Medal 185-grain Berger Juggernaut OTM, Federal LE 168-grain Tactical Tip MatchKing, Federal Gold Medal Match 175 grain and Hornady TAP in 168 grains. The table below details the results; averages came in around 1 MOA or under from a pre-broken-in barrel. I am quite certain those groups would shrink further after a barrel break-in period. Best groups ranged from .49 to .83 inch — meeting Howa's .5 MOA guarantee.
During shot strings, groups remained consistent as the Howa's heavy barrel shrugged off heat. From the bench and prone positions, the Howa KRG Bravo came to shoulder quickly and printed tiny groups as the action spit spent brass like a champ. What didn't I like? The AICS steel mag gouged brass as rounds were fed, and it was rougher to feed than a rusty old military bringback caked in Cosmoline. Thankfully, the solution was easy. A switch to the Magpul PMAG AICS 5-round polymer magazine slicked up round extraction and ejection, made it feel like a completely different rifle.
Parting Shot
On the range and in the woods the Howa KRG Bravo is an impressive rifle system for the price. Its affordable accuracy was a nice break from the custom rifle option costing several times more. My only complaint is that, due to time constraints, I didn't have a chance to really wring the system out to 1,000 yards. It would have been nice to let the Howa's accuracy and the Nightforce scope's exceptionally high-resolution glass flex their combined muscle while perched on some western draw. Even so, at the modest distances found here in the Midwest, the combination of Howa KRG Bravo, Nightforce ATACR and Federal match ammo made drilling bullseyes as easy as shooting fish in a barrel.
Howa KRG Bravo Specs:
MODEL: Howa KRG Bravo
CALIBERS: 6mm Creedmoor, 6.5mm Creedmoor, .308 Win.
BARRELS: 20-, 24-, or 26-in. heavy barrel
BARREL TWIST: 1:7.5 (6mm CM); 1:9 (6.5 CM); 1:10 (.308 Win.)
MAGAZINE: 10-round AICS
COLOR OPTIONS: Black or Flat Dark Earth (FDE)
STOCK FEATURES: Built-in buttstock grip hook for rear bag use; grip storage compartment; M-LOK compatible fore-end
LENGTH OF PULL: 12.5–15 in.
WEIGHT: 9.9–10.2 lbs.
MSRP: $1,279–$1,339
Editor's Note: This article is an excerpt from the Tactical Gun Digest book, available at GunDigestStore.com.
---
NEXT STEP: Download Your Free Storm Tactical Printable Target Pack
62 Printable MOA Targets with DOT Drills - Rifle Range in YARDS
This impressive target pack from our friends at Storm Tactical contains
62 printable targets
for rifle and handgun range use. Target grids and bullseye sizes are in MOA. Ideal for long-range shooting!
Subscribe to the Gun Digest email newsletter and we'll send your print-at-home target pack right away.
Just enter your email address below.
---