Track game through the morning fog or the cover of darkness with Liemke's Kieler thermal monoculars, now available in the United States.
Possible Uses Of A Thermal Imaging Device:
Locate lost game after sunset
Night hunting
Hunting in areas with regular high fog or mist
Nature Observation
Surveilling your property at night
Locating a leak in your HVAC system
Developing and testing firearms or suppressors
Once only available to Europeans, Germany's premier thermal imaging manufacturer has begun importing their monoculars into the United States, giving American hunters access to the same game-changing tech that our friends across the pond have been enjoying for years.
Liemke has been producing thermal imaging gear for both civilian and government use since they were established in 2008. Cutting-edge German engineering quickly made Liemke an industry leader in the European thermal market. Now that they are expanding their sales to the United States, companies like FLIR and Pulsar have new competition in town.
Night hunting has grown in popularity in recent decades, in no small part due to booming boar and coyote populations that need culling. When tracking game without the assistance of sunlight is your goal, thermal monoculars and scopes are the best way to locate animals without compromising your own position with illumination.
Liemke is initially entering the American market with two thermal monocular offerings, the Keiler 13 Pro and the Keiler 35 Pro. Both models have recording capabilities and internal storage of 16GB, which can be transferred to another device via cable for the 13 Pro or via Wi-Fi for the 35 Pro. They record at a 50 Hz refresh rate to ensure the footage is smooth and the image quality is high. All Liemke products also include a three-year warranty.
Keiler 13 Pro
Featuring a 13mm objective lens, this pocket-sized monocular brings high-performance in a small package. As rugged and waterproof as any other sized model, the Keiler 13 Pro detects heat signatures at a maximum of 500 yards, with a field of view of 50 meters at a 100-meter distance. The resulting image is viewed on the 720×540 pixel resolution display. It has an optical zoom level 1.2x and a digital zoom of 2x, providing for a total capable zoom of 2.2x.
The Keiler 13 Pro, the more compact model of the two, weighs only 11.64 ounces and is described by Leimke as pocket-sized. Pockets come in many sizes, however, so it would be appreciated if Leimke posted the device's actual dimensions. It is powered by a rechargeable lithium-ion battery that can run continuously for 12 hours. With such a small size and long battery life, the Keiler 13 Pro seems ideal for those looking to carry a light pack into deep country. MSRP is $1,332.
Keiler 35 Pro
As the 13 Pro features a 13mm objective lens, the 35 Pro has a 35mm lens. Larger in every way, the 35 Pro is capable of detecting and recording heat signatures up to 1,350 yards away. Its 2.5x optical zoom combined with a 2-4x digital zoom means that the 35 Pro can enlarge an image up to 10x its original size. The image is displayed on a 1,280×960 pixel screen, higher resolution than the 13 Pro.
The 35 Pro is also powered by a rechargeable lithium-ion battery, but it is only guaranteed to have a minimum of a 7-hour battery life due to the more demanding power requirements over the smaller model. At 14.81 ounces, it is only about 3-ounces heavier than the 13 Pro. This model is more suited for those who value performance over portability or price. MSRP is $3,332.
For more information on Liemke thermal imaging devices, please visit liemke.com.
---
Zero In On Optics: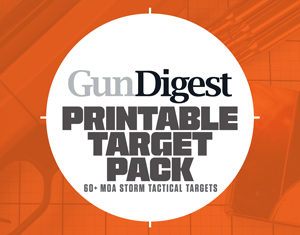 Next Step: Get your FREE Printable Target Pack
Enhance your shooting precision with our 62 MOA Targets, perfect for rifles and handguns. Crafted in collaboration with Storm Tactical for accuracy and versatility.
Subscribe to the Gun Digest email newsletter and get your downloadable target pack sent straight to your inbox. Stay updated with the latest firearms info in the industry.