Magnum Research has introduced black tiger stripe finish models of its classic Desert Eagle pistol. The new finish complements the company's other finish options, which includes blued, stainless, gold and chrome.
Customized finishes have become an increasingly common trend among gun owners, whether it be on modular ARs or tactical handguns. Many manufacturers have recognized this trend and are offering specialized finishes on their firearms straight from the factory.
One gun manufacturer catering to shooters preferring a more personal finish on their firearms is Magnum Research, maker of the well-known Desert Eagle pistol. The company has offered buyers a number of custom colors and finishes, including both Zebra stripe and Gold Tiger Stripe, on its Desert Eagles. New for 2016, Magnum Research is making the Desert Eagle available with a Black Tiger Stripe finish as well.
The new Black Tiger Stripe Desert Eagles will be available in both .50 Action Express (AE) and .44 Magnum chamberings. Like other Desert Eagles, these are gas-operated pistols with a capacity of 7 rounds in the .50 AE chambering and 8 rounds in the .44 Magnum configuration. Both handguns are 10.75 inches in length and feature a 6-inch barrel, and both incorporate an ergonomically designed grip specifically formed for two-handed shooting and a Weaver-style accessory rail for optics. The .50 AE version weighs approximately 4 pounds, 5.8 ounces, while the .44 Magnum model weighs around 4 pounds, 6.6 ounces.
"While there are many people that appreciate an unadorned pistol, there are still those that feel they need something more – something that complements their personality," stated Frank Harris, VP of Sales of Marketing. "To address those fans who want something 'flashier,' we have introduced our handguns in multiple colors, polished gold or chrome and even animal prints. The Black Tiger Stripe Desert Eagle was first exhibited at the 2016 SHOT Show and already we anticipate it will be one of our more popular models."
Currently, MSRP on the new Black Tiger Stripe Desert Eagles is listed at $1,922 for the .50 AE and $1,895 for the .44 Magnum. For more info on the new Desert Eagles or other Magnum Research products, visit the company's website.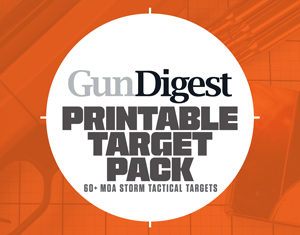 Next Step: Get your FREE Printable Target Pack
Enhance your shooting precision with our 62 MOA Targets, perfect for rifles and handguns. Crafted in collaboration with Storm Tactical for accuracy and versatility.
Subscribe to the Gun Digest email newsletter and get your downloadable target pack sent straight to your inbox. Stay updated with the latest firearms info in the industry.