Pointer's new break-action shotgun is tailor-made to provided youths with a safe and effective smoothbore. It's lightweight and easy to learn.
The venerable single-shot, break-action shotgun has been the right of passage for many a young shooter and sportsman. As far as "first guns" go, the safe and steady scattergun is perhaps only overshadowed by the many variations of .22 rifles.
There are good reasons why break-actions are a popular choice for youths to hone their marksmanship and gun safety skills. The design of most is inherently safe, shotguns are versatile, and overall the firearms are manageable.
Legacy Sports International added this age-old style of shotgun to its catalog recently, introducing the Youth Pointer Break Action. And at first blush, the shotgun appears to have the right combination of features to make it a dandy firearm for new shooters.
Perhaps the most important asset of the new Pointer Break Action is its slew of safety features. The shotgun — available in 12-gauge, 20-gauge and .410 — is outfitted with a manual push-button safety, located above the trigger guard. It also has two passive safeties: a hammer safety and transfer-bar safety. Both aid in avoiding a negligent discharge if the firearm is dropped.
The break-action design itself also helps in ensuring the firearm is safely handled. In particular, the gun's hammer must be manually actuated before it can be fired, and it can be carried with the action open. The latter feature is a real safety boost for those heading into the field for the first time, allowing them to securely carry the shotgun over rough terrain without worry.


At around 5 pounds, the Pointer Break-Action shouldn't prove to be a burden when carried by young shooters. But, the heft of the firearm should be enough to mitigate its recoil. This is a plus, given many new to firearms can be head shy about a gun's kick. The smoothbore has a 26-inch barrel and has a 3-inch chamber on the 12- and 20-gauge model, and a 2.5-inch chamber on the .410.
It comes outfitted with a durable black-synthetic stock and has a 13-inch length of pull, which should provide a comfortable fit for a vast majority of youths. The gun also has a brass bead front sight and a fixed modified choke.
The final feature of the Pointer Break-Action shotgun that should appeal to many is its affordability. With an MSRP of $188, the shotgun should be accessible to nearly anyone searching for a firearm to teach the next generation of shooters.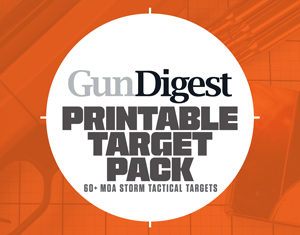 Next Step: Get your FREE Printable Target Pack
Enhance your shooting precision with our 62 MOA Targets, perfect for rifles and handguns. Crafted in collaboration with Storm Tactical for accuracy and versatility.
Subscribe to the Gun Digest email newsletter and get your downloadable target pack sent straight to your inbox. Stay updated with the latest firearms info in the industry.