Leatherwood/Hi-Lux is offering a reproduction of the long-tube style USMC scope. For lovers of vintage military arms, this is indeed exciting news. Here's a look at the Leatherwood USMC Sniper Scope.
As we reported in this blog a few months back, the Civilian Marksmanship Program (CMP) recently launched a new category of competition known as the Vintage Sniper Match. As interest in this contest gains traction, a few manufacturers are coming out of the woodwork to bring reproduction vintage military guns and gear to market, the type you can take to the range and shoot.
Now, Leatherwood/Hi-Lux is offering a reproduction of what I consider to be the most attractive of all optics — the long-tube style USMC scope. Today from Leatherwood:
One of the most recognized names in military sniping during the Vietnam conflict was Marine Corps marksman Carlos Hathcock. During his two tours, he was credited with 93 confirmed kills. The rifle he relied on for very precise long range shot placement was a Model 70 Winchester, of .30-06 caliber, topped with an 8x Unertl scope. The accompanying USMC photo shows Hathcock in Vietnam, sighting in on a distant target.

Leatherwood/Hi-Lux now offers a reproduction long-tube USMC scope for Winchester Model 70 vintage sniper rifles.

Scopes of this design, with micrometer click external adjustment, were once favored by long range precision shooters, and quite a few different scope manufacturers offered very similar models. Today, an original USMC marked scope in mint condition can sell for as much as $5,000 to $6,000. And with the current interest in shooting and competing with vintage style sniper rifles, just a working standard model scope in very good condition can still bring $2,000 or more

Leatherwood/Hi-Lux Optics is now adding an extremely well built 8X USMC-SNIPER model to its Wm. Malcolm line of vintage style riflescopes. Not only will this scope match the originals for extremely precise adjustment of windage and elevation, the new made scope also offers the advantages of modern lens making, with fully multi-coated lens surfaces for maximum light transmission. This scope offers the brightest, clearest, and sharpest optics ever in a riflescope of this design.

The scope will be marked with the Wm. Malcolm name over the USMC-SNIPER model designation, and each will be serial numbered – as were the original USMC models. The Marine Corps utilized this style of scope on sniper rifles during WWII and Korea, commonly relying on the old WWI vintage .30-06 Springfield Model 1903-A1. (Modified specifically for sniper use, the WWII rifle was also known as the USMC Model 1941 Sniper Rifle.) During the Vietnam conflict, some of the earlier snipers, such as Carlos Hathcock, continued to rely on the external adjustment "target scopes" the Corps had adopted during WWII.

The new Wm. Malcolm 8X USMC-SNIPER captures the look, the precision and the accuracy capable with riflescopes of this type. And at the $549 suggested retail price, it is far more affordable than a serviceable original from the 1940s, or even the 1970s when they were still in production. Like all Leatherwood/Hi-Lux Optics, the Wm. Malcolm USMC-SNIPER model comes backed with a limited lifetime warranty.
All of this is exciting news for anyone with an interest in vintage military arms. Especially nice is the fact that the scope's price tag — at $549 retail — is affordable, unlike the very rare period models floating around out there in the online auctions.
My question is, will Winchester follow suit with a reproduction heavy barrel pre-64 style Model 70?
For more information, please contact :
Hi-Lux, Inc.
3135 Kashiwa St., Torrance, CA 90505
Tel: (310)257-8142,
Website: www.hi-luxoptics.com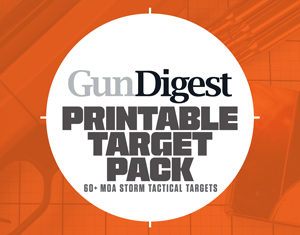 Next Step: Get your FREE Printable Target Pack
Enhance your shooting precision with our 62 MOA Targets, perfect for rifles and handguns. Crafted in collaboration with Storm Tactical for accuracy and versatility.
Subscribe to the Gun Digest email newsletter and get your downloadable target pack sent straight to your inbox. Stay updated with the latest firearms info in the industry.