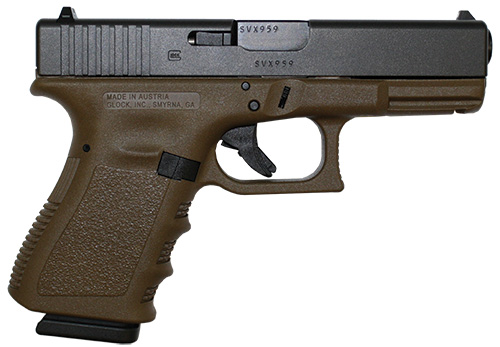 Looking for a Flat Dark Earth Glock in Gen3 or Gen4? Now you can get one, thanks to Lipsey's. If you're into the all-business look of a two-tone Glock, here is where to look.
A Glock is no 1911 in the looks department. Unless you're into that eastern-European industrial look. But some believe a tan or Flat Dark Earth Glock is one of the best-looking handguns one can own. I happen to be of that opinion myself.
And up until now, the only choice was to look on the used market for one of the few remaining Glock Gen3 guns that were offered in the company's "OD" color, or to take the plunge and spray the thing with Duracoat.
However, firearm distributor Lipsey's has announced a third option: GLOCK Pistols featuring Flat Dark Earth frames. Nine different models will be offered, including the Generation 3 Model 17, 19, 22, and 23, as well as the Generation 4 Model 17, 19, 21, 22, and 23.
This will mark the first time that any GLOCK Generation 4 pistols are offered in a different frame color.
"GLOCK set the standards by which all other polymer pistols are judged. The addition of our exclusive Flat Dark Earth models gives the consumer a choice other than all black," said Lipsey's buyer Brett Frey.
I asked Jason Cloessner, also of Lipsey's, where in the world these were coming from.
"These are straight from Glock," Cloessner told Gun Digest. "We have been working on this project for some time. Glock made some Gen 3 22's for a certain Special Forces Unit in the past, but in very limited numbers. These are the first FDE guns offered commercially and for sure the first "non-black" Gen 4 guns.
"Just a side note, the Gen 4 extra backstraps are FDE too on all the guns except for the G21."
To see Lipsey's full line of Flat Dark Earth Glocks click here.
---
NEXT STEP: Download Your Free Storm Tactical Printable Target Pack
62 Printable MOA Targets with DOT Drills - Rifle Range in YARDS
This impressive target pack from our friends at Storm Tactical contains
62 printable targets
for rifle and handgun range use. Target grids and bullseye sizes are in MOA. Ideal for long-range shooting!
Subscribe to the Gun Digest email newsletter and we'll send your print-at-home target pack right away.
Just enter your email address below.
---