Nightforce has quietly been making a name in the tactical scope industry for years by building scopes that will work through any type of torture, including a through-and-through shot from a 7.62×39 round. (see its website for details)
Now that tough-as-nails construction is coming to the hunting market. And one of the best options is the 2.5-10×24 NXS (shown at left).
It is perhaps the most versatile, rugged and practical all-around scope on the market for the hunter and for general shooting. Those who thought a huge 40 or 50mm objective lens was essential for use in low-light conditions will find the superb resolution of the Nightforce lenses provides low-light performance comparable to—in most cases, exceeding—that of lesser quality scopes with massive objectives.
The streamlined design of the 2.5-10 x 24 provides a range of mounting options and complements, rather than dominates, a fine hunting rifle. While it will easily absorb the pounding of heavy calibers, those who enjoy shooting small centerfire calibers will also appreciate a scope that does not overwhelm trim, elegant firearms.
There are no parallax or focusing concerns, and its light weight makes it a perfect complement to a mountain rifle. If you want to get your hands on a scope that is battle-tested tough, but also refined and elegant, reach for a Nightforce.
Check out the entire product line at www.nightforceoptics.com.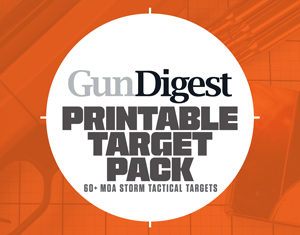 Next Step: Get your FREE Printable Target Pack
Enhance your shooting precision with our 62 MOA Targets, perfect for rifles and handguns. Crafted in collaboration with Storm Tactical for accuracy and versatility.
Subscribe to the Gun Digest email newsletter and get your downloadable target pack sent straight to your inbox. Stay updated with the latest firearms info in the industry.