In this Shadow Systems CR920 review, the author shines a light on the company's 9mm compact concealed carry pistol.
The gun world, as I'm sure you know by now, is rife with marketing jargon and gimmicks. Bullets that are more this or barrels that are more that. Much of it is hyperbole, even if some companies actually deliver on the promises that they make.
"A subcompact that shoots like a full size." That's what the Shadow Systems CR920 is marketed as. In many ways, this is not the hyperbole that I just outlined. This is likely one of the most shootable subcompacts you can buy.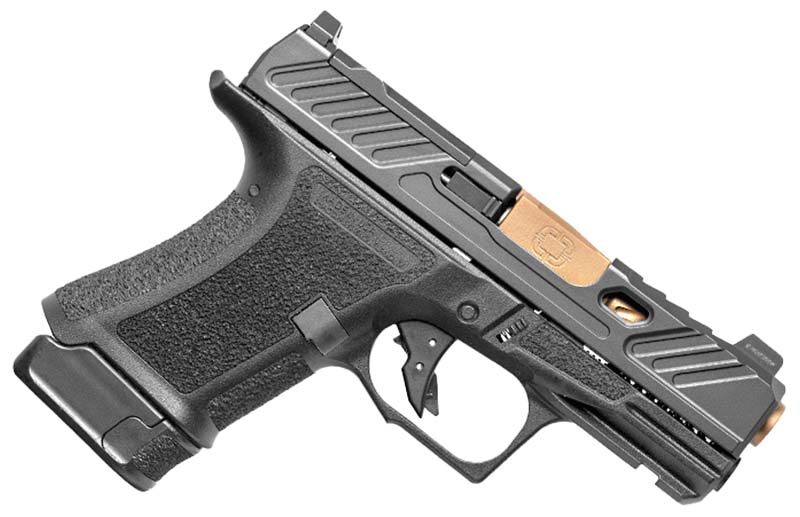 Don't get me wrong, I have no desire to shoot any subcompact all day—they're not made for that after all. They're designed to be concealable and easily deployed. Check and check, with the CR920.
It is flat shooting, optics-ready in a discreet package that has a very respectable magazine capacity of 10 rounds in the flush-fit model and 13 rounds in the extended flavor. But that's not the most remarkable thing about the pistol. After all, you can get that type of capacity from a Glock 26 or Sig P365.
One of the most remarkable things about the Shadow Systems CR920 is that they crammed this capacity in something slightly smaller than a Glock 43 with a pinky extension and about the same thickness (1.06-inch for Glock versus 1.05-inch for CR920). You get one of the smallest CCW pistols on the market loaded with features, and it has an MSRP of $799 for the combat (non-optics ready) version and $940 for the Elite version.
Grip Frame And Ergonomics
Like most subcompacts, the 10-round flush-fit magazine only offers about 3 fingers of real estate. They do sell a pinky extension now, but I haven't outfitted any of my magazines with this accessory. The extended 13-round magazine does have much better ergs, allows the shooter a full grip and makes it much more comfortable to draw and shoot. Like any other subcompact, the user can choose to carry the firearm either with easier-to-conceal but harder-to-grip flush-fit mags, or the harder-to-conceal but easier-to-shoot-with extended magazines. Depending on what I was wearing, I rocked both while testing this gun.
As far as the ergs, it's like they took a Shadow Systems MR920 and hit it with a shrink ray. All the familiar stippling is there, yet in a slightly smaller package, along with the extra material under the slide stop (which is very welcome in such a small pistol). There is texturing where the "accelerator cuts" usually are, but not the standard ledge that comes with the MR/XR/DR series.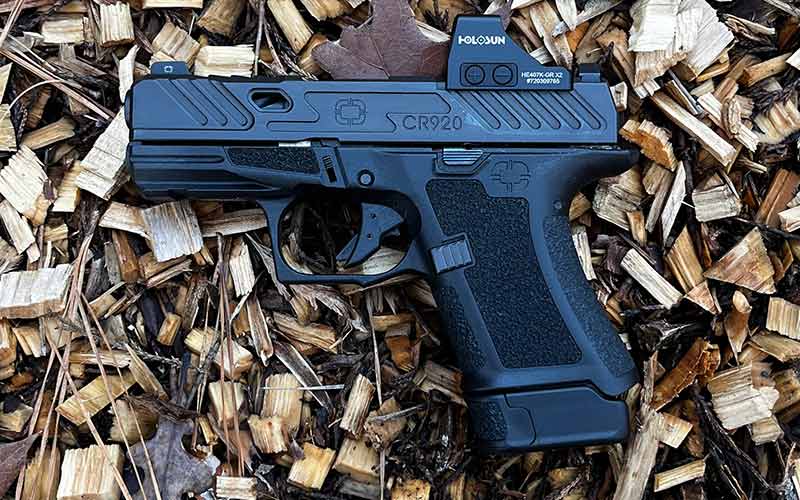 Unlike its bigger brothers, there is no NPOA system with interchangeable backstraps—there simply isn't enough real estate for it. However, when compared to the Glock 26 this pistol is unequivocally more comfortable to shoot since it has better ergonomics than a stone block, with a grip that is much more refined than that of a Glock 43.
The Slide
Once more, this gun feels like Rick Moranis' character from the Honey, I Shrunk The Kids was on the design team—the slide is just like the MR920 Elite, but smaller. The machining is just as superb, and it comes with lightning cuts (albeit small ones) and directional serrations on the top, front and rear of the slide.
Again, this has a whole bunch of science behind it regarding reciprocating mass and it makes the gun more shootable and less snappy. We'll get into the shootability of this pistol later, of course. But for the size, this pistol doesn't leave much to be desired in the realm of attention to detail. The slide is well machined, I can't find a tooling mark anywhere, and directional serrations are a welcome addition to a pistol that is only a hair over 6 inches in length.
From an optics mounting POV, this gun accepts nearly every micro RDS pattern currently on the market besides the RMRcc. I have a 407k Holosun with a 6-MOA dot mounted to mine, and I've put it to use shooting bowling pins at 25+ meters without missing. I also carry this pistol relatively frequently and don't exactly baby it when taking it on and off, and it's held its zero just fine. Much like the Shadow Systems CR920's bigger brothers, again, this gun runs like a top.
From an iron sight perspective, the gun does ship with a blacked-out rear and tritium front sight, making it good to go for low-light conditions right out of the box. The sights on it are more than serviceable and ready for any CCW application. You get a co-witness with iron sights and an optic as well, which is kind of a must for me with any carry gun. Red dots, although technology has come a long way, are battery-operated and can fail. It's good to know I can still get a sight picture no matter what, especially with a gun designed specifically for concealed carry.
The Barrel
The barrel is Shadow Systems' trademark TiNi spiral-fluted, match-grade barrel, and in the CR920's case it's 3.41 inches long. That's the exact same length as a Glock 43 series barrel and in the same ballpark as the Glock 26 and Sig P365 (3.4 inches and 3.42 inches respectively).
These do not come with threaded barrels, but considering the application and intended use, that's not a surprise. They are plenty accurate, especially for a subcompact, and I've had no problem making precise shots into the A zone in a USPSA target on both the chest and head at good distances. For real-world applications, this barrel gets the job done just fine.
Shootability
As I said at the outset, this gun was billed as a "subcompact that shoots like a full-size." While I wouldn't want to put 500+ rounds through this thing in a session as I would with one of my CZ's or full-size Shadow Systems pistols, it is far and away much more comfortable to shoot than any other subcompact I own or have shot (and I'm including .380s in that statement).
It has better ergs and is lighter, smaller and higher capacity than a Glock 26, and the stippling, index points and slide machining make it more fun to shoot than a Glock 43/43x too. The texturing vaguely reminds me of a Sig P365, and the grip frame is a tad bigger, but I welcome that since I have large hands. I also found the pistol easier to index than its Sig compatriot and more pointable too, likely mostly due to my greater experience with Glocks and the thousands of reps of dry fire I've performed with them.
When doing live fire, I found myself wondering "where the hell is the recoil?" The Shadow Systems CR920 is light, an ounce lighter than a Glock 26, but is somehow also much softer shooting and easier to get back on target for follow-up shots. Also, mag dumps all hit the same place on the steel torso I was practicing on, making one big splotch of 10 rounds at center mass. There's some engineering wizardry afoot leveraging grip angle, bore axis, and reciprocating mass that I only tacitly understand. But take my word for it, for a subcompact, it's surprisingly controllable.
One feature that I appreciate, but wasn't sure whether to mention, is the slight beveling at the front of the magwell. This allows for quick reloads as the semi-circle funnel helps to guide in fresh magazines. What's more, the material on the back of the grip minimized the pinch you get when slamming home a new mag, which to me aids in its shootability and desire to put rounds through it.
Concealability
Typically I review accuracy at this point, but I touched on that, and let's be real—this gun is made for deep concealment. The CR in CR920 stands for Covert Role after all (fun piece of trivia: MR stands for Multi-Role and DR for Duty Role in the Shadow Systems lexicon). This gun might as well be made of fabric because it disappears when you put it on. It is cross-compatible with most Glock 43x holsters, and I have one that I hate for the 43x, but even when using that one this pistol still virtually disappears.
With the holsters that I do like, I can even forget that I'm wearing a gun. The pistol is only 4.2 inches tall with the flush-fit mag, and 4.7 inches tall with the extended magazine with an overall length of just under 6.5 inches. As you can see here, it basically fits in the palm of my hand. Appendix or 3-4 o'clock carry, it doesn't matter. This gun is like Houdini—it just disappears. It even makes a fine candidate for pocket carry, but that's just not my jam.
Critique
As with most Shadow Systems pistols, this thing feels over-engineered, but that's not a bad thing at all. You have all the bells and whistles from the MR/DR Elite series, just shrunken down in a concealable, easy-to-shoot, high-capacity (for a subcompact) package. With optics readiness out of the box, night sights, directional serrations and interoperability with Glock 43x accessories, what's not to like?
There's one thing you'll probably read about on the interwebs that has Fudds and Tacti-bros alike screaming into the proverbial void: proprietary magazines. Yes, you need to buy *gasp* $29 magazines if you want something more than the 10-round and 13-round magazines that the CR920 ships with. But I didn't see anybody freaking out when Glock dropped their 43/43x line with proprietary single-stacks, nor did I see anybody losing it when Sig came out with a new gun with no interoperability. Could it be a drawback? Sure. But I always buy extra mags anyway so it's not a dealbreaker.
As is my experience with some other Shadow Systems products, there were some FTEs in the first few rounds. Scratch that, the very first round I shot from this gun failed to eject. This is due to the extremely tight tolerances, and consequently, Shadow Systems recommends a break-in period. If you've read my other pieces, you would know that I would recommend you put at least 200-400 rounds through any carry gun before you wore it out in the world. It must prove itself to you. Thankfully, the steel sights that come standard were capable of grabbing onto a range table and racking that first round out. Since then, it runs like a Singer. That's a sewing machine if you didn't catch the reference.
Shadow Systems CR920 Final Thoughts
The CR920 is elbowing its way into an already crowded and gimmicky subcompact concealed carry market. We have seen a virtual (small) arms race of capacity that started a few years ago with Sig waving a magic wand and cramming 10-12 rounds into a grip frame that you'd swear was a single stack, and since then, CCW pistols seemed to have inched closer to the size of a Glock 19. Conversely, the Glock 43 was one of the smallest 9mms on the market, but its stock magazine capacity of 6 rounds left a lot to be desired.
With a higher capacity and features like an optics-ready slide and steel night sights right out of the box, the Shadow Systems CR920 is one very capable concealed carry pistol.
---
More Handgun Reviews: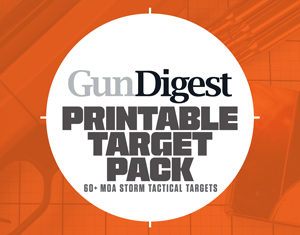 Next Step: Get your FREE Printable Target Pack
Enhance your shooting precision with our 62 MOA Targets, perfect for rifles and handguns. Crafted in collaboration with Storm Tactical for accuracy and versatility.
Subscribe to the Gun Digest email newsletter and get your downloadable target pack sent straight to your inbox. Stay updated with the latest firearms info in the industry.