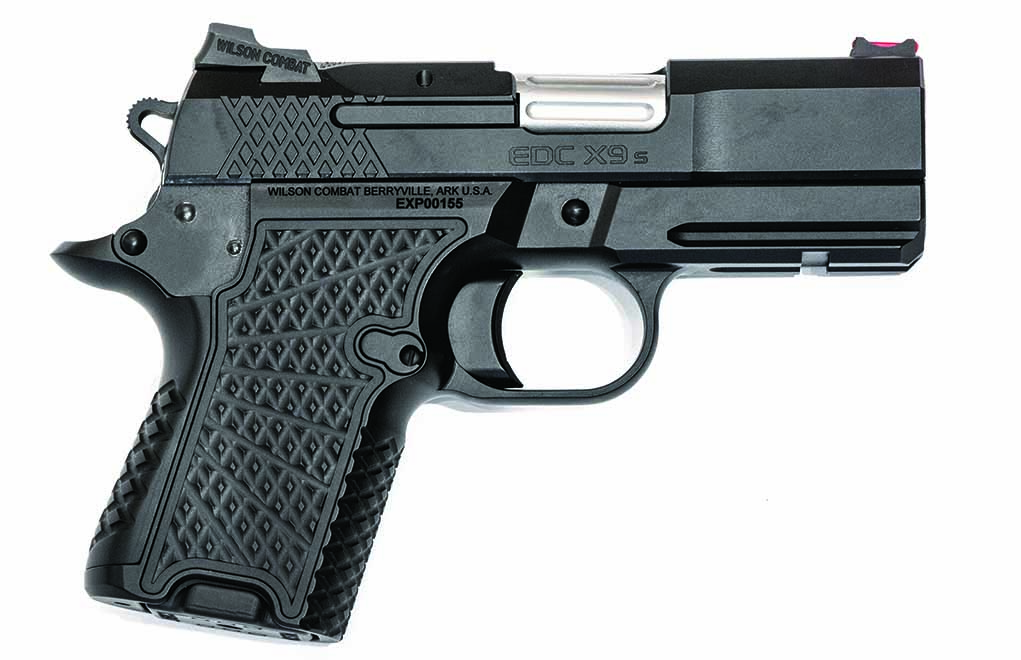 Ideally adapted to every day carry, the revamped Wilson Combat EDC X9S is smaller but just as magnificent.
What Sets The EDC X9S Apart From Other Compacts:
Built on a rugged alloy frame.
Sized to match most of the popular striker-fired compacts.
Utilizes Sig P226/228 magazines.
Designed sans a grip safety.
A bit hefty, it does a number on recoil.
Reliable as the day is long.
I would like to introduce you to a new defensive handgun. It's the EDC X9S from Wilson Combat.
Now, unless this is the first gun magazine you've ever read or your Internet is broken, you've surely heard of Wilson Combat. The company was founded by Bill Wilson, who started his gunsmithing business in 1977 in the back of his family's jewelry store in Berryville, Arkansas. Wilson Combat has now grown to become one of the largest employers in the area and a premier manufacturer of what many consider the best custom 1911s in the world.
Younger shooters might not know Bill Wilson's history. In addition to building an impeccable reputation as a gunsmith, he was the Pistolsmith of the Year in 2002, a top-level IPSC competitor, former director of USPSA and one of the co-founders of the International Defensive Pistol Association.
Bill is now retired. Well, not really. Bill doesn't sit around watching Starsky and Hutch reruns; he supports Wilson Combat by providing research-and-development services. Essentially, he comes up with cool stuff for Wilson Combat to build, and then he shoots it until he knows it works.
In 2017, Wilson Combat introduced the EDC X9. Being a near-perfect amalgamation of the best of what a 1911, Browning Hi Power and Glock 19 had to offer, the EDC X9 is a magnificent defensive handgun.
Still Magnificent, Just Smaller
But, with the understanding that a more compact handgun was more popular for concealed carry, Wilson Combat began working on a smaller version of the EDC X9. The EDC X9S has just been recently released, and I got to spend about a week working with one. Because of its size, reliability and ease of shooting, it's ideally adapted for everyday carry.
It's basically an evolution of the EDC platform. Wilson Combat's main goal with the EDC X9S was to design a first-rate, 10+1-capacity pistol that was about the same basic size as an S&W M&P Shield. But, unlike the Shield or similarly sized Glocks, the EDC X9S is not made of plastic; it's built on an alloy frame and accepts double-stacked 9mm magazines. In fact, it uses 10-round Sig Sauer P226/228 magazines. The trigger, magazine release, hammer, thumb safety, ejector and tilting barrel recoil system are very 1911-ish in style.
However, the EDC X9S, like all the pistols in the EDC line, lacks a grip safety. The backstrap, which houses the mainspring, is hinged at the top rear of the frame, just as on the larger EDC X9. It's released by inserting a punch into a hole in the bottom of the backstrap, and it pivots out of the way for access to the internals.
The pistol has a 3-inch, coned-and-fluted barrel that's ramped. It doesn't have a barrel bushing but does have a dual recoil spring. The slide is removed just as on any other 1911 but, unlike traditional 1911s, the extractor is external and user serviceable. The pistol's grip is sculpted with Wilson Combat's X-Tac treatment, and a similar pattern replaces the common 1911 grasping grooves at the rear of the slide.
Slide and Trigger
The EDC X9S doesn't have grip panels. The textured sides of the aluminum grip are flat and integral to the frame. For its compact size, it's not that light. As a comparison, a fully loaded Glock 26 is 4 ounces lighter. This quarter-pound difference is kind of a big deal, because that extra weight is in the slide, helping to dampen recoil and allowing for faster target recovery and follow-up shots. In essence, it makes the EDC X9S more comfortable to shoot.
Thanks to an outstanding trigger—with the shortest reset I've ever experienced—the EDC X9S is very easy to shoot fast and accurately. I've already written here about the "Forty-Five Drill" I use to evaluate defensive handguns. In that drill, the goal is to draw from concealment and fire five shots into a 5-inch circle at 5 yards in under five seconds. My average time for five runs with the EDC X9S was 3.37 seconds, with only one shot—fired during the first run—landing outside the 5-inch circle. The pistol was also extremely reliable; I tried to make it jam, but I couldn't.
The EDC X9S Balance
With the EDC X9S, Wilson Combat has done a wonderful job of finding a balance between concealability and shootability. The grip will comfortably fit a wide range of hand sizes. It's not too heavy, and if you compare all its dimensions with a Glock 26's, the two pistols are, for all practical purposes, the same exact size. (I have to admit that I like my larger EDC X9 a bit better, but I'm accustomed to carrying a commander-sized 1911/Browning Hi Power pistol on a daily basis. For others who might want high capacity combined with ultra-concealment, the EDC X9S is a better choice.)
I consider Bill Wilson one of the best—if not the best—pistolsmiths in the world when it comes to defensive handguns. I'd also rate Wilson Combat as the top source for custom 1911 or 1911-styled handguns.
The new Wilson Combat EDC X9S is the current premier evolution of the 1911, and if you're looking for a compact carry gun, it should be on top of the list of handguns you want to check out. Although some will scoff at its base price of $2,695 (yeah, I know: You can buy five Glock 19s for the same price), there's a certain pride and comfort in knowing you own the very best.
EDC X9S Specs
Available Calibers: 9mm
Magazine Capacity: 10 rounds
Barrel Length: 3.25 inches
Overall Length: 6.75 inches
Sight Radius: 5 inches
Height: 4.5 inches
Width: 1.25 inches
Weight Empty: 25.2 ounces
Weight Loaded: 29.7 ounces
Accuracy Guarantee: 1.5 inch at 25 yards
For more information on the EDC X9S, please visit wilsoncombat.com.
Editor's Note: This article originally appeared in the March 2020 issue of Gun Digest the Magazine.
---
Raise Your Wilson Combat IQ:
---
---
NEXT STEP: Download Your Free Storm Tactical Printable Target Pack
62 Printable MOA Targets with DOT Drills - Rifle Range in YARDS
This impressive target pack from our friends at Storm Tactical contains
62 printable targets
for rifle and handgun range use. Target grids and bullseye sizes are in MOA. Ideal for long-range shooting!
Get Free Targets
---