When you think of Kimber handguns, you should be thinking of top-quality 1911 pistols. But that does not mean you have try to hide a full-sized concealed carry handgun. One of the more recent offerings from Kimber and one that is available now, is the Kimber Solo, a 17-ounce pistol that is only 5.5 inches long. Sporting near-perfect ergonomics borrowed from 1911 pistols, a great trigger and 3-dot sights this little pistol is ready to go to work. Just pull it out of the box, load it and slide it in your concealed carry holster.
Standard Solo features include stainless steel slide and barrel, machined aluminum frame, ambidextrous thumb safety, removable grips and ambidextrous magazine release button. You can also get Solo CDP (LG) with Crimson Trace laser grips. The premium KimPro IITM finish standard on Solo frames is both self-lubricating and extremely resistant to salt and the elements. Magazine capacity is 6 rounds with an extended 8-round magazine available. Their suggested retail price is just $725.
And if you love the 1911 platform, check out this great information we have available:
---
Recommended 1911 Resources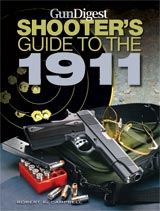 New! Gun Digest Shooter's Guide to the 1911
---
Best Starter Kit for Concealed Carry:
Disclosure: Some of these links are affiliate links. Caribou Media Group may earn a commission from qualifying purchases. Thank you!
---
Massad Ayoob's Greatest Handguns of the World