DPMS GII rifles represent the perfect modern sporting rifles (MSRs) of the new millennium.
I'm shocked there hasn't been more noise made about the DPMS GII rifles. They might be the most important step forward in personal long arms since the introduction of the Steyr Scout Rifle in 1997. I say this because the DPMS GII cuts the weight of the modern sporting rifle (MSR) chambered in .308 Winchester substantially. And, the GII offers some internal improvements over the mechanics of the AR-10.
Weight
A standard AR-10 chambered for the .308 Winchester/7.62 NATO in a carbine configuration will weigh about 9 pounds. The DPMS GII MOE and AP4 only weigh 7.25 pounds. That's a 20 percent reduction! Now, you might not think a 9-pound rifle is all that heavy, but a rifle alone is of little value.
You're going to need an optic and mounts. If you go with a conventional riflescope, that adds about a pound to the equation. And, lets not forget a magazine and ammunition; a loaded 20-round magazine is another 12 ounces and a serviceable sling, 6 ounces more. That works out to more than 2 pounds of attachments/accessories. Your 9-pound rifle now weighs 11 pounds plus. Spend a day afield or on the range with a 9-pounder and you'll come to appreciate the GII more than a month's worth of prepackaged Nutrisystem meals.
On the Inside
The weight savings comes from a reduction in size. You see, dimensionally, the only thing about the GII that's larger than a common AR-15 is the magazine well. Standard MSR dimensions from the bore to the gas tube and from the bore to rail allow for compatibility with standard handguards intended for AR-15s chambered for the 5.56 NATO.
The external radial dimensions of the monolithic bolt carrier are for all practical purposes the same size as a bolt carrier from an AR-15. DPMS has also engineered a new extractor that utilizes an elastomer button as opposed to a spring. Through testing they found the elastomer button has a much longer life and was more reliable. Dual ejectors are another enhancement, and this reduces ejector spring fatigue and provides more reliable expulsion of empty cases.
Lots of Choices
DPMS offers seven GII variations. They've been smartly configured to meet most any need you could dream of for a .30-caliber, semi-automatic, personal weapon system. Although the configurations vary, they all retain the modularity and versatility of the AR platform, along with the new lightness and improved mechanics of the GII system.
DPMS GII AP4

The 16-inch barreled AP4 is one of the lightest and least expensive GIIs. It has a Glacier Guard handguard, a Magpul MOE rear sight, a fixed front sight, and a cancellation brake on the muzzle. It weighs only 7.25 pounds and has a suggested retail of $1,399.00.
DPMS GII MOE

The MOE is another lightweight GII from DPMS also weighing 7.25 pounds. The MOE is outfitted with a Magpul MOE butt stock, Magpul MOE grip, and Magpul MOE handguard. It too has the cancellation muzzle brake and retails for $1,499.00.
DPMS GII RECON

This 8.5-pound, 16-inch barreled carbine was designed with the warfighter in mind. It has a mid-length gas system, a six-position Magpul MOE stock, Magpul front and rear back-up sights, Magpul MOE grip, and a four-rail free-float tube. It comes standard with a two-stage trigger and sells for $1,659.00.
DPMS GII SASS

Built to replicate the original DPMS AR-10 SASS, the GII SASS is just as popular with law enforcement special operations units. It has an 18-inch, 416 stainless, fluted and Teflon-coated bull barrel, fitted with a mid-length gas block. It has a Magpul PRS rifle stock, Panther Tactical Grip, and it has a four-rail handguard topped off with Magpul front and rear BUIS. At 10.5 pounds, it is the heaviest GII, and at $2,279.00 it's also the most expensive.
DPMS GII HUNTER

As you would expect, the Hunter model is intended for hunting. It has a lightweight 20-inch, 416 stainless, Teflon coated barrel with a 1:10-in.twist to handle big game bullets and keep velocities high. It has a carbon fiber, free-floating tube, a Magpul MOE stock, Hogue pistol grip, and a two-stage trigger. MSRP: $1,599.00.
DPMS GII COMPACT HUNTER

The Compact Hunter is similar to the Hunter but has a fluted, 16-inch, 416 stainless, Teflon-coated barrel with a 1:10-in. twist. The shortened barrel and complimenting free-float tube drops the weight from 7.76 pounds to an astonishingly light 6.9 pounds. This is unheard of for an AR in .308 Winchester. Suggested retail is $1,599.00, and it might be the best all-around GII offered.
DPMS GII BULL

This rifle is ideally configured for long-range shooters, whether they are after steel, critters or bad guys. It has a target-crowned, 24-inch, 416 stainless bull barrel, an aluminum free-float tube and a standard, non-adjustable, A2 Mil-Spec butt stock. It weighs in at 10 pounds and sells at a surprisingly affordable $1,299.00.
In the Field
I've fired about 800 rounds out of the GII platform in several variants. I've used it to take 15 whitetail deer, one wild boar and an elk. The deer were taken between 60 and 318 yards, the boar around 180 yards, and the elk at 340 yards. That's 17 animals in 18 shots. All of the GIIs I've fired provided more precision than I was capable of realizing in field conditions, and I've never experienced a stoppage of any sort. I've shoved everything from cheap steel-cased ammo to Hornady Superformance loads through these rifles. The GII will run as smooth as grandpa's push mower, will put bullets where you're aiming, and yet are the MSRs of the new millennium.
For more information on the GII lineup from DPMS, visit the company's website.
Editor's Note: This article is an excerpt from the August 2016 issue of Gun Digest the Magazine.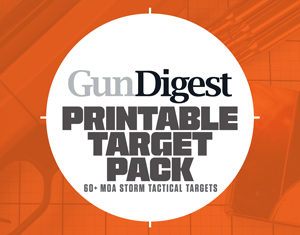 Next Step: Get your FREE Printable Target Pack
Enhance your shooting precision with our 62 MOA Targets, perfect for rifles and handguns. Crafted in collaboration with Storm Tactical for accuracy and versatility.
Subscribe to the Gun Digest email newsletter and get your downloadable target pack sent straight to your inbox. Stay updated with the latest firearms info in the industry.