Designed with input from former operators, the new Colt Combat Unit Pistol is purpose-built for hard use.
John Browning's renowned 1911 has a rich and extensive history as a service pistol. Following its initial introduction, the M1911, and later 1911A1, served as the U.S. armed forces' main service pistol in most military conflicts until 1985. Even after being retired from service broadly, it has remained in use with various special branches of the military to this day.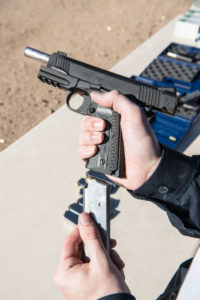 Although these days a 1911-style pistol is much more likely to be found in the hands of competitive and recreational shooters than in the hands of most soldiers, the 1911 has always been, and remains, a duty-oriented handgun. Just a few years back, the U.S. Marine Corps chose to adopt a version of Colt's Rail Gun for combat use. It was designated the M45A1 and featured a Desert Tan cerakoted stainless steel receiver and slide— for this year, it will be replaced with a Decobond brown coating—and a 1913 Picatinny rail up front.
Now, in 2016, Colt is introducing another 1911 built duty-tough. Dubbed the Colt Combat Unit Pistol, this combat-inspired 1911 chambered in .45 ACP will be exclusively available from TALO Distributors. Developed with input from a range of world-renowned trainers, as well as Special Forces veterans Ken Hackathorn and Daryl Holland, the Colt Combat Unit Pistol comes packed with practical and useful features.
The most noticeable, initially, is the M1913 Mil Spec Picatinny rail found on Colt's previous Rail Gun and M45A1. The rail offers ample space for lights, lasers and other accessories, which makes it perfect for a wide variety of tactical applications for law enforcement and/or military personnel. It also makes the pistol equally suitable for home defense scenarios.
Like the M45A1, the Combat Unit Pistol utilizes a stainless steel slide and frame, but instead of a cerakote or Decobond coating, it features a blackened stainless finish. The frame also includes 25 lines per inch (LPI) checkering on the frontstrap and backstrap for improved grip and control during firing.
In another attempt to enhance control and accuracy, especially during rapid shooting, Colt has added its Dual Spring Recoil System™ to the Combat Unit Pistol. This system helps mitigate felt recoil and also increases the longevity of recoil spring life. It is well known that some shooters have difficulty managing the .45 ACP's recoil; the reduced recoil impulse with the Dual Spring system has the potential to aid some of those shooters, especially with follow-up accuracy.
For increased accuracy regardless of time of day, the Colt Combat Unit comes equipped with a Novak Tritium Night Sight up front and a wider-than-average, plain Novak Low Mount Carry rear sight. The combination of the highly visible front sight with the wide rear notch ensures quick and easy sight acquisition in all scenarios, which could be the difference between life and death on the battlefield, or in any violent encounter.
The Colt Combat Unit Pistol comes with a 5-inch, polished stainless steel barrel and a 4.5- to 6-pound single-action trigger. The trigger offers a relatively smooth pull without creep and a crisp, clean break, resulting in very good accuracy.
There are also several ergonomic elements designed to make the Combat Unit feel quite comfortable in the hand. The pistol features an undercut trigger guard and an upswept beavertail grip safety that helps facilitate proper hand placement, and the firearm's extended thumb safety is easy for right-handed shooters to engage and disengage. Additionally, black and gray scalloped G10 checkered grips provide a reliable grip surface without unnecessarily digging into the hands.
Overall, the Combat Unit Pistol is 8.5 inches in length, 5.5 inches in height and 1.25 inches in width. The Combat Unit has a magazine capacity of 8+1 rounds and weighs 40 ounces unloaded. It ships with two magazines.
The new Colt Combat Unit Pistol will be available for $1,499 from TALO Distributors.
---
NEXT STEP: Download Your Free Storm Tactical Printable Target Pack
62 Printable MOA Targets with DOT Drills - Rifle Range in YARDS
This impressive target pack from our friends at Storm Tactical contains
62 printable targets
for rifle and handgun range use. Target grids and bullseye sizes are in MOA. Ideal for long-range shooting!
Subscribe to the Gun Digest email newsletter and we'll send your print-at-home target pack right away.
Just enter your email address below.
---