Colt's Manufacturing Company has announced a new Colt Gold Cup National Match; currently shipping to distributors across the United States.
This match-grade target pistol is the newest to come from Colt's Gold Cup Series, which are billed as competition firearms.
"Beginning in the 1930s, Colt's National Match pistols have set the standard by which all target pistols are judged," said Joyce Rubino, Vice President of Marketing, Colt's Manufacturing Company, "Because this line of guns is designed with match shooters in mind, the Colt Gold Cup National Match gives anyone the potential to make quality shots."
The Gold Cup National Match's fully adjustable Bo-Mar style rear sight combined with the high profile, target front sight, gives shooters confidence in shot placement. Adding to the viability of this single-action pistol as a competitive firearm, is the beveled magazine well, which allows for speed and ease during reloads.
Two standout features of the new Colt Gold Cup National Match are the match-grade trigger and barrel. The wide, three-hole aluminum trigger is factory tuned for a crisp break each time. The National Match barrel is CNC machined from forged stainless steel, measures five inches and is chambered for .45 ACP ammunition.
Also CNC machined are the receiver and round-top slide, both made from forged carbon steel with a blued finish. The wrap-around, rubber target stock features nickel medallions that showcase the rampant Colt. Overall, the gun measures 8.5 inches and weighs 2.5 pounds.
"We are excited to make the Gold Cup National Match available to shooters as the newest edition to Colt's legacy Gold Cup Series of target pistols," said Rubino.
Learn more: www.coltsmfg.com.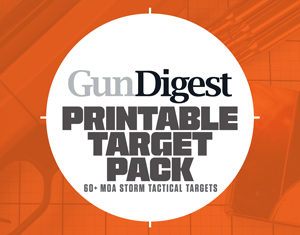 Next Step: Get your FREE Printable Target Pack
Enhance your shooting precision with our 62 MOA Targets, perfect for rifles and handguns. Crafted in collaboration with Storm Tactical for accuracy and versatility.
Subscribe to the Gun Digest email newsletter and get your downloadable target pack sent straight to your inbox. Stay updated with the latest firearms info in the industry.