Readers of this blog (both of you) know there is no shortage of AR-style carbines on the market these days. Yeah, and what else is new?
Well, while all ARs might look alike upon first blush, it's actually been a matter of "close but no cigar" if you wanted a genuine Colt M4 like those used by the military. Until now.
That's because, for the first time since the introduction of the iconic and standard-setting M4 in the 1990s, Colt Defense is offering a new rifle — they call it the LESOCOM — to law enforcement and civilian shooters like you and me. And son of a gun if this thing isn't as close in configuration to the M4A1 military carbine as anything you've ever seen. The Colt LESOCOM rifle is ideal for any law enforcement officer, marksman or hunter looking for a firearm that is most similar to what is used by the military.
The only thing it's missing is a light dusting of desert tan Krylon spray paint, and that part's up to you.
What differentiates the LESOCOM from the M4A1 platform currently used by the United States Armed Forces, you ask?
Basically, the LESOCOM's longer barrel length and semi-automatic fire controls. And that's not too darn much.
The barrel is 16.1 inches long, and has a rifling twist of 1/7 RH. With the stock extended, this M4 carbine has an overall length of 35 inches. The LESOCOM is chambered for .223 Remington (5.56×45 NATO) and comes with two 30-round Colt magazines.
Standard on the Colt LESOCOM is a Matech rear back-up iron sight for acquiring distances out to 600 meters, effectively. Also included on the LESOCOM is a Knights Armament Rail System, capable of accommodating the user's preferred optics and accessories at the three, six, nine and 12 o'clock positions.
The Colt LESOCOM features an M4 buttstock, pistol grip and flash suppressor. For left-handed shooters, an ambidextrous fire control selector is standard on all LESOCOM rifles.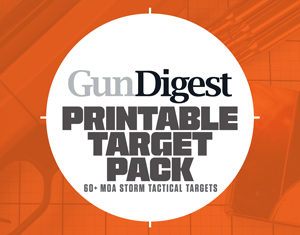 🎯 Exclusive Offer: Get Your FREE Printable Target Pack!
Dive into precision shooting with our 62 Exclusive MOA Targets featuring DOT Drills. Perfect for both rifle and handgun enthusiasts, these targets are designed for accuracy, especially for long-range shots.
Why You'll Love This Pack:
🎯 Expertly Crafted: Brought to you in partnership with the renowned Storm Tactical.
🎯 Versatile Use: Suitable for both rifle and handgun range sessions.
🎯 Precision Design: Target grids and bullseyes meticulously measured in MOA for the best shooting experience.
Bonus: By grabbing this offer, you'll also be subscribing to the Gun Digest email newsletter, keeping you updated with the latest in the world of firearms.
Don't miss out!
Simply enter your email below, and we'll send your downloadable target pack straight to your inbox.