Looking for a AR-style rifle with all the bells and whistles? ArmaLite might have what you're after with its Defensive Sporting Rifle line.
ArmaLite has always seemed to price its rifles competitively. And it's a trait the company doesn't appear ready to jettison anytime soon.
The Illinois manufacturer (subsidiary of Strategic Armory Corps) has introduced a new line of AR-style rifles that has made affordability one of its top features. ArmaLite's new Defensive Sporting Rifle series adds three new firearms to the company's catalog, all coming in below the $1,000 mark.
The DSR series includes two AR-15 variants, the DEF15 and DEF 15F, both chambered 5.56 NATO/.223 Remington. And it includes a new AR-10, the DEF10, chambered 7.62 NATO/.308 Winchester.
The new AR-15 models have MSRPs of $699, while the AR-10 comes in at $999. Given a few more bucks will be shaved off by the time these rifles hit the shelves, they should move like hotcakes.
This might especially hold true for the DEF10, considering AR-10s, for the most part, well exceed the $1,000 mark brand new.
Overall, ArmaLite doesn't appear to have skimped on most features to save money on its new line. All three rifles, however, are flattops, which means shooters will have to outfit them with their own sights or optics.
On the DEF 15F, however, this only means the addition of a rear sight, as the rifle comes outfitted with a standard height fixed front sight. This is, incidentally, the only difference between it and the DEF15.
Tacking on sights and optics should be a snap, given each rifle has a MIL-STD 1913 Picatinny Rail on its upper receiver. The DEF15 and DEF10 also have Picatinny Rails integral with their gas blocks.
The direct-impingement rifles each have 16-inch barrels, double lapped and chrome lined to extend their lifespans. The DEF15 and 15F each have 1:7-inch twist rates, which ArmaLite pegs as ideal for 69- to 80-grain ammunition; the DEF10 has a 1:11.25-inch twist rate, which the company said works well with 150- to 175-grain ammo – 168-grain being the best.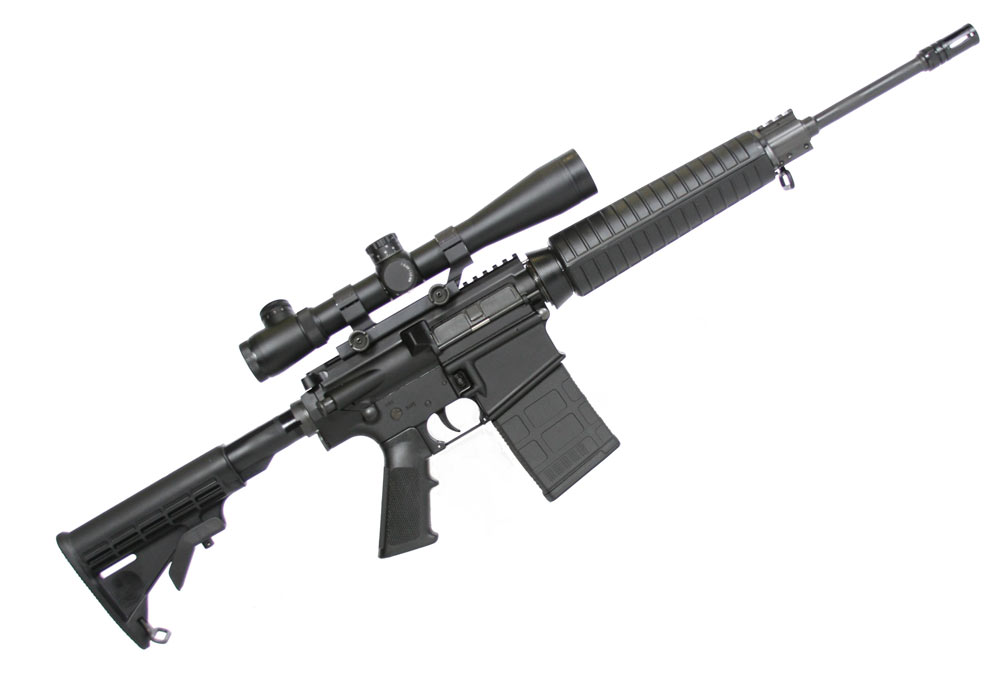 The receivers are made of 7075-T6 forged aluminum, helping to keep each rifle a manageable weight. The DEF15 and 15F each come in at 6.35 pounds, while the DEF10 weighs 7.9.
Each of the Defensive Sporting Rifles boast a M4-style collapsible buttstock. This feature gives the DEF15 and 15F variable overall lengths of 32 to 35.25 inches and the DEF10 35 to 38.3.
The line of rifles have a number of features typically left off other affordable lines, including a forward assist, dust cover and brass deflector.
Each of the rifles is sold with a Magpul PMAG, a 20-round version on the DEF10 and a 30-round one on the 15 and 15F. The firearms all, also, are outfitted with flash suppressors and single-stage triggers.
---
NEXT STEP: Download Your Free Storm Tactical Printable Target Pack
62 Printable MOA Targets with DOT Drills - Rifle Range in YARDS
This impressive target pack from our friends at Storm Tactical contains
62 printable targets
for rifle and handgun range use. Target grids and bullseye sizes are in MOA. Ideal for long-range shooting!
Subscribe to the Gun Digest email newsletter and we'll send your print-at-home target pack right away.
Just enter your email address below.
---