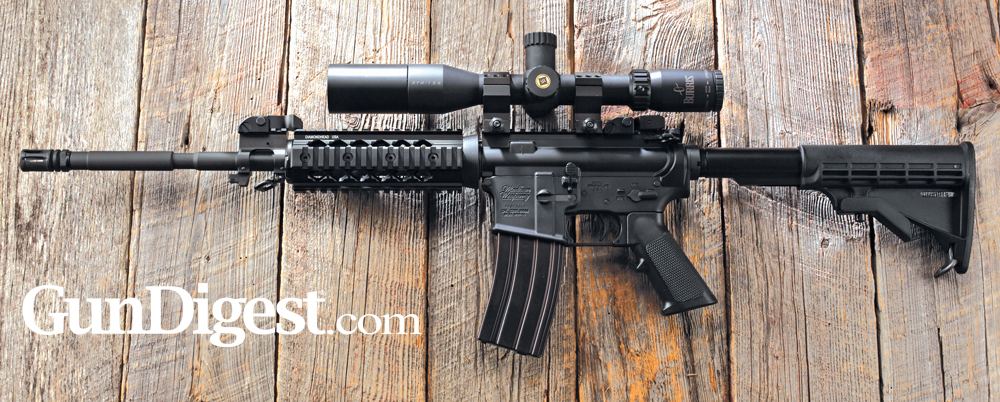 Windham Weaponry AR-15 rifles are just what you'd expect out of this long-time manufacturer from Maine: Top quality and great shooters. Here's a look at the Windham Weaponry Special Build 02.
As happens often when one company gets bought out by another, operations are merged for cost reductions and efficiencies and all too often, the result is somebody loses their job. Such was the case when Bushmaster was bought several years back. Manufacturing that had been performed at the company's factory in rural Windham, Maine, was moved out of state and workers were laid off. That might have been the end of the story. But not for former Bushmaster owner, Richard Dyke, who decided to come out of retirement and help put his former employees back to work doing what they know best: producing top-quality AR-15 rifles.
The Special Build
I hiked 50 yards into the forest and wired a rusty cast-iron skillet to a tree. It had just started snowing when I laid the Windham Weaponry SB02 in the grass and tossed an extra magazine next to it and went inside. It was all part of my weather test.
After 4 inches of snow covered the ground, I brushed off the rifle and lifted the front sight and rear dual aperture Diamondhead flip-up sight. Each sight locked solid despite being gummed with snow. I pulled out the telescoping stock, shouldered the rifle, clicked the safety off and aimed at the makeshift target swaying in the blustery wind. The .223 bullet smacked the iron skillet as the snowy woods swallowed the sharp noise. The crusted snow and ice did not hamper any of the functions of the rifle.
The SB02 stands for Special Build. The SB02 is one of many AR rifles produced by Windham Weaponry and is marketed towards the law enforcement audience, partly because of the Diamondhead 2-Piece aluminum handguard with quad rails. The conventional thinking is that police will want to trick out their rifle with lasers, bipods and flashlights — but so do civilians. Dismissing the idea that some guns are better suited for police and not for regular folks, the SB02 is a great versatile rifle for anyone — cop, hunter, competition shooter or home defender.
The .223 Myth
Weeks before, I tested the SB02 right before deer season. That is the worst time of year to visit a gun range since so many hunters are sighting in their deer rifles. I was the only one there with an AR-15-style rifle. It drew many odd looks, and I was asked a few times if I was going to hunt deer with it. Unfortunately, the .223 is not a legal cartridge for hunting whitetail deer in Wisconsin, the state where I live. The idea that the .223 is not a viable caliber for deer is an old myth as hunters in other states where it is legal have proven it as a deadly cartridge. If it were legal in my home state, I would not hesitate to take the SB02 into the woods.
Made-in-America Match Up
I attached a 1.5-6x40mm Burris Xtreme Tactical Riflescope (XTR-156) to the SB02. This Burris scope is an ideal match-up with AR-15 rifles. Burris scopes are known to be rugged and can take some of the roughest treatment in the optics world as the XTR tubes are 30mm, resulting in reported 25 percent thicker main tubes and 42 percent more strength. Inside the housing there is some high technology going on. Besides being waterproof, fogproof and shockproof, the lenses have a StormCoat finish, which causes water to bead up and shed off the lens.
While shooting quite a number of experimental rounds during testing, I adjusted the turret-mounted parallax adjustment system and got familiar with the Ballistic 7.62 Reticle. Once I got it zeroed in, I was shooting sub-1-inch five-shot groups at 100 yards with Hornady TAP ammo.
As I hiked back and forth across the range with the other hunters to fetch our targets, some were curious about how this so-called black rifle was shooting. After inspecting the evidence — the tight groups punched in the paper — they figured this .233 AR-15 might make a fine deer rifle after all.
Windham Weaponry SB-02
Model Number: R16M4FTT-SB02
Caliber: .223 Rem. / 5.56mm NATO
Action: Semi-Auto, Gas Impingement
Capacity: 30 + 1 Round Magazine
Safety: Manual Lever with Indicator Markings Both Sides of Receiver
Receiver: M4A4 Type Flat Top Upper Receiver
Receiver Material: Forged 7075 T6 Aircraft Aluminum with Aluminum Trigger Guard
Receiver Finish: Hardcoat Black Anodized Finish
Bolt Material: Carpenter 158 Steel – MP/HP Tested
Barrel: 16" M4 Profile, Chrome Lined with A2 Flash Suppressor
Barrel Material: 4150 Chrome Moly Vanadium 11595E Steel, M4 Feed Ramps
Rifling: 1 Turn in 9" – Right Hand Twist
Pistol Grip: A2 Black Plastic Grip
Weight: 6.55 lbs. (without magazine)
Length Overall: 36.125" (32.375" collapsed)
MSRP: $1,480
Website: windhamweaponry.com
This article originally appeared in the January 28, 2013 issue of the newly-redesigned Gun Digest the Magazine.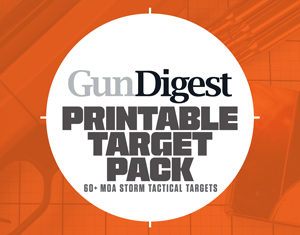 Next Step: Get your FREE Printable Target Pack
Enhance your shooting precision with our 62 MOA Targets, perfect for rifles and handguns. Crafted in collaboration with Storm Tactical for accuracy and versatility.
Subscribe to the Gun Digest email newsletter and get your downloadable target pack sent straight to your inbox. Stay updated with the latest firearms info in the industry.