Rock Island Auction Company has a Premier Auction planned for the weekend of August 26th, and the catalog includes some interesting pieces from the Old West to the silver screen.
Rock Island Auction Company auctions always feature a wealth of interesting firearms, and the RIAC Premier Auction planned for the upcoming weekend of the 26th is no different.
RIAC was kind enough to give me a virtual tour of the auction floor this week, so we'll be showing off some of the coolest items they have on display. Whether you're a serious collector looking to bid or just enjoy perusing rare, historical and sometimes very expensive firearms, here are a few highlights.
Wild Bill Hickok's Smith & Wesson Model No. 2 Old Army Revolver
Wild Bill Hickock is an Old West legend, and his supposed favorite sidearm, the S&W Model No. 2 Old Army Revolver, was legendary as well. This particular model coming up for auction includes documentation that supports its previous ownership by Hickock. The revolver itself is rather plain, featuring a standard blued finish, 6-inch barrel and rosewood grips, but because of its provenance, it's estimated to demand a minimum of $150,000.
RIAC also mentioned that this auction may feature one of the most significant collections of Colt Single Action Armies they've ever sold, so if the Old West collectors come out in droves, Wild Bill's gun may sell for even higher than that.
Lara Croft: Tomb Raider H&K USP 9 Match Pistols
These matching H&K USP 9 Match pistols were the main "hero guns" used by Angelina Jolie in the 2001 film Lara Croft: Tomb Raider. While the film itself may not have the same cult following as Star Wars, iconic movie weapons are always desirable, especially if they can be identified as the primary examples used on screen. That's the case with these guns, which is why they're expected to bring a minimum of $25,000 at auction.
These two H&Ks are identifiable not only by their sequential serial numbers but also through the unique modifications that were made to allow the actress to effectively dual-wield them. Both come with barrels modified to only allow the firing of blank cartridges, but they could presumably be reverted to fully functional states with new barrels.
Han Solo's Heavy DL-44 Heavy Blaster From Star Wars: A New Hope
Undoubtedly the most iconic firearm featured in this auction is Han Solo's blaster from the first Star Wars film. Throughout the original trilogy alone, there were several DL-44 blaster props produced for Harrison Ford to use on screen. This means that some DL-44s are more special, and therefore more valuable, than others.
Because the example in question can be traced to the original 1977 film and is made from a real Mauser C96, it is arguably the most desirable model to come up for sale. A replacement DL-44 prop made for Return Of The Jedi sold for $550,000 at auction in 2018, so this one may very well sell for an even higher price. Like the Tomb Raider pistols, this C96 was also modified to only fire blanks.
This upcoming RIAC Premier Auction will be held from August 26th to the 28th, and bidding is possible both online and in person. It's worth noting that if you live near RIAC, it may be worth dropping by before an auction even if you don't plan on buying anything.
The show floor is open to the public and is set up in a similar way to a museum exhibit, with the most noteworthy displays featuring information alongside them. From historically significant pieces to experimental designs, movie props to transferable machineguns, the RIAC catalog will never fail to make you drool.
If you're interested in participating in the auction, more information can be found at rockislandauction.com.
---
More Historical Firearms: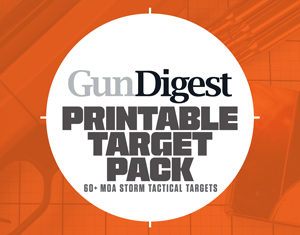 Next Step: Get your FREE Printable Target Pack
Enhance your shooting precision with our 62 MOA Targets, perfect for rifles and handguns. Crafted in collaboration with Storm Tactical for accuracy and versatility.
Subscribe to the Gun Digest email newsletter and get your downloadable target pack sent straight to your inbox. Stay updated with the latest firearms info in the industry.