The past couple years, there has been no shortage of suppressor-related merchandise to hit the market.
From suppressor-ready rifles to silencers for shotguns, it seems every company wants to make noise with the accessory. But what might be the simplest take on the device to come down the pike could also be one of the coolest.
The Cadiz Gun Work's Econo Can is little more than an adapter, connecting a firearm to an oil filter. And while it might sound crazy, as the above video shows, it appears to work pretty dang well.
There is definitely a grind-house-movie cool factor in strapping a can with STP on the side to the muzzle of a gun. But there is also a practical reason behind an oil-filter suppressor – cost.
The price of the most affordable manufactured suppressors is effectively doubled due to the $200 NFA tax stamp required to own one. The Econo Can – a registered suppressor with the ATF – still requires the stamp, but retails for only $85 on Cadiz website.
The really neat thing about this dandy little device is it puts a suppressor within reach of any shooter – that's definitely not something to keep quiet about.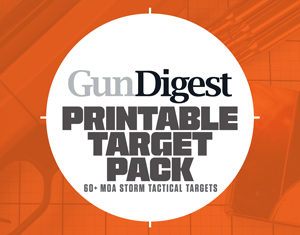 Next Step: Get your FREE Printable Target Pack
Enhance your shooting precision with our 62 MOA Targets, perfect for rifles and handguns. Crafted in collaboration with Storm Tactical for accuracy and versatility.
Subscribe to the Gun Digest email newsletter and get your downloadable target pack sent straight to your inbox. Stay updated with the latest firearms info in the industry.