With more clearance thanks to a 60-degree bolt throw, the Three 60 plays nice with larger optics.
Time was, you could wrestle up a Ruger 10/22 or CZ 455, drop a few shekels on a scope, and claim you had a precision rimfire. Those were simple days. Not anymore. Drop-dead serious small-bore shooters pour-over parts and sweat over builds with the same intensity as the most severer long-range centerfire marksmen. Which is to say, Vudoo Gun Works more than has a market base.
The high-end manufacturer of everything precision rimfire has a new creation rolling out of its Southern Utah laboratory certain to set exacting shooters' hearts collectively aflutter. Meet the Three 60 action. Essentially a melding of features from two of Vudoo's popular existing actions, the action offers one particular feature shooters have demanded from the company for some time—a 60-degree bolt throw. While the potential is there to pick up the pace running the action with an abbreviated throw that's not why Vudoo fans have been barking up this particular tree. Instead, it has to do with optics.
With more clearance than a 90-degree throw, the Three 60 is compatible with larger scopes. Not only should this appeal to NRL22 competitors looking to gain an edge in optics, but dedicated long-range shooters who want to run the same scope on their rimfire trainer as they do on their centerfire.
Similar to proceeding Vudoo actions, the Three 60 also boasts a Remington 700 footprint, in turn, it plays nice with a wide variety of stocks and chassis. Additionally, it's friendly with nearly any 700 trigger assembly, so you can throw your favorite bang switch on it. Making maintenance much simpler, the bolt disassembles into three pieces without the need for tools and features Vudoo's anti-rotation groove that keeps the bolt-face true about its axis. As to the three-lugs, they not only facilitate a shorter throw but also make it much lighter—something nobody can complain about.
As to where the Three 60 fits into Vudoo's catalog, right along with its other actions. The action will not replace any of the fan favorites, only exist as another option. The Three 60 action is available on all Vudoo rifle models, as well as Three 60 rifle (MSRP $1,920).
For more information on the Three 60 action, please visit https://vudoogunworks.com/.
---
More Precison Rimfire: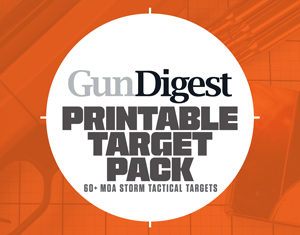 Next Step: Get your FREE Printable Target Pack
Enhance your shooting precision with our 62 MOA Targets, perfect for rifles and handguns. Crafted in collaboration with Storm Tactical for accuracy and versatility.
Subscribe to the Gun Digest email newsletter and get your downloadable target pack sent straight to your inbox. Stay updated with the latest firearms info in the industry.