The bullet's bearing surface — the portion of the bullet that contacts the rifling in the barrel — directly correlates to the amount of pressure generated within your barrel, and it can have a definite effect on accuracy.
Considering the minor details that affect accuracy:
Subtleties in bullet dimension and shape and how they perform in a particular barrel can vary widely.
This is why a reloader may not get the results similar to what they find in a manual.
The data set is published for as many as four or five different bullet shapes.
Additionally, the test barrel length, action, primer and case may also differ from a reloader's.
The question also arises, can a bullet with the right amount of bearing surface improve accuracy?
Not all bullets are created equally. The subtleties of dimension, shape and how they correspond to the performance within a particular barrel can give a ballistician fits of rage. There are times where things don't go according to the script, and it might leave you scratching your head. I experienced just such a situation recently, and it got me thinking about the relationships between a bullet's bearing surface, and the correlative load data.
The Starting Point
Firstly, let's take a renewed look at the reloading manuals, and the online data, that we all use on a day-to-day basis. I've heard the argument way too many times: "The load data in Reloading Manual (Insert Company Name Here) is the best data; it gave me exactly what I needed and they really know what they're talking about. The (Insert Competitive Company Name Here) manual is a load of hogwash."
This requires a bit of explaining.
A reloading manual is not a definitive piece of work; it's more of a laboratory report. Obviously, every company that produces a reloading manual takes great pains to ensure that the data printed therein is sound and true, but you need to understand where it came from. There are listed parameters within each set of data that will indicate the test rifle, cartridge case and primer used to obtain that data. It would be not only insanely expensive, but unbelievably time consuming, to test every bullet, in every case, in a number of rifles, with each available primer, to give the reloader the exact data he or she would need — and even then certain parameters unique to your rifle would render the data imperfect.
I'm fortunate enough to call many of the people who have an integral part of producing these manuals my friends, and they will openly discuss the methodology of obtaining their data. Universally, the response is that the data provided in a particular manual is the result of one particular situation, and it's not necessarily the final word on the topic.
Allow me to demonstrate what I mean: Using a .30-06 Springfield as an example, and the 180-grain bullet to further fine-tune the point, you might see quickly that the reloading manual lists a set of data — for numerous powders — for that particular weight.
However, that data set is published for as many as four or five different bullet shapes. In addition, the test barrel length might not be the same as yours, the action type might be completely different, and the primer and case brand might also differ. How can you then assume that the data is definitive?
"Well, it's published by Brand X, and I'm using Brand X bullets, so it's gotta be right." Nope, that's not necessarily the case. Those four or five different bullet profiles will all produce a different pressure curve, and while in some instances it might be minute, it can be rather drastic. But, we'll talk more about that pressure-bearing surface relationship in a minute.
When a set of data is released, it needs to be safe in the majority of rifles on the market. Even if the data set is labeled for use in a particular firearm only, the slight variations within that firearm group can certainly change the outcome.
So, let's try and look at the data as a report; the combination of rifle/case/primer gave results of X, giving you a guideline for establishing a load in your rifle. The top end of the load data — where pressures will be the greatest — might not be attainable in your particular situation and combination of components. Likewise, the top end of the data might not be the maximum that your rifle can safely withstand. And furthermore, that maximum charge can change for each and every bullet profile.
Working Up The Grain Scale
Success really does require starting at the ground floor and experimenting to see where the line needs to be drawn. For example, while developing a load for my .404 Jeffery, the particular load data for the brand and weight of bullet I was using topped off at 74.0 grains of a particular powder, and it was supposed to produce 2,400 fps. Well, when I cobbled the components together, not only did I miss the velocity mark by 300 fps, but I also worked upward (safely, with no pressure signs whatsoever) to 80.0 grains, at a muzzle velocity of 2,280 fps, and found the accuracy I wanted.
I am in no way suggesting that you can blindly start to drastically exceed what is listed as maximum, but if you work up in small increments (less than ½ grain) you might find that your rifle's limit will differ from published data, and sometimes by a considerable amount. Does this mean that Brand X's manual is wrong, or at least flawed? No — it means their lab report (regarding their rifle) differs from my lab report (regarding my own rifle). Changing case brand, changing primers and even bore variations play a great part in the final equation.
Secondly — getting back to the relationship between pressure and bullet bearing surface — a recent case involving a friend's 7×57 Mauser had (and to a certain degree still has) us scratching our heads. This particular rifle, a push-feed Winchester Model 70 XTR Featherweight, showed excellent accuracy with 175-grain bullets, with group size hanging around ¾ MOA, from both factory loads and handloads. We were doing some load development with 140-grain bullets to develop a deer load, and we couldn't get the rifle to shoot to anywhere near that level of accuracy. Some of the flat-based 140s showed better accuracy than the boat-tail designs, and the monometals showed a slight advantage over the cup-and-core bullets, but nothing was delivering the goods.
Getting a bit desperate, we tried five different 140-grain factory loads — some of which were lights out in other 7x57s — and still nothing doing. Norma's 156-grain Oryx load stayed at about 1 MOA (more than acceptable for a hunting rifle), but the lighter bullets just didn't want to cooperate. Our thoughts are that it's an issue with a minimum amount of bullet bearing surface being required to produce repeatable results.
That got me wondering about how many rifles might have the potential for stellar accuracy if we could just find a bullet with the right amount of bearing surface to obtain the repeatability that equals accuracy. Using our previous .30-06 example, a sleek, high ballistic coefficient (BC) 180-grain boat-tail bullet will obviously have less bearing surface on the rifling than a short-ogive, flat-base 180-grain bullet will, and while the latter is a detriment to the trajectory and wind values at long ranges, it might make for a perfectly acceptable hunting choice.
Is it the evidence of a worn barrel? Possibly, but I know this gun's history and don't feel it's got anywhere near the mileage on it to blame barrel wear. Is it cut "loose," or slightly oversize? Another possibility, but it would take some extensive science to accurately determine that fact. Let's just say that this gun likes the pressures produced by the longer bearing surfaces and leave it there for now, as part of the voodoo that's mixed with science when it comes to reloading.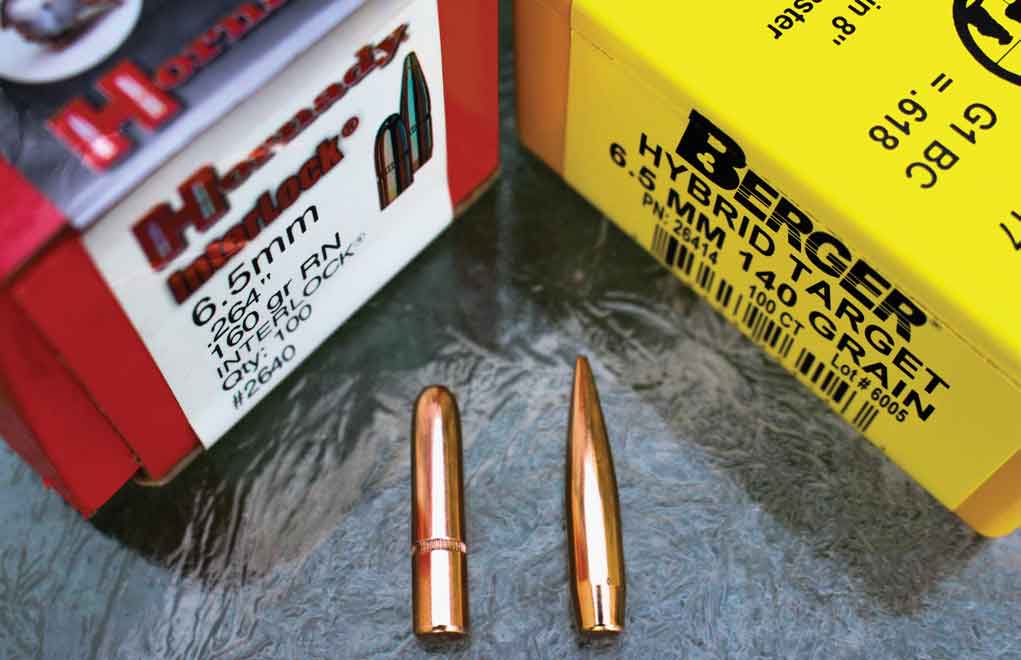 I will, however, start to consider the correlation between the amount of bearing surface that the "accurate" bullets in a particular rifle possess, and how that relates to the powder charge used. It's an interesting experiment in any rifle, and while each barrel seems to be as unique as a fingerprint, I'd be willing to wager that the correlation can be used to solve some accuracy problems in the future.
Editor's Note: This article originally appeared in the February 2018 issue of Gun Digest the Magazine.
---
Get Started in Reloading:

---

NEXT STEP: Download Your Free Storm Tactical Printable Target Pack 62 Printable MOA Targets with DOT Drills - Rifle Range in YARDS

This impressive target pack from our friends at Storm Tactical contains

62 printable targets

for rifle and handgun range use. Target grids and bullseye sizes are in MOA. Ideal for long-range shooting!

Subscribe to the Gun Digest email newsletter and we'll send your print-at-home target pack right away.

Just enter your email address below.






---