In recent years, some ammunition manufacturers have started offering alternatives to lead bullets in many of their loads. With some states changing their laws regarding the use of lead-based projectiles on ranges and in the field, offering loads with non-lead projectiles is a prudent move on the part of these manufacturers.
Understanding this movement toward non-lead bullets, Federal Premium has introduced the new Power-Shok Copper, a lead-free version of the company's classic and affordable Power-Shok rifle ammunition, which hunters have been using for years. Instead of the traditional lead bullet, the Power-Shok Copper uses an environmentally friendly hollow-point copper projectile that offers the same dependability on big game as the original Power-Shok.
The new copper projectile delivers deadly downrange terminal performance and accuracy with a design that ensures consistent expansion and efficient energy transfer into the target. The new Power-Shok Copper loads utilize all-new Catalyst lead-free primers for reliable ignition and quality Federal Premium brass.
The new Power-Shok Copper loads are available in the following common hunting calibers: .243 Winchester, .270 Winchester, .308 Winchester and .30-06 Springfield. Projectile weights range from 85 to 150 grains, and prices range from $32.95 to $33.95.
For more information, visit Federal Premium's website.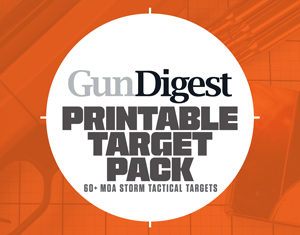 Next Step: Get your FREE Printable Target Pack
Enhance your shooting precision with our 62 MOA Targets, perfect for rifles and handguns. Crafted in collaboration with Storm Tactical for accuracy and versatility.
Subscribe to the Gun Digest email newsletter and get your downloadable target pack sent straight to your inbox. Stay updated with the latest firearms info in the industry.