Kowa's next series of spotting scopes, the TSN-99 PROMINAR, were designed to bring users the clearest, brightest and widest views possible.
Features Of The TSN-99 PROMINAR Series:
High-Quality 99mm Objective Lenses
Tough And Light Magnesium Alloy Construction
Waterproof
Compatible With Wide Array Of Kowa Accessories
Kowa of Japan have been producing high-quality glass since the early 1950s. Their optical lenses have been used in everything from Olympic rifle shooting to photography, and their newest series of spotting scopes, the TSN-99 PROMINAR, are set to launch in September. Their previous spotting scope, the TSN-880 PROMINAR, set the industry standard since its release over two decades ago. While still considered a top-tier optic today, Kowa has decided that they can do even better.
Available with either an angled or straight eyepiece, both models of TSN-99 PROMINAR utilize Kowa's largest objective lenses to date. Measuring 99mm in diameter and made of pure fluorite crystal, they were designed to produce only the clearest and brightest images. Sixty years of technological innovation go into Kowa's glass lenses to reduce chromatic aberration and produce as close to a crystal-clear image as possible, even at high magnification levels.
The TSN-99 PROMINAR body is constructed from tough and lightweight magnesium alloy, offering a scope that's both light enough to pack-in without noticing and strong enough to handle real-world abuse. The whole unit is waterproof, and the objective lens is further protected by Kowa's KR coating which repels dirt and moisture.
The scopes' focus level is controlled by a dual focus system which provides the user with the ultimate level of control. The quick-focus dial can be used to zero in on your subject with macro-level adjustments, while the fine-focus dial is there to achieve as much detail as possible. The TSN-99 PROMINAR scopes are compatible with KOWA SYSTEM accessories, including the upcoming TE-80XW 40x Extreme Wide Eyepiece.
Whether you use your spotting scope for putting holes in paper at long-range, hunting game or just enjoying nature, the Kowa TSN-99 PROMINAR will provide one of the biggest, clearest views to do it with. MSRP for either model starts at €3,199.
For more on Kowa, please visit kowaoptic.com.
---
More Spotting Scopes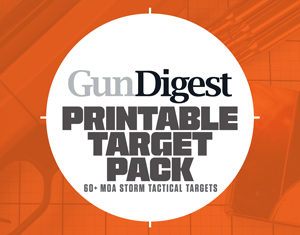 Next Step: Get your FREE Printable Target Pack
Enhance your shooting precision with our 62 MOA Targets, perfect for rifles and handguns. Crafted in collaboration with Storm Tactical for accuracy and versatility.
Subscribe to the Gun Digest email newsletter and get your downloadable target pack sent straight to your inbox. Stay updated with the latest firearms info in the industry.