Simmons has introduced AETEC and Whitetail Classic riflescope lines, offering shooters affordable performance.
What to know about Simmons and its new optics options:
Simmons has made a name for itself providing affordable performance optics.
The AETEC features unique aspherical lenses for a clearer picture.
The Whitetail Classic line includes highly affordable, traditional hunting scopes.
When it comes to firearms accessories, perhaps the No. 1 item for a shooter to invest in is an optic. For most purposes, be it hunting or target shooting, no other single piece of gear does more to bring out the accuracy of a firearm.
To the dismay of shooters and their pocketbooks, investing in glass, however, is a deal with the devil. On one side, optics bring out the most in a gun. On the other, and especially nowadays, they can run a small or even large fortune.
Simmons has always done a solid job of finding a sweet spot when it comes to performance and price, offering shooters optics that bust the bullseye, not the budget. And the economy optics maker recently released a pair of scopes, which appear to stick to Simmons' tried-and-true formula of more bang for the buck.
AETEC Riflescopes

With a unique lens design, the Simmons AETEC delivers a distortion-free image across the entire field of view. The secret is aspherical lenses — a design of which Simmons was an early adopter — which eliminates aberrations common in more traditional lens designs. The result is a flat, crystal-clear image that allows shooters to precisely place their shots.
The AETEC series are adjustable-power scopes, with the choices of 2.8-10x magnification and 4-14x. In each case, the optics come with ample 44mm objective lenses and the choice of standard or illuminated Truplex reticles. The AETEC scopes run between $200 and $300 depending on model and go on sale in May.
Whitetail Classic Riflescopes

Simmons has spiffed up and reintroduced one of its most popular hunting scope lines for 2018 — the Whitetail Classic. The time-tested design offer hunters six configurations to match their hunting style and environment and a copious view range so that next wall hanger doesn't slip away.
Outfitted with Simmons' simple and effective Truplex reticle, the Whitetail Classics are quick to get on target and accurate once there. Available in five adjustable-power models, shooters can have the choice of from 1-4x magnification to 6-24x. There's even a fixed 4x powered model for those shooting to really simplify their next hunt. Best of all, the Whitetail Classics are among the most affordable hunting scopes available today, running from $49 to $119. The scopes go on sale in May.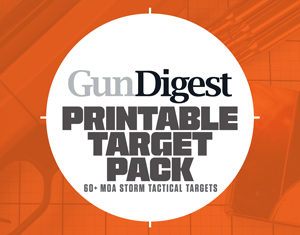 Next Step: Get your FREE Printable Target Pack
Enhance your shooting precision with our 62 MOA Targets, perfect for rifles and handguns. Crafted in collaboration with Storm Tactical for accuracy and versatility.
Subscribe to the Gun Digest email newsletter and get your downloadable target pack sent straight to your inbox. Stay updated with the latest firearms info in the industry.