Sporting the high-end features of their military cousins, Leupold's VX-3i CDS-ZL line takes shooting to a different level without breaking the bank.
Leupold has a long and storied history of innovation in the optics industry. While it was certainly not the first company to come out with scopes for rifles, it could be argued that today, it's one of the most extensive and most widely trusted brands in that industry.
For a great many shooters, the scopes with the gold ring are the only choices when it's time to embark on that annual tradition that sees late nights around the campfire and early mornings with a cup of coffee in the stand. I'm a big believer in Leupold's quality.
It's hard to find scopes that hold up in tough field conditions, and it's even harder to find them with useful features that create confidence for difficult shots. Now, for the first time, Leupold is bringing some of the best features of its high-end scopes to optics that are of great interest to the largest number of shooters and hunters: the VX-3i CDS-ZL line.
Features To Suit You
There are currently four VX-3i CDS-ZL models available. Two models are built on a 30mm main tube; the other two are based around the classic 1-inch diameter. The 30mm models will be available with a side focus knob. The model featured in this article is the 1-inch 4.5-14x, which is a model well-suited to hunting and shooting in a variety of conditions.
'Weighty' Considerations
Having both turrets capped ensures that the windage and elevation dials won't have a chance to move if they're bumped in the field. This has been a big problem when it comes to the previous generation of target and tactical scopes. There was a time when it seemed as if turrets were only getting larger, and it was easy to get lost in rotations if you were shooting a lot at various distances.
A lot of these early-generation tactical scopes began to integrate zero stops and other such upgrades, but those features often came with a high price tag. Many recreational shooters simply had to settle for large and ungainly scopes, which can sometimes add more than 2 pounds to the weight of a rifle.
As a result of the disparity in technology, some shooters end up with rifles weighing more than their military counterparts did. It's not uncommon to find rifles that weigh more than 10 pounds. The result of increased rifle weight has made many types of hunting and shooting a stationary practice.
Improvements for Success
Just as scopes have gotten lighter and more feature-rich, the technology of varmint rifles has also improved. For the purposes of this article, I assembled a rifle with the help of Brownells that was meant to be as light as possible while still offering solid accuracy.
The rifle comes in empty at slightly more than 41/2 pounds fully kitted, but it offers 1 MOA accuracy at 100 yards and is extremely compact. The rifle features a set of V7 receivers made of a special, lighter-than-aluminum alloy. They are so light that they almost feel as if they're made of papier-mâché when you handle them stripped.
Most of the lower parts are not special or lightweight. The rifle's fire control is all Geissele Automatics, as are the buffer and spring. The quality of Geissele parts and triggers can't be overstated.
Compact Magpul furniture was also chosen, but the K2 grip was made large enough that it could be easily manipulated in the field, where the smaller MOE-K doesn't offer enough surface area for gloved hands. It was a small penalty in ounces for a great deal more function. A vertical grip was also added to the bipod; it also works as a barrier stop when shooting off of low branches. Putting the rifle's magazine well up against a branch can put strain on the receivers and throw a shot as a result.
The upper receiver contained a Faxon Firearms ultralight bolt carrier group and a Faxon barrel, which is extremely light and compact. The barrel features a factory-pinned and -welded low-profile flash hider that extends the overall length to 16 inches. What's remarkable is that you can still slide a gas block over the flash hider to assemble the rifle.
---
Scope Out More Optics Info:
---
Testing the Rifle and Scope
At half the weight of a traditional varmint rifle, this special build and the new Leupold VX-3i were put to the test to see how well they stacked up comprising a serious hunting rifle.
The first thing was to find some ammunition to test the gun with. I chose Black Hills Ammunition and got my hands on some of its fantastic hunting line. As far as accuracy is concerned, the load that performed the best was the 50-grain VMAX, which also suited the rifle's intended purpose as a compact, low-recoil varmint eliminator.
Mounting the scope was like any other, but getting it zeroed was a bit different.
The VX-3i borrows from the Mark 5 line, in that it has a solid zero stop that's both tactile and audible. The turret has small screws around its circumference that, when loosened, allow the turret assembly to be set back to zero. Tightening everything down is all you have to do to finish up. There's no shimming or any other imprecise methods to worry about.
Adjusting windage was very typical, as on any scope. But it thoughtfully makes use of a cap, which is advantageous to the hunter, because windage is seldom, if ever, adjusted in the field. Most hunting ranges, especially for coyote, are inside 200 yards. Out West, you might see longer shots, but they aren't the norm. Still, adjusting for windage in a hunting situation is a timely chore when shot opportunities are fleeting.
Elevation is another story. While bullets might drift, they always drop. One of the worst things about the prior generation of scopes was that zero was hard to find in the field. If you bumped your elevation turret and it spun, you sometimes had no way of knowing if your zero was to the left or right.
The problem became worse if you'd already dialed in for a shot. There's nothing worse than being off an entire revolution when that next shot comes around. The fact that, for a relatively inexpensive scope, there's a discernible and lockable elevation zero is a game-changer. All you have to do after dialing your elevation is simply wind back until you hear a click.
Scope Performance
The VX-3i I received was one of the first produced. It can't necessarily be called a "prototype"; it's a production model. But, in my experience, I've noted that there's been trouble with advanced features on mid-priced scopes when they first come out.
That's not the case here. The rifle was zeroed at 100 yards from the bipod using the Black Hills 50-grain VMAX. The average group size with this combination was just under 1 MOA. The accuracy carried over to 200 yards as well. Five-shot groups averaged just under 2 inches. After dialing repeatedly, the gun always returned to zero without failure. Tracking was also exceptionally accurate.
After it was zeroed, I took it out to some unknown-distance targets that approximated the chest size and height from the ground of a typical coyote. Using a laser rangefinder, the scope was easy to dial in and extremely quick on target. While the targets were stationary, I achieved hits from a field position at a ratio of 95 percent at distances out to 400 yards using the CDS turret system. For any true hunter used to stalk-hunting, that's an impressive number.
Note: The VX-3i is second focal plane, meaning that the crosshairs remain the same relative to the shooter's eye, as opposed to zooming in and out with the background. As a result, the reticle can't be relied upon for accurate holdovers. The fact that it's primarily designed to be used with the elevation turret is a plus: While a first focal plane scope is always desirable, many aren't in the price range with the same feature set that this scope has.
Eye relief is comfortably long at approximately 4½ inches. For guns with telescoping or adjustable stocks, this is a big plus. The VX-3i can be mounted quite far forward on an AR-type rifle, which greatly increases shooter comfort—especially in confined spaces in which a hunter might be concerned about getting whacked in the eye under recoil.
Doable Price
The overall package gives today's discerning hunter a remarkably light and compact scope that has an impressive range of magnification and light transmission. I did quite a bit of shooting with it in low light and found that it was still easy to distinguish targets, even as darkness began to set in.
You might assume that, given its many features, this VX-3i would retail at more than $1,200. However, the MSRP should be in the $500 to $700 range (depending on the model). At that price, it's hard to deny that Leupold is leading the industry in features that others will soon be forced to offer … in the same cost range. The fact that your rifle can sport what are essentially the same high-end features found on Leupold's top-of-the-line military optics—without breaking the bank—is extraordinary!
For more information on the Leupold VX-3i CDS-ZL, please visit leupold.com.
Editor's Note: This article originally appeared in the 2020 Long-Range Shooting issue of Gun Digest the Magazine.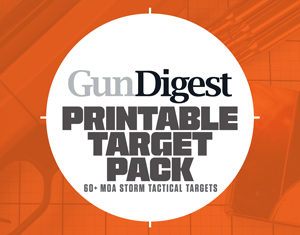 Next Step: Get your FREE Printable Target Pack
Enhance your shooting precision with our 62 MOA Targets, perfect for rifles and handguns. Crafted in collaboration with Storm Tactical for accuracy and versatility.
Subscribe to the Gun Digest email newsletter and get your downloadable target pack sent straight to your inbox. Stay updated with the latest firearms info in the industry.