In response to customer feedback, Riton Optics has upgraded their MPRD and PRD pistol red dots with several modern, competitive features.
3 Tactix MPRD 2 And 3 Tactix PRD 2 New Features:
Shake-Awake
Auto-Brightness Adjustment
Auto-Shutoff
Low Battery Indicator
Two of Riton Optics' popular pistol red dots have just been upgraded. In danger of getting outpaced by competing designs, Riton has listened to customer feedback and implemented the relevant changes in their newest generation of pistol red dots, the 3 Tactix MPRD 2 and the 3 Tactix PRD 2. The durability and affordability of Riton's first-generation MPRD and PRD optics are what helped make them a popular choice in the first place, so naturally, the updated versions have retained those attributes as well.
New Features

In the interest of battery life and convenience of use, all good modern pistol red dots feature auto-on and auto-off technology. This is because if you ever need to draw your pistol in a defensive situation, your attacker likely won't have the patience for you to turn on or adjust your optic. That's why the updated MPRD 2 and PRD 2 have the technology to automatically turn on after sensing motion, turn off after prolonged rest and automatically adjust dot brightness based on the surrounding light level. These features combined make for optics that are not only easier to use but can potentially go for 40-50,000 hours depending on the model. Both the MPRD 2 and PRD 2 now also indicate when the battery is running low. Whenever it comes time to draw, either of the new Riton sights should be ready to put quick and accurate hits downrange with the help of their 3-MOA dots.
Still Tough

While upgrading their pistol red dot designs, Riton made sure to not compromise on durability. Still constructed from aircraft-grade aluminum, they are water, fog and shockproof. The lenses have also been coated to help protect against water and scratches and to allow for maximum light transmission.
The two optics are very similar but differ in a few key ways. The 3 Tactix MPRD 2 mounts via a Shield footprint and is powered by a single CR2032 battery. The 3 Tactix PRD 2 instead mounts via an RMR footprint and is powered by a CR1632 battery. The MPRD 2 also has a slightly longer potential battery life and was tested to withstand a higher amount of shock. Both optics still share the same price as their first-generation counterparts with a listed MSRP of $299.99. Either model would make an excellent addition to a defensive pistol or AR-15.
For more on Riton Optics, please visit ritonoptics.com.
---
More On Pistol Red Dots: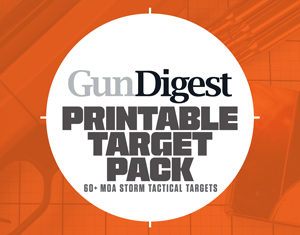 Next Step: Get your FREE Printable Target Pack
Enhance your shooting precision with our 62 MOA Targets, perfect for rifles and handguns. Crafted in collaboration with Storm Tactical for accuracy and versatility.
Subscribe to the Gun Digest email newsletter and get your downloadable target pack sent straight to your inbox. Stay updated with the latest firearms info in the industry.