Rugged and unassuming, the Riton X3 Taxtix PRD is the perfect CQ aiming solution for your pistol or rifle.
Long a staple in competitive shooting, reflex sights are almost like cheating. Learn to catch sight of that little luminescent red dot, the rest of getting hits is simply good old trigger control. But this raises the question, if these optics are such hot stuff under the clock, then why not carry that advantage over to self-defense? The answer, more and more are.
Quietly, gunmakers have configured many of their pistols for optics ready service, milling the top of the slide to create a solid, low-profile mounting platform. Optics companies, to their credit, have responded as well, producing ever so slight reflex options, rugged enough for defensive use, without obstructing vital movements. Given this, it figures Riton has jumped into this arena.
A somewhat new company, Riton has made a name with its top-shelf AR-focused scopes, but has thrown its hat into the red dot ring with the introduction of the X3 Taxtix PRD. And all in all, it appears to have the goods to make it a solid aiming solution whatever gun you run it on. What makes it a bell of this ball is its relatively small size, just about 1-inch in height, which should keep it fairly snag-free, even on the vital draw stroke. Also, it would be a rather unassuming CQ option on a scoped AR, one that doesn't junk up your carbine in the slightest.
---
Scope Out More Optics Info:
---
As far as target acquisition, the optic is lightning fast thanks to a highly visible 3-MOA dot and is fit for any lighting situation with six brightness settings. Riton also runs good glass in their optics and the X3 Taxtix PRD is no exception. Fully multi-coated, high-definition lenses transmit more than 99-percent of light, delivering images akin those you see with your naked eye. This should also make co-witnessing your iron sights simple, if you happen to run out of batteries—though that would be a feat, given the sight gets more than 40,000 hours out of its CR2032 battery.
As far as durability, Riton engineer all it could into the X3 Tactic PRD. An aircraft-grade aluminum body makes the optic waterproof and shockproof up to 800 Gs of impact force. So yes it can take a licking and survive and keep its zero. Speaking of zero, you don't have to worry about losing yours every time you change the battery, since Riton put the access point on top, so you can keep it mounted when you do so.
In all, when you buy the X3 Tactix PRD you also get a Picatinny base plate, protective cover, lens cloth and a hex wrench for adjustment. And, God forbid, something happens to it, Riton backs it with a lifetime warranty. For an MSRP of $299.99, that's a fairly tidy package, certainly, for the advantage it allots your gun, defensive or otherwise.
For more information on the X3 Tactix PRD, please visit www.ritonoptics.com.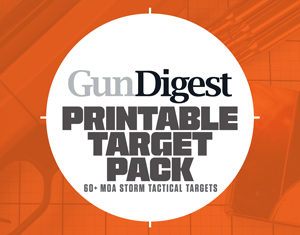 🎯 Exclusive Offer: Get Your FREE Printable Target Pack!
Dive into precision shooting with our 62 Exclusive MOA Targets featuring DOT Drills. Perfect for both rifle and handgun enthusiasts, these targets are designed for accuracy, especially for long-range shots.
Why You'll Love This Pack:
🎯 Expertly Crafted: Brought to you in partnership with the renowned Storm Tactical.
🎯 Versatile Use: Suitable for both rifle and handgun range sessions.
🎯 Precision Design: Target grids and bullseyes meticulously measured in MOA for the best shooting experience.
Bonus: By grabbing this offer, you'll also be subscribing to the Gun Digest email newsletter, keeping you updated with the latest in the world of firearms.
Don't miss out!
Simply enter your email below, and we'll send your downloadable target pack straight to your inbox.