Offering a wider field of view up close and more detail on high magnifications, ProStaff P5 line aims to get hunters on target no matter the situation.
How The ProStaff P5 Improves The Series:
Wider field of view at lower magnification, more detail at higher magnification.
42mm and 50mm objective lens options.
¼-MOA per click windage and elevation adjustments.
Choice of Nikoplex, MK1-MOA or BDC reticles.
Side-parallax adjustment on long-range models.
Shooters who have a tight rein on their pocketbooks, yet seek performance, have long appreciated what Nikon brings to the table. Since jumping into the sporting optics game, the Japanese manufacturer's riflescopes have more than built a reputation for precision at a price nearly any rifleman can afford.
The company aims to keep this tradition rolling with an expansion of its well-regarded series of hunting scopes. While not reinventing the wheel, the recently unveiled ProStaff P5 line has a few improvements that should pique hunters' interests. In particular, the company is heralding its first 1-inch main tube scopes with a greater field of vision on lower magnifications and more detail when dialed up. If true, the P5 scopes should excel in the most common hunting situations, whether a running shot up close or a precision attempt on a distant ridge.
A few of the more notable features of the ProStaff P5 line include 4:1 zoom ratio, 42mm and 50mm objective lenses, fully-coated lens surfaces and the choice of Nikoplex, MK1-MOA or BDC reticles. A nice touch, all reticles are supported by Nikon's Spot On Ballistic App. Furthermore, the scopes have ¼-MOA per click windage and elevation adjustments and the long-range models, such as the P5 6-24x50SF, boast side-parallax adjustment.
---
More Optics Information:
---
In all, the ProStaff P5 line includes eight scopes, with adjustable magnification ranging from 2.5-10x to 6-25x. The MSRP range for the series is $230 to $450 and most are already available for sale.
More from Nikon:
Melville, NY (April 2019) – Nikon continues to raise the bar for riflescope performance as it surpasses the century-mark of optical innovation. The all-new PROSTAFF P5 is a continuation of that legacy wrapped up in a one-inch main body tube and a versatile 4x zoom ratio that offers a wide field of view and increased image detail throughout the magnification range.

PROSTAFF P5 3-12x42mm

Nikon's legendary optical performance is maximized through its dedication to engineering optical systems specific to each and every riflescope it builds, and the PROSTAFF P5 is no exception. The optical system of the PROSTAFF P5 was created around Nikon's renowned lead-and-arsenic-free glass that is fully multicoated with anti-reflective compounds, providing consistently bright images in all lighting conditions.

Durability is always a priority for Nikon and the PROSTAFF P5 will surely live up to this reputation. Engineered for minimum weight and maximum strength, the PROSTAFF P5 features an all-aluminum zoom ring, focusing eyepiece and turret caps with matched knurling for increased grip and visual appeal.

The PROSTAFF P5 is the first one-inch tube riflescope in Nikon's hunting lineup to offer its new MK1-MOA long-range reticle. Together with precise, 1/4-MOA turrets, the MK1-MOA reticle provides precise visual reference points for ranging, holdovers and windage corrections. The renowned BDC reticle and Nikoplex reticles are also offered for those that either want a ballistic compensating reticle or a single aiming point respectively. All reticle options are supported by Nikon's Spot On Ballistic App for quick referencing in any field situation.

PROSTAFF P5 6-24x50mm

Included in the PROSTAFF P5 lineup are long-range models that offer turret-mounted side focus parallax adjustment to enable finely tuned sight picture without the need to break cheek weld. The generous eye relief on all PROSTAFF P5 models allows quick target acquisition and helps keep brows safe––even during heavy recoil.

As with all Nikon riflescopes, the PROSTAFF P5 models are nitrogen purged and O-ring sealed for waterproof, fogproof and shockproof performance and are backed by Nikon's NO FAULT Lifetime Repair/Replacement Policy.
For more information on the ProStaff P5, please visit www.nikonsportoptics.com.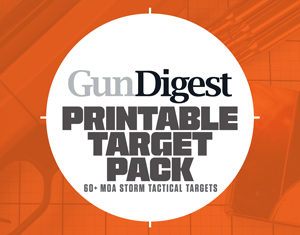 Next Step: Get your FREE Printable Target Pack
Enhance your shooting precision with our 62 MOA Targets, perfect for rifles and handguns. Crafted in collaboration with Storm Tactical for accuracy and versatility.
Subscribe to the Gun Digest email newsletter and get your downloadable target pack sent straight to your inbox. Stay updated with the latest firearms info in the industry.