As thermal imaging devices grow in popularity and become more mainstream, iRayUSA is one of the companies working to let you own the night better than ever with their thermal weapon sights and monoculars.
Hunting hogs and tactical preparedness are both growing hobbies in the United States, and they both require one to own expensive equipment that lets you see in the dark. Whether it be night vision or thermal, weapon sights or monoculars, many Americans are currently looking to add this high-tech gear to their collection of kit. iRayUSA is a newer company in the thermal imaging device game, but they're drawing on years of prior experience with selling, developing and using thermal weapon sights and monoculars. Currently offering four different thermal weapon sights, two thermal monoculars and a modular laser rangefinder, iRayUSA have what it takes to let you own the night.
Thermal Weapon Sights

The RICO is iRayUSA's flagship thermal weapon sight series with three different models available: the RICO Bravo, the RICO Mk1 384 and the RICO Mk1 640. The Bravo is the smallest and cheapest option, while the Mk1 640 has the largest display of the three and a proportionally larger price tag. The RICO series of thermal weapon sights aim to provide the highest resolution image possible while still being lightweight and easy to use. Between the RICO sights' processor, AMOLED HD display and advanced image correction algorithms, they promise to provide very high-resolution images. Both still images and video can be captured and saved to the RICOs' internal memory, and the Mk1 models can be actively used for at least 6 hours thanks to their efficient lithium-ion battery packs.
The relatively small and light Bravo model is ideal for AR-style rifles, while their BOLT TL35 thermal weapon sight was designed for use on bolt actions.
Thermal Monoculars

Both of iRayUSA's thermal monocular options were designed to function both as handheld and helmet-mounted imaging devices. Available with either 19mm or 25mm displays, these thermal monoculars are ideal for both hunters looking for a small, pocketable tool as well as the tactically inclined in search of something to mount to their helmet. Both models feature two mounting points to provide plenty of options for compatible helmet mounts. They can be powered by either small, internally stored batteries for short-term use or wired to an external USB battery for prolonged operations up to 18 hours.
Whether you're looking to bag hogs as efficiently as possible or just want to LARP as Sam Fisher, iRayUSA is worth checking out. MSRPs of listed products range from $2,999 to $5,999 and all include a 5-year warranty with a 5-day repair guarantee.
For more on iRayUSA, please visit irayusa.com.
---
More Thermal Weapon Sights And Monoculars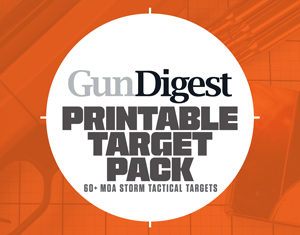 🎯 Exclusive Offer: Get Your FREE Printable Target Pack!
Dive into precision shooting with our 62 Exclusive MOA Targets featuring DOT Drills. Perfect for both rifle and handgun enthusiasts, these targets are designed for accuracy, especially for long-range shots.
Why You'll Love This Pack:
🎯 Expertly Crafted: Brought to you in partnership with the renowned Storm Tactical.
🎯 Versatile Use: Suitable for both rifle and handgun range sessions.
🎯 Precision Design: Target grids and bullseyes meticulously measured in MOA for the best shooting experience.
Bonus: By grabbing this offer, you'll also be subscribing to the Gun Digest email newsletter, keeping you updated with the latest in the world of firearms.
Don't miss out!
Simply enter your email below, and we'll send your downloadable target pack straight to your inbox.