Crimson Trace takes its first foray into optics with five red dot options.
Crimson Trace Red-Dot Optics Options:
CTS-1000 – 1x, 2 MOA reticle
CTS-1100 – 3.5x battlesight
CTS-1200 – 1x reflex, 3.25 MOA reticle
CTS-1300 – 1x reflex, 3.5 MOA reticle
CTS-1400 – 1x reflex, 3.25 MOA reticle
Laser sights, it's Crimson Trace's brand. Every color, configuration and application – the company has made a diode to get you on target. Given their track record in the niche, you'd figure they'd be pretty happy with their position lighting up the rails of American handguns and rifles. But apparently, the laser-sight manufacturer got an itch.
The company recently released its first-ever line of red-dot sights, five in all, drastically expanding their focus on getting shooters on target. Not a bad looking lot with plenty of what you'd expect from reflex and red-dot systems.
---
More Optics Info:
---
While a break from tradition, the move to optics is a logical one for Crimson Trace. Laser-sights aren't obsolete by a long shot — not as long as there are low-light situations that demand fast target acquisition. Yet, in recent years, the optics end of the market had caught fire, whether you're talking hand or long gun. Crimson Trace's first venture into this area should prove interesting, especially given their optic's price point, which starts at a $199 MSRP.
From the company:
(Wilsonville, OR) — America's Top Brand of laser sights, Crimson Trace®, today introduced a new line red dot sights for pistols and long guns. These five new products are designed to meet the needs of 3-gun competitors, home defenders, hunters and recreational firearms enthusiasts. They include several field of view and reticle choices, and they utilize existing industry standards and installation features that ensure after-market compatibility with a vast range of firearms and mounting systems. Availability of all five new red dot sights is slated for November 2018.

"This new line of red dot sights offers consumers high-quality optics products from a name they trust," said Lane Tobiassen, President of Crimson Trace and American Outdoor Brands Corporation's Electro-Optics Division. "We are very excited to introduce this new product line which has been carefully engineered and designed to meet the needs of consumers seeking quality and performance."

The new Crimson Trace red dot sights are:

*CTS-1000—a closed red dot sight with a 2 MOA aiming reticle. This sight is designed for use on a rifle and offers adjustable brightness settings, utilizes fully multi-coated lenses with an advanced notch filter to maximum clarity and it has a sturdy aluminum chassis. This sight is easy to adjust for windage and elevation, can also be adjusted for intensity, has a quick-release mount, is waterproof, and the sight will provide years of uninterrupted service with the provided battery.
*CTS-1100—a 3.5X battlesight with a custom and fully-illuminated Crimson Trace advanced hybrid BDC reticle. This sight is designed primarily for use on a long gun and features a wide field of view. The CTS-1100 is easy to install with an M1913 mount, is waterproof, and provides long-term operation on the provided CR2032 battery.
*CTS-1200—a red dot reflex sight that is compact, utilizes a 3.25 MOA aiming reticle and is designed for mounting on a pistol. Users can easily change the battery via a unique side-opening access slot without removing the sight from the firearm. Easy-to-reach controls help with adjusting the sight intensity and settings for light conditions and user preferences.
*CTS-1300—a compact open red dot sight providing 3.5 MOA aiming reticle. This sight is designed for use on a long gun and delivers a wide field of view, provides easy windage and elevation adjustments and is water resistant. It features fully multi-coated optics and an advanced notch filter to improve clarity. The sight also has a removable Picatinny rail mounting system so it can be adapted to other mounting systems.
*CTS-1400—is an open red dot sight with 3.25 MOA aiming reticle and a large field of view. The sight is designed for use on long guns and incorporates an advanced motion detection system to note inactivity resulting in auto-shut-off to save battery life.

These new Crimson Trace red dot sights are night vision compatible, provide excellent light transmission, and are waterproof. MSRPs begin at $199. Users will find the complete sight line offers many advantages, including: helping to rapidly acquire close-range targets when aiming; secured in a machined aluminum housing; utilizes clear-coated optics to provide a vivid edge-to-edge view; are shock-resistant, dust-proof, and fog-proof. All sights permit the user to adjust brightness levels to meet individual preferences and changing light conditions. Each open red dot sight comes equipped with a cover to protect the sight and keep it clean. All of the new innovative red dot sights are packed with features and user-benefits that firearms owners will appreciate, and a high level of quality that fans have come to expect from Crimson Trace. All Crimson Trace red dot sights are covered under the company's Free Batteries for Life program.

Full details on these new sights, and the 350-plus laser sights the company manufactures, can be reviewed at www.crimsontrace.com. Crimson Trace strives to meet consumer demands for innovative laser sights, lights and optics. The US-based company has equipped America's gun owners, law enforcement officers, and military units around the globe with the largest selection of award-winning products. Full details are at www.crimsontrace.com or are available by calling 800-442-2406.
For more information on Crimson Trace Optics, please visit: www.crimsontrace.com.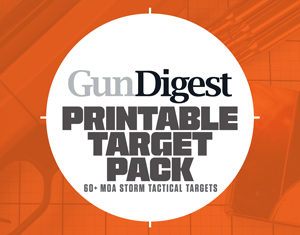 Next Step: Get your FREE Printable Target Pack
Enhance your shooting precision with our 62 MOA Targets, perfect for rifles and handguns. Crafted in collaboration with Storm Tactical for accuracy and versatility.
Subscribe to the Gun Digest email newsletter and get your downloadable target pack sent straight to your inbox. Stay updated with the latest firearms info in the industry.