Using Hornady's precise 4DOF Ballistic Calculator, the new Kestrel 5700 is designed to give extremely accurate, real-time shooting data.
How The Kestrel 5700 With 4DOF Differs From Other Weather Meters:
4DOF Ballsitic Calculator uses bullet's drag coefficient instead of ballistic cofficient
Accounts for aerodynamic jump casued by crosswinds
Provides real-time and accurate environmentals
Looking to go the distance? A partnership between Kestrel and Hornady might be of interest. The wind/weather meter specialist and ammunition maker have teamed up to produce a unique device meant to help shooters connect at the longest ranges.
The Kestrel 5700 Ballistics Weather Meter with Hornady 4DOF puts a twist on figuring out shooting solutions, using Hornady's unique ballistic calculator. Instead of figuring out trajectory through a bullet's ballistic coefficient, the company's 4DOF calculator uses drag coefficient along with physical modeling of the projectile, its mass and aerodynamics. Furthermore, the Kestrel 5700 calculates the bullet's aerodynamic jump, the vertical shift it experiences when it encounters a crosswind. Of course, all of this is done with real-time readings from the weather meter.
The 5700 Ballistics Weather Meter with Hornady 4DOF is presently available and has an MSRP of $499.
More from Kestrel and Hornady:
BOOTHWYN, PA – Kestrel Ballistics, the leading brand in rugged American-built weather meters and long-range shooting accessories, has partnered with Hornady, the premier manufacturer of bullets, ammunition, reloading tools and more, to launch an all new advanced ballistics weather meter for hunters and shooters. The Kestrel 5700 Ballistics Weather Meter with Hornady 4DOF ($499) is now available online and currently shipping to customers.

Combining reliable onsite environmental measurements with precise Hornady 4DOF trajectory solutions – this all-in-one, compact unit is fully functional as a tool for long-range precision shooting. With the full power of the 4DOF ballistic app now integrated in the Kestrel meter, shooters can leave the phone behind and rely on the durable, compact Kestrel unit for the critical target data they need in the field. The built-in Hornady 4DOF Ballistic engine provides trajectory solutions based on projectile Drag Coefficient along with the exact physical modeling of the projectile and its mass and aerodynamic properties. Coupled with features like zero angle and aerodynamic jump, it is ideal for long-range calculations. Accounting for all environmental and ballistic variables that affects bullet trajectory over distance, the Kestrel with integrated 4DOF solver quickly and accurately delivers dead-on aiming solutions for any rifle or round.

Key Features
•Accurate Environmentals – Measures wind speed and direction, temperature, altitude, and more and automatically updates the shooting solution
•4DOF Solver & G1/G7 Ballistics Solver – Extensive library of independently tested bullet data
•User-Friendly – Easy operation for outdoor use with large buttons for navigating screens and entering information along with bright, clear backlit display readable in direct sunlight or low light situations
•Rugged, All-Weather Durability — IP-67 Waterproof, MIL-STD-810 drop-tested, and backed by a 5-Year Warranty
•Long-lasting Power – Powered by 1 AA Lithium battery, expect hundreds of hours of use from a reliable tool that won't quit when you need it most
•Load & Go Convenience – Set up a Gun Profile via the free Kestrel LiNK app, then the Kestrel unit is field-ready allowing users to calculate trajectories under any conditions, even in areas without cellular service
For more information on the Kestrel 5700 Ballistics Weather Meter with Hornady 4DOF, please visit www.kestrelballistics.com.
---
More Long-Range Shooting Info: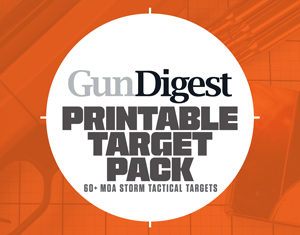 Next Step: Get your FREE Printable Target Pack
Enhance your shooting precision with our 62 MOA Targets, perfect for rifles and handguns. Crafted in collaboration with Storm Tactical for accuracy and versatility.
Subscribe to the Gun Digest email newsletter and get your downloadable target pack sent straight to your inbox. Stay updated with the latest firearms info in the industry.