When it comes to an AR-15 that I plan to use exclusively for defensive reasons, there are really only two items I like to add to the gun: some sort of white light and a sighting device other than iron sights. I don't have anything against iron sights, but in low light situations, they can come up short. There are a many other extras that can be added to a tactical rifle, and special operators may even need others for a particular mission, but the simple AR with these two necessities is not only all a guy needs, but may prove to be tactically superior to a rifle with a bunch of additional items strapped on.
Choosing Your Sight
As far as a sight is concerned, I like the red-dot types. For my high mileage eyes something like an EOTech, AimPoint or one of the mini-red dots really improves my speed in lining up on target—particularly in low-light situations. Another great option for the defensive rifle is one of the 1.5×5 scopes that can be like a red dot on low power, but also offers some magnification for longer distance shots. Leupold's MRT is a great choice in this department.
Depending on your intended use, this might even be a better choice, but for most home defensive and close-quarter situations, a red-dot or iron sight will be a better choice. Remember, it's not outside the scope of operation to make long shots with a red-dot or iron sights, particularly with good eyes and practice so don't discount these options just because you expect to shoot farther than 50 or 100 yards now and then. My patrol rifle is topped with an unmagnified EOTech and it's capable of accurate 300-yard connections.
I had an opportunity to try out a medium-sized red dot from Meopta recently—the M-RAD, which proved to be a rugged little unit that can be used on a Picatinny-railed AR without a lot of added weight. It has a heavy hood to protect the optic and the on/off button is on the forward side of the sight for easy manipulation when shouldering the rifle. The same button can be manipulated when the sight is turned on at the shoulder to get the brightness appropriate for conditions.
The unit comes with a pocket-sized wallet with all the tools and extra mounting pads to get the correct height for the individual shooter. The battery cap can be removed with a coin, but it's easier to take off with the provided tool. The sight can be quickly put on and taken off the rifle with a robust clamping lever. The lever also has a spring loaded safety to keep it from coming off during rugged use. This would make swapping it out with a scoped sight easy in the field if the mission dictates.
It was literally a snap to mount it on the SIG 516 Patrol rifle I was shooting, and within seconds, I was on the range sighting it in. The tool wallet has a small screwdriver for adjusting the sight making elevation and windage corrections easy. Within a few shots I was sighted in. On the AR platform, the shot will hit low on close quarter shots because the barrel is a few inches low of the sight. At 100 yards it was dead on.
I ran it through some quick double taps around a barricade and the sight jumped right to the target. In fact, it was easy for me to double tap inch and a half groups. The M-RAD would also be small enough to mount at an angle on a competition gun that bears a scope for close shot versatility.
Light Selection
With sights decided upon, it's now time to be prepared to precisely evaluate any threat while maintaining the ultimate level of readiness. You cannot evaluate a threat properly if you cannot see it. One of the best advancements that I have seen over the years pointing guns at people in the dark is lighting.
One of the first "modern" lights I owned was a Streamlight rechargeable flashlight. It was big and heavy, but much brighter than its predecessors. Now, almost 30 years later, I still look to Streamlight for my lighting needs. The lights are smaller, brighter and have functions like strobe, which in law enforcement, we were always taught to do manually.
Streamlight's TLR-1 HL, which I assume stands for high lumens, busts out a whopping 630 lumens of light with a pistol-sized gun light. For close quarters defensive use this light is adequate on the carbine as well as the pistol. On the rifle it doesn't add much weight or size and will light up, or blind, anyone in the room or area you are searching. It has an easily manipulated on /off switch, which allows the user to set it to momentary, all-on or strobe illumination.
The Streamlight TLR-2 HL boasts the same 630 lumens with a built in laser, which could be an alternate sighting device on your carbine or pistol should the condition dictate. Normally I'm not a fan of lasers, but for no extra weight or convenience, a laser can be waiting for duty should you need to make a shot without a sight picture. I mounted this light with Streamlight's quick mount on the bottom rail of my AR. It was amazing how well it lit up any room in the house or outside around the house. I could evaluate a person's hands at 25 yards easily.
This light also snaps on the duty pistol rail and is easily manipulated with the weak hand thumb or first finger. The 630 lumens really lights up the search area, and there is enough ambient light to see the sights as well when using open or other iron-type sights. I remember searching buildings in patrol back in the day with lights that were the brightest available, but were dismal at best compared to the products we have now.
The amount of light emitted by these new units in such a small package is unbelievable. I lit up an area around where my new shop is going in from 35 yards away with the TLR-1 on a carbine and it made everything in the area stand out as if it were in daylight. The smaller pistol/carbine light brightens up a bigger area than the beam oriented rifle light they also offer. This is great for searching as it gives plenty of peripheral vision around where the carbine is pointed.
Streamlight makes a version of the TLR-1 light in a rifle format. The unit is similar, but the lens is more suited to sending light in a beam for longer distance target identification. They also make it with a green LED for hunting as the green light is less spooky to game. I thought the green light would be less bright as the distance increased but it illuminated my 100-yard target board with ease. The center of the beam is bright and through a scope the target has plenty of light for a shot. Both of these units are extremely rugged and I have abused them both on purpose without a fail. The units take two of the CR123 lithium batteries that provide 6 volts of power behind the LED.
Either of these lights can be mounted on the Picatinny 4 rail forearm in any position that is comfortable to the shooter. I like mine on the bottom. The activation button is ambidextrous, and I use my index finger on the right side to operate the light. This gives me a comfortable grip on the forend of the gun, and I have light when I need it. Streamlight also makes an attachment for the back of the unit that has a pressure switch wired to it so a user can put the switch anywhere else on the gun that suits them.
I haven't used the green light on game, but the white light version seems to stop coyotes in their tracks. I think they are mesmerized by the brightness of the light. The green light really lights up the area out plenty far for a calling shot as I tested it on my 100-yard target. It's kinda like using a Generation 1 Night vision scope, but the image is clearer. Both of these lights operate on lithium batteries. The run time on the light at 630 lumens is 1.25 hours and the laser if equipped has a runtime of 45 hours. One thing nice about a battery unit is when batteries start to weaken, it's just a matter of putting fresh ones in. Rechargeable lights don't give the operator that option.
I really like both of these lights and I'm sure one day they will even be dim compared to the new fangled creations they come up with in the future. But for now, paired with a good red-dot sight, I feel I have everything I need on my AR to safely defend my home.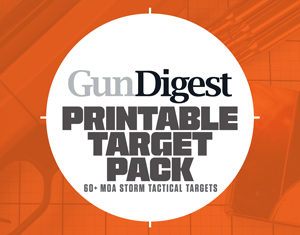 Next Step: Get your FREE Printable Target Pack
Enhance your shooting precision with our 62 MOA Targets, perfect for rifles and handguns. Crafted in collaboration with Storm Tactical for accuracy and versatility.
Subscribe to the Gun Digest email newsletter and get your downloadable target pack sent straight to your inbox. Stay updated with the latest firearms info in the industry.