Hornady Black ammo is purposefully designed to feed and function properly in a variety of AR-style rifles, regardless of operating system or configuration.
Black rifles matter. In fact, the AR-15 is likely the most popular firearm in America today. According to research by the National Shooting Sports Foundation (NSSF), "30 percent of all Modern Sporting Rifle (MSR) owners purchased their first rifle in 2009 or 2010." Those millions of new AR-15 owners are eager for more trigger time and need plenty of ammo to continue feeding their hungry rifles. Data from the NSSF also indicates that MSR owners consider accuracy and reliability to be the two most important things to consider when buying an AR-15.
With its slogan, "Accurate. Deadly. Dependable." Hornady manufacturing has been loading quality ammo for rifle owners since 1949. Considering the bonanza of AR-15 sales over the past decade, Hornady's new Black line of ammunition suited specifically for Modern Sporting Rifles is a welcomed offering for those of us who enjoy maximizing the performance from our AR-15s. Introduced in late 2016, the entire Hornady Black ammunition lineup currently includes 14 loads spanning multiple caliber options from .223 Rem. to .308 Win., and even delves into the more exotic cartridges such as the 6.5 Grendel and .450 Bushmaster.
According to Hornady's Marketing Director, Neil Davies, "We wanted to make sure we had a line of ammunition that is versatile enough to be fired in gas impingement guns, gas piston guns … from a variety of different configurations and barrel lengths; suppressed, unsuppressed, sonic, subsonic. "
Davies went on to say, "We put them all together in a line of ammunition that's easily identified by the consumer. So when they go to the store, it's easy for them to find the product that will work in their firearm."
While some of the loads in the Black lineup are new, most of the Black ammo line includes existing loads that were scattered throughout other lines of Hornady ammunition that perform well through MSRs. For example, certain cartridges that were once labeled with Varmint Express, Custom or Match labels may be renamed under the Black lineup. In most instances where existing Hornady loads are re-branded under the Black name, the existing loads will be discontinued and replaced with the new Black label SKU.
So what does this matter to the consumer? Foremost, prices of most Hornady Black loads are less than the same loads under their original name. For example, the Hornady Custom .300 Blackout with 110-grain V-MAX bullet retails for $30.73 for a box of 20 rounds, while the same load under the Black line costs $28.33 for a box of 20. This is an all-around win for the consumer who gets the same great Hornady ammo more readily available and for a better price.
We chose a few popular loads from the Hornady Black lineup spanning .223 Rem., .300 Blackout and .308 Win. to see how they performed through ARs.
Hornady Black .223 Rem. 75-gr BTHP Match
Featuring a boat-tail hollowpoint bullet with a ballistic coefficient of .395, this load is designed with extreme accuracy in mind. Whether you're poking paper at 100 yards or challenging the maximum effective range of your AR-15, the 75-grain bullet really goes where you want it to go. During testing through a 20-inch White Oak Armament upper, I was able to fire a new lifetime personal best group of .331-inch at 100 yards with this load. That kind of accuracy really speaks for itself, especially because I am not a professional match shooter.
Quite simply, any shooter who wants to establish a measurable benchmark for their rifle's abilities should run their accuracy tests with Hornady Black .223 Rem. 75-grain BTHP Match.
Hornady Black .223 Rem. 75-grain BTHP
Avg. Group: .727 in.
Best Group: .331 in.
Avg. Velocity: 2,642
Std Dev: 8 fps
Extreme spread: 18 fps
Muzzle Energy: 1,162 ft.-lbs.
Cartridge Overall Length: 2.24 in.
Powder weight: 24 grains
MSRP: $20/box of 20
PROS:    Extremely accurate.
CONS:    Take care when loading into standard AR-15 magazines, as the overall length of this cartridge is almost too long to fit into a magazine.
Hornady Black .300 Blackout 110-grain V-MAX
Possibly one of the most versatile loads in the AR world, this cartridge boasts the all-purpose power to take on just about anything you want to accomplish. From target shooting to big game hunting and home defense, this supersonic .300 Blackout load is worth a serious look for anyone who needs a do-it-all cartridge.
During testing, the Hornady Black 110-grain Blackout loaded with a V-MAX bullet performed reliably through an AR pistol with a 10.5-inch Brownells barrel. Even when fired through a short barrel, this is a hot load that was able to produce almost 1,200 foot-pounds of energy at the muzzle. Although the tested accuracy averaged consistently sub-two-inch groups at 100 yards, I believe this ammo easily has the potential to shoot less than one-inch groups at 100 yards if the shooter uses an optic with greater magnification than the Leupold VX-6 used during testing. Nevertheless, this load really puts the Black in the Hornady Blackout lineup.
Hornady Black .300 Blackout 110-grain V-MAX
Avg. Group: 1.63 in.
Best Group: 1.32 in.
Avg. Velocity: 2,212
Std Dev: 13 fps
Extreme spread: 30 fps
Muzzle Energy: 1,195 ft.-lbs.
Cartridge Overall Length: 2.10 in.
Powder weight: 18 grains
MSRP: $28.33/box of 20
PROS:     All-purpose tool for any application.
CONS:    You'll want an adjustable gas block when fired through an SBR or AR pistol to tame some of the recoil.
Hornady Black .308 Win. 168-grain A-MAX
Hornady's legendary A-MAX bullet gives the Black line of ammo a reliable big game hunting partner with the 168-grain .308 Winchester offering. The AR-10 certainly has a place in hunting camp when Hornady Black is involved, featuring an expanding bullet that has proven its abilities on game animals around the globe.
As tested through a 16-inch Del-Ton AR-10, the A-MAX bullet left the muzzle at almost 2,200 feet-per-second and punched sub-two-inch groups at 100 yards. Oftentimes, ammo reliability can be an issue with AR-10s that are finicky about ammo selection, but this was not the case considering no malfunctions occurred during testing of this load. Anyone who hunts with the AR-10 should be able to bring home the bacon with this load.
Hornady Black .308 Win. 168-grain A-MAX
Avg. Group: 2.21 in.
Best Group: 1.87 in.
Avg. Velocity: 2,148 fps
Std Dev: 20 fps
Extreme spread: 35 fps
Muzzle Energy: 1,721 ft.-lbs.
Cartridge Overall Length: 2.80 in.
Powder weight: 43 grains
MSRP: $35/box of 20
PROS:     Accurate, great for hunting,
CONS:    Due to price, not a good option for plinking/target shooting.
Conclusion
While it is certainly pricier than your standard surplus range ammo, the level of quality craftsmanship in this ammunition lets the AR-15 push its stereotypical limitations. During testing, Hornady Black ammo achieved impressive performance that cannot be overlooked by anyone who owns an AR-15. Strategically targeted for AR-platform rifles, Hornady Black ammo certainly lives up to the two most important expectations defined by AR-15 owners to the NSSF: accuracy and reliability. Owners of America's favorite rifle wanted a favorite flavor of ammo, and Hornady satisfied that craving with its new Black lineup of ammunition.
Parting shots
While some of the loads in the lineup are cleverly disguised as "new," Hornady Black ammo is a welcomed product that is already proving beneficial to consumers who want to pay less for the same high quality ammo.
Hornady Black Ammo Lineup:
5.45×39 60-gr V-MAX
.223 Rem. 62-gr FMJ
.223 Rem. 75-gr BTHP Match
5.56 NATO 62-gr FMJ
5.56 NATO 75-gr Interlock HD SBR
6.5 Grendel 123-gr ELD Match
6.8mm SPC 110-gr V-MAX
.300 Blackout 110-gr V-MAX
.300 Blackout 208-gr A-MAX
.308 Win 155-gr A-MAX
.308 Win 168-gr A-MAX
7.62x39mm 123-gr SST
.450 Bushmaster 250-gr FTX
12 Gauge 00 Buckshot
Editor's Note: This article is an excerpt from the February 2017 issue of Gun Digest the Magazine.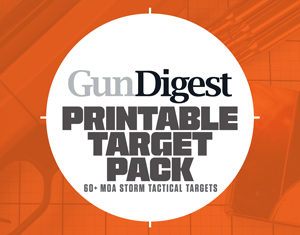 🎯 Exclusive Offer: Get Your FREE Printable Target Pack!
Dive into precision shooting with our 62 Exclusive MOA Targets featuring DOT Drills. Perfect for both rifle and handgun enthusiasts, these targets are designed for accuracy, especially for long-range shots.
Why You'll Love This Pack:
🎯 Expertly Crafted: Brought to you in partnership with the renowned Storm Tactical.
🎯 Versatile Use: Suitable for both rifle and handgun range sessions.
🎯 Precision Design: Target grids and bullseyes meticulously measured in MOA for the best shooting experience.
Bonus: By grabbing this offer, you'll also be subscribing to the Gun Digest email newsletter, keeping you updated with the latest in the world of firearms.
Don't miss out!
Simply enter your email below, and we'll send your downloadable target pack straight to your inbox.