Don't believe the hype over the .45 ACP as some dusty relic of a bygone era. The cartridge is better than ever and is here for the long haul.
A Few Reasons Why The .45 ACP Still Rules The Roost:
Tested in countless wars, Americans have an inherent trust in the cartridge.
While leveled somewhat by modern bullets, the .45 still punches a larger hole in a target.
Inherently a subsonic cartridge, it funtions well out of nearly every barrel length.
Americans did not develop the first handguns in the world. However, it can be said that we were truly the first country to create a culture surrounding the handgun. The story of this is also the tale of what is arguably the quintessential American handgun cartridge: The .45 ACP has survived into our modern era, and today, it's better than ever. However, its relevance is hotly debated.
To really understand why the .45 ACP has lasted as long as it has, all you have to do is look at the tumultuous era of design that existed in the second half of the 20th century. From the time it was introduced prior to World War I until it was (mostly) replaced in the 1980s, there really wasn't anything better out there.
Establishing Trust
There's a reason Americans trust the .45 bore. Every time the country goes into battle with some smaller or lighter ammo type, disaster often follows. This was true when the .38-caliber was issued to replace the .45 Colt, and it was again true when the 9mm was adopted to replace the .45 ACP.
Because of the terrible combat in the Philippines during the Moro Rebellion (1902–1913), the military wanted a modern gun equal in power to the .45 Colt. It could be said that the American experience in the Philippines soured our view of .38-caliber weapons—including 9mm. A new round was needed, and the choice was the long-standing American favorite, .45-caliber. History happens fast, and by 1904, a design was ready.
Many detractors of the .45 ACP see it as an antiquated round designed around a poor understanding of ballistics in botched tests. While it's true that the round was developed, at least in part, by shooting corpses and animals, the results can't be argued with. The engineers responsible for the .45 ACP—including one John Moses Browning—used the best methods of data collection available at the time and delivered a 230-grain bullet at 850 fps. This became the baseline standard for multiple generations of gunfighters and the round to beat for the next 100 years.
The trust forged between Americans and the .45 ACP made it the sidearm cartridge-of-choice in virtually every conflict to date. This further reinforced the relationship the cartridge had with the shooting public. Even today, many other cartridges designed to replace or improve upon the .45 ACP have fallen short.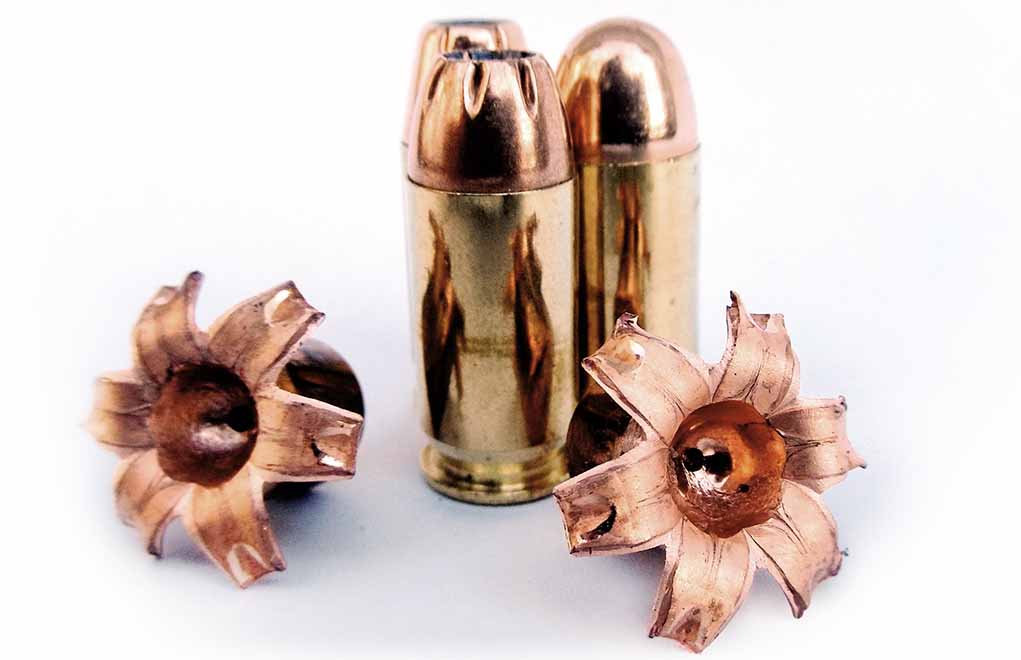 Americans truly trust the .45 ACP and the 1911 platform, even if ballistics science says there are better options. A 1911 in .45 ACP is culture. Cartridges such as the .40 S&W and 10mm Auto were supposed to do away with .45 ACP. They didn't.
Even groundbreaking cartridges such as the 6.5 Creedmoor have struggled with maintaining relevance. The greatest merit that the 6.5 CM had was that it offered an improvement over .308 Winchester in an identically sized rifle. There are already rounds that exceed the 6.5 CM in many arenas: 6mm Creedmoor, 6.5 PRC and others like them.
The same thing happened to 10mm Auto: It's a popular niche round today, but it's nowhere near the level of .45 ACP in terms of mass acceptance. The trust just isn't there for most firearms consumers and, in most cases, it's seen as a "boutique" solution to a non-existent problem.
---
Raise Your .45 ACP IQ:
---
Ballistics of the Modern .45 ACP
When we look at how bullets have improved, even in the past 10 years, there's a significant and valid trend going toward the 9mm in carry guns, law enforcement and military use. As far as technology is concerned, it's improved substantially. Recent studies by the FBI and others have confirmed that when using modern jacketed, hollow-point, high-performance ammunition, there's very little difference between major law enforcement calibers such as 9mm, .40 S&W and .45 ACP. The studies essentially confirmed that 9mm can accomplish the same thing as the other two when using modern ammunition.
However, there's a pretty big difference when looking at FMJ ammo and military bullets. The .45 ACP offers a tremendous advantage in this respect, and we haven't really had a need to go the same distance in technology with the .45 ACP.
Another area to address is velocity. The .45 ACP is an inherently subsonic cartridge that's designed for optimum performance at those lower speeds. It's difficult to find a .45 ACP cartridge that doesn't function well. There isn't a large degree of difference in performance from barrels between 3 and 6 inches, considering that there isn't a large disparity in velocity between those barrel lengths. Jacketed hollow-points and other expanding ammunition will typically work just as well in a compact .45 or a full-sized pistol. Many types of 9mm ammunition aren't geared toward low velocity. Sometimes, there are significant performance gaps between compact carry guns and full-sized duty guns.
There are certainly ammunition types that have come about recently that offer a tremendous upgrade to this classic. Among these is the advent of non-expanding fluted projectiles such as Black Hills Ammunition's HoneyBadger line.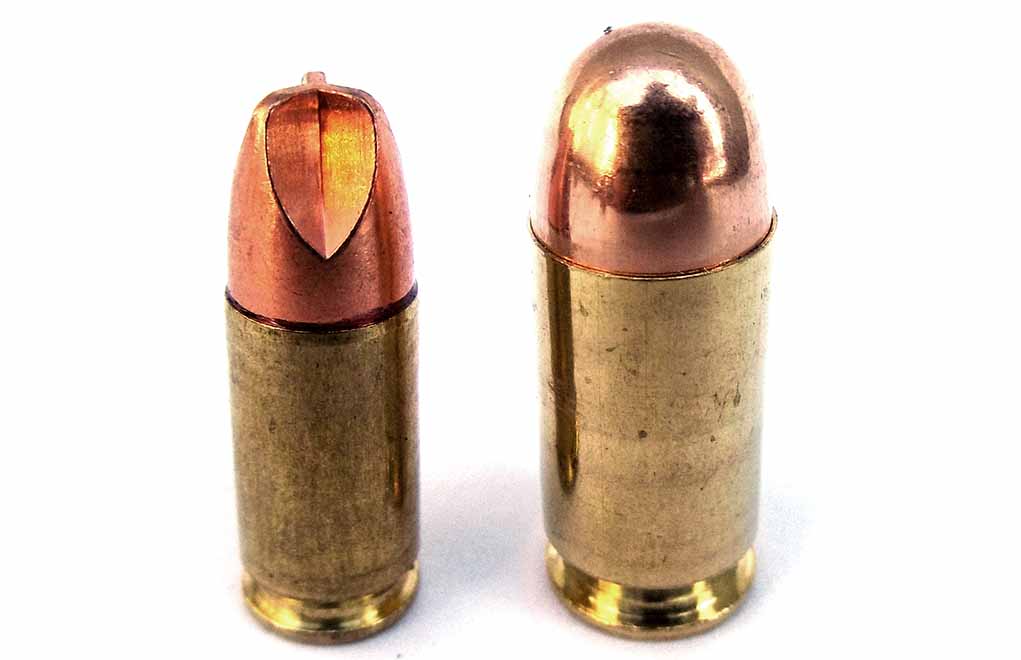 This ammunition takes the .45 ACP to a different level of performance through penetration and tissue displacement. While smaller calibers benefit the most from this type of bullet, what it offers for rounds such as the .45 ACP is nothing short of stunning. The bullets behave almost like an FMJ but are able to penetrate a diverse range of materials with no risk of clogging, as will a hollow-point. Damage is then done not through expansion, but by means of the rotation of the bullet, itself, causing tissue displacement. The ammunition is also significantly more accurate than many cup-and-core-style bullets or hollow-points.
Another incredible, yet extremely rustic, ammunition offered for the .45 ACP comes in the form of hardcast lead from Buffalo Bore, which is known for producing some of the most powerful ammunition on the market. The 255-grain hardcast load is quite powerful and can throw a bullet at 1,000 fps from a 5-inch barrel. Penetration in gel is dramatic, with bullets commonly passing completely through 36 inches of bare gelatin. This particular load is as powerful as the original black powder .45 Colt loads for the 7½-inch Single Action Army … which is saying something!
Long Live the 1911
It's impossible to have a discussion about the .45 ACP without looking at the 1911 pistol. The two are forever linked. There have, of course, been other calibers of 1911 made, although none ever achieved the popularity in the 1911 platform as the .45 ACP has.
The 1911 is an old, outdated and overcomplicated "dinosaur" that can be fickle as far as ammo goes. It needs tuning, hand-fitting of parts as benign as safeties and sights, and it can be picky with magazines. The descriptor, "drop-in," has a completely different meaning with the 1911 than it does with Glock pistols and AR rifles. The idea that you'd have to file something is foreign to many modern gun builders. To work on a 1911 is to have deep knowledge of everything from staking sights to hand-filing slide rails. You also need the right tools.
Despite all that, it's still the single greatest handgun ever designed. It has its flaws, but there's a big difference between a well-built 1911 and everything else out there. You feel a sense of confidence when you put your hand on one: The 1911 and the .45 ACP get the job done.
Today's 1911 pistols are typically quite good from the factory. Most are ready to run, right out of the box, and they don't need much tuning. Unlike many modern guns, 1911s are, by nature, tight fitting and sometimes require a few hundred rounds to get them going.
There are a couple schools of thought on this, the first being that a gun that needs break-in is a well-built gun. The other is that the company making it didn't want to spend the extra time ensuring it was reliable when it shipped. Both have their merits, but it's a challenge to find a poorly built 1911 behind the counter these days.
The .45 ACP is an American staple. So is the 1911. And they aren't going anywhere.
---
NEXT STEP: Download Your Free Storm Tactical Printable Target Pack
62 Printable MOA Targets with DOT Drills - Rifle Range in YARDS
This impressive target pack from our friends at Storm Tactical contains
62 printable targets
for rifle and handgun range use. Target grids and bullseye sizes are in MOA. Ideal for long-range shooting!
Subscribe to the Gun Digest email newsletter and we'll send your print-at-home target pack right away.
Just enter your email address below.
---