If you need some extra stability in your life, a rifle bipod is a good place to start. Here are a few models that we consider the best.
There are many rifle bipod styles and models out there, but which is best for you? Like most shooting gear, that mostly depends on your use case and what features you want or need.
So, we're going to go over the different kinds of bipods, what each type is best for and then look at some good models to choose from for different purposes.
Are Rifle Bipods Worth It?
The obvious utility of a bipod is stabilizing the rifle in the field. For some pursuits, using one is at minimum a very good idea, and for others, it is an absolutely critical piece of gear for placing precise shots at distance.
Competition shooters in modern rifle sports like 2-Gun, Quantified Performance, Brutality matches and similar events can lose a lot of points if their firing position isn't stable.
Military and police snipers as well as hunters use bipods for the same benefits provided by additional stability, but with much higher stakes, the importance of precision is even higher.
In short, if you want your shots to go where you intend them to, it helps to remove as much uncertainty from the equation as possible. No matter how steadily you believe you can hold your rifle, a bipod and something to rest it on will always be better.
What Kinds Of Bipods Are Out There?
There are dozens, if not hundreds of makers and sellers of bipods, but they tend to fit into three broad categories based on their design features.
The most common is the Harris-style bipod, popularized by Harris Engineering. Harris bipods and their clones have spring-loaded, telescoping legs. They fold up and out of the way when not needed and when pulled down they lock in the open position.
There are various leg lengths and styles to choose from. Optional features can include a mechanical swivel, self-leveling legs and additional spring-loading for faster opening.
The next type could generally be described as either a cog or ratchet style. They fold down like a Harris but are not spring assisted. This type is made by several manufacturers, but one of the most popular is Magpul's bipod.
Another class could be called the two-piece family of bipods. This is made of two independent legs that are attached to the rifle with one on either side. Some rotate down and back, but others are designed to rotate down and forward to lock open. Very few of these are any better than hobby-grade and should generally be avoided.
There are also grip pods that feature a compact bipod hidden inside the vertical foregrip. These have, however, broadly fallen out of favor.
How Do You Put A Bipod On A Rifle?
The most common attachment is a sling swivel mount. The bipod simply locks onto the sling swivel stud just like a standard sling attachment would. This style is most appealing for those with a traditional rifle that came with a sling stud from the factory. Most of these were designed to be left on the rifle once installed, but some sling stud-mounted bipods have a quick-detach feature as well.
Other bipods attach through more modern means, such as Picatinny or ARCA rail, or M-LOK and KeyMod mounts. Many rifle bipods that mount via this method are also available with a quick-detach system.
What's The Best Rifle Bipod For Me?
All bipods have downsides, so the trick is finding a model that has downsides that will affect you the least.
Weight
While it doesn't matter too much on the static range, it can start to matter a lot more if you're involved in something like competing, hunting or soldiering. Even the lightest models add weight to the muzzle-end of your gun, and certain setups and applications may require you to forgo functionality to save on weight.
Speed
Spring-loaded designs are typically the fastest, and if you ever anticipate having to deploy your bipod quickly, this is probably the style that you want. Two-piece designs without springs are typically the slowest to bring into action, but that's not important for all types of shooting. Some people also want the ability to quickly attach or detach the bipod from the rifle, a feature that only some models have.
Movement
Some bipods, such as the classic Harris style, are lacking in this department. Swivel bipods give you more target-tracking capability, and if you anticipate needing to track or follow the target, this is a feature you may want to have.
However, bipods that have additional range of movement can come with downsides as well, as the swivel mechanism will add weight, bulk, noise and extra expense. The stability can be negatively impacted too.
Form
They're notorious for poking users in the back while being carried and for being very difficult to get through ports. A VTAC barricade is hard enough to navigate with a slick rifle. With a bipod on the front of the gun…forget about it. How you plan on carrying your rifle in the field and what positions you anticipate shooting from can all affect which model will be best for you.
Durability
The thinner and lighter the legs, the more likely they are to bend or break. If stress-bearing components are made of a material that doesn't bear stress well, it's not going to stand up to hard use. This is where all the two-piece models made for modern carbines fall apart; none stand up to use outside of a static range.
In other words, you need to match your bipod choice to your use case, which means balancing these factors with your particular needs.
The 6 Best Rifle Bipods
Best All-Purpose Rifle Bipod: Harris 1A2-L2
The Harris 1A2-L2 is a quick-deploy steel bipod with spring-loaded, self-leveling legs. The user can adjust the length from 9 inches to 13 inches (shorter and longer versions are available too) and an adapter can be added for any attachment method desired. It weighs 12 ounces.
It lacks some features (like a swivel) and is a tad heavy, but in terms of what it does (deploys quickly and self-levels) and what it costs (MSRP is $79), it's hard to find better value for the money.
Military-Chosen Bipod: Atlas PSR
The Atlas PSR was developed for USSOCOM. If you want a duty-grade, brimming with features rifle bipod, the Atlas PSR is it.
The PSR is available in short or tall (5 inches to 9.4 inches or 6.2 inches to 12.6 inches) and either with or without quick-detach. It has a swivel, with 30 degrees of cant or pan with fore and aft limiting bosses to keep the legs stable. The user can also set the open position angle, reduce cant/pan and otherwise configure it to their needs.
Atlas PSR bipods are also relatively compact at 7.35 inches long when stowed for the short model and 9.3 inches when stowed for the long version. Few match it for durability, track record or features. MSRP starts at $260.
Best Rifle Bipod For Precision Shooting: Accu-Tac FC-5 G2
Accu-Tac is one of the preferred bipod makers for precision shooters. The FC series was developed for F-Class competitors and the feature set shows it.
The FC-5 G2 has a wide base, cradling the rifle for greater stability. The legs are adjustable in length (up to 10.6 inches) and adjustable in position so the bipod can deploy between 45 and 90 degrees. They can pan and cant, and those are adjustable as well. A Picatinny rail is required to mount it, however.
Accu-Tac bipods are not ideal for field use but are the best for precision bench shooting that you can buy. MSRP is $466.
Best Lightweight Rifle Bipod: Magpul
Magpul's bipods have some drawbacks, but their primary selling points are A.) they're bipods and they work, and B.) they are seriously light, slim and cost-effective. For backcountry hunters or carbine shooters who want a low-drag bipod, these are a great choice.
The legs are injection-molded polymer (likely a nylon mix, which is incredibly strong) with adjustable height (7 to 10 inches) and a user-adjustable open position. The legs lock in the open or closed position and Magpul offers variants that attach to all popular mount styles.
At 10 inches long when folded and only 8 ounces, it's about as good as slim, lightweight rifle bipods get. MSRPs start at $75.
Best Bipod For Sitting: Swagger QD42
A lot of hunters shoot from a blind, and most bipods are built around the prone position. The Swagger QD42 gives you an easy on/off bipod that's usable while seated or kneeling in a stand or when concealed in a natural blind.
The base bipod works with Picatinny rail, so an adapter may be required depending on your setup. The legs extend from 14 to 42 inches but flex at the connector for some forward cant. MSRP is $129.99, and adapters (available from Swagger) are $20 to $40 if needed.
Best Quick Detach Bipod: Javelin Pro Hunt Tac
Javelin Pro Hunt bipods use a magnetic docking system with a mounting socket that you attach to your rifle. If you want a bipod that's lightweight, can be quickly attached or detached (it's even faster than Pic rail QD mounts) and that's packed with features, the Javelin is it.
Short and long adjustable leg lengths are available (and swappable) with a locking traverse feature that lets you stow the bipod with the legs together, then open and lock. The magnet goes into the socket on the rifle. The bipod has cant and pan as well as traverse to track targets and spring-loaded legs for stability.
The carbon fiber and steel construction help to keep the weight low at only 7.6 ounces with standard-length legs. If you want a bipod that can be quickly deployed but gives you the utmost function once it is, this is the one. MSRP is $320.
---
Improve Your Marksmanship: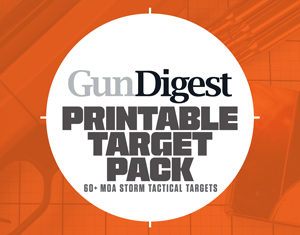 Next Step: Get your FREE Printable Target Pack
Enhance your shooting precision with our 62 MOA Targets, perfect for rifles and handguns. Crafted in collaboration with Storm Tactical for accuracy and versatility.
Subscribe to the Gun Digest email newsletter and get your downloadable target pack sent straight to your inbox. Stay updated with the latest firearms info in the industry.