A professional-grade range bag, the Veto Pro Pac RB-MC keeps guns and gear in shipshape order.
How the Veto Pro Pac RB-MC outdoes other range bags:
2 vertial pistol holsters.
18 interior and exterior vertical tool pockets.
4 magazine pockets.
Double stitched, plastic coil zippers with oversized tabs.
Overmolded rubber grip handle.
Mollie field on the exterior.
Sturdy polypropolene base.
We've all been there before. We start out with the best intentions, planning tokeep a bag or ruck shipshape, everything where it needs to be and ready at a moment's notice. Then real life hits us and the thing is in more disarray than a trailer park after a twister.
Certainly, we deserve some blame. But more times than not the satchel also merits finger pointing. Try as they might, many luggage manufacturers just don't get it, even less so when it comes to that essential piece of range gear – the range bag. Veto Pro Pac is a decided exception.
Well known among skilled tradesmen for professional grade tool bags, the manufacturer has turned its studied eye to the gun world. We're lucky they have. Not only iron tough, the organizational system of Veto Pro Pac's RB-MC is drum tight and about as handy as penetrating oil.
The RB-MC (MSRP $200) uses the company's patented center panel design, durable construction, injection molded base, vertical storage design, and YKK locking zippers to offer superb visual inventory capability for the shooting range.
---
More Shooting Posts:
---
The RB-MC range bag measures 14 inches high, 10 inches wide and 8 inches deep, and offers expanded capacity and customizable storage options that allow customers to organize their range gear effectively and efficiently. The outside design features Molle webbing. There are internally built holsters for two full-sized handguns with foam blocks to support smaller guns, allowing equipment and firearms to be stored vertically with the barrels of pistols pointing downward.
The open space below the holsters offers ample storage for ammunition, and the neoprene and polyester pockets on the backside allows shooters to store magazines, safety glasses, ear protection, cleaning tools and more. The durable 3mm thick polypropylene base protects the bag from the elements and provides a stable platform to keep the bag vertical for good visibility and quick and easy access to all firearms equipment.
True to form, Veto Pro Pac RB-MC provides professional-grade storage and transportation solutions to gun owners. Because there's no reason to only settle for precision down range.
For more information on the Veto Pro Pac RB-MC, please visit www.vetopropac.com.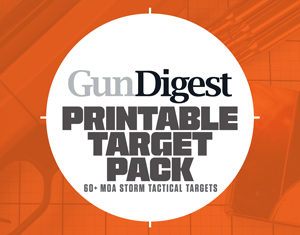 Next Step: Get your FREE Printable Target Pack
Enhance your shooting precision with our 62 MOA Targets, perfect for rifles and handguns. Crafted in collaboration with Storm Tactical for accuracy and versatility.
Subscribe to the Gun Digest email newsletter and get your downloadable target pack sent straight to your inbox. Stay updated with the latest firearms info in the industry.