Safariland has just released the SCR or Safariland Chest Rig, a new chest holster mounting platform compatible with 6000 and 7TS series holsters.
Safariland is one of the most trusted holster manufacturers around, but until now the company's catalog has been missing a chest holster option. Called the SCR, or Safariland Chest Rig, it's a new chest-based mounting platform compatible with Safariland 6000 and 7TS series holsters.
The SCR's mounting platform shares the same three-hole pattern as holsters in Safariland's 6000 and 7TS series, allowing these models to be worn either as traditional holsters or on the chest with the new rig. This also keeps the SCR versatile, as it is fast and easy to swap which holster is mounted. Once attached, a holster's cant can be adjusted as well. All the plastic bits are made from injection-molded TPE for durability and flexibility, and the SCR's quick attachment buckle can be operated one-handed. The straps are nylon and 1.5 inches wide with a padded shoulder section for added comfort.
Tim Drnec, VP of Marketing for Safariland, said this about the SCR:
We are thrilled to introduce the Safariland Chest Rig to customers…We have been working hard on its development, and I am certain all will appreciate the increased stability and retainment options it provides.
The Safariland Chest Rig has an MSRP of $99 and is available now. However, it is currently only available in a right-handed configuration.
For more information, please visit safariland.com.
---
More Up-Top Carry Options: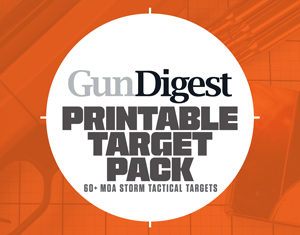 Next Step: Get your FREE Printable Target Pack
Enhance your shooting precision with our 62 MOA Targets, perfect for rifles and handguns. Crafted in collaboration with Storm Tactical for accuracy and versatility.
Subscribe to the Gun Digest email newsletter and get your downloadable target pack sent straight to your inbox. Stay updated with the latest firearms info in the industry.