Big Daddy Unlimited's Wide Open Trigger is a drop-in, plug-and-play fire control group that can raise your AR's fire rate to controversial levels.

Whether you call it hard-reset or forced-reset, the end result is mostly the same—an AR-15 that can fire as fast as the gun can cycle. Rare Breed Triggers has already been taken to court over accusations of their own similar device being a machinegun, but the facts seem to be against the ATF's claims. This is because despite the massively increased rate of fire enabled by triggers of this style, there is still only one shot fired per pull of the trigger—falling under the government's own definition of a semi-automatic firearm. Big Daddy Unlimited's Wide Open Trigger accomplishes this by using the energy of the bolt to compress a "spring carrier" which in turn forces the trigger forward into a neutral position. In practice, this means that a shooter can apply force to the trigger with their shooting finger and achieve a rate of fire similar to a fully automatic rifle while still complying with the law.
Co-founder of Big Daddy Unlimited, Tony McKnight, had this to say about the WOT:
The Wide Open Trigger is yet another revolutionary new product taking the firearms industry by storm as the first true plug-and-play, drop-in AR-15 hard-reset trigger. It's extremely rugged and reliable, and it's been tested and warrantied for more than 10,000 rounds.
BDU claims that the Wide Open Trigger can be dropped into and reliably used in any existing AR-15 that has an M16 bolt carrier group and an H2 or H3 buffer. No other fitment or smithing is required. Once installed, this two-stage trigger should offer a very smooth and crisp pull. The Wide Open Trigger was designed for use with .223 Rem/5.56 NATO, but it can also be made to work with 300 BLK and 9mm as well.
The trigger was engineered using incredibly durable Hardox steel, making it extremely rugged and long-lasting. This has allowed the WOT to be tested and warrantied for up to 10,000 rounds—something that can't be said about similar products on the market. The Wide Open Trigger is available and shipping now.
For more information on Big Daddy Unlimited, please visit bigdaddyunlimited.com.
---
More On AR Triggers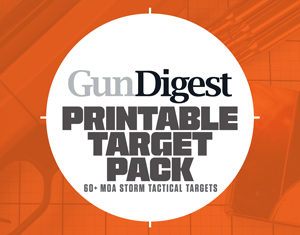 Next Step: Get your FREE Printable Target Pack
Enhance your shooting precision with our 62 MOA Targets, perfect for rifles and handguns. Crafted in collaboration with Storm Tactical for accuracy and versatility.
Subscribe to the Gun Digest email newsletter and get your downloadable target pack sent straight to your inbox. Stay updated with the latest firearms info in the industry.