There's a fine line between secure storage and quick retrieval, but a biometric gun safe can offer the best of both worlds.
When it comes to electronic firearm safes, there are two major types. The first is RFID, and these are usually unlocked via some sort of keycard. The second type is the biometric gun safe, and these ostensibly offer an even higher level of security as they require the correct fingerprints to be unlocked. While someone can steal or spoof an RFID card, it's much harder for them to acquire your fingerprints.
We're going to discuss what they are, how they work, their strengths and weaknesses compared to other types of gun safes and a few biometric gun safe models that we consider to be the best.
So, let's get started.
What Is A Biometric Gun Safe?
Biometric gun safes use a digital—usually battery-powered—lock that takes a reading of your fingerprints, usually the thumb and index finger, and stores them in onboard memory. The pads on the safe read fingerprint impressions, and if they match, unlock the safe.
Typically, the lock mechanism is controlled via a small electric motor that operates the locking mechanism. In some cases, the door of the safe may be assisted with a pneumatic arm.
Early biometric safes were great in theory, but poor in practice. The print reader would either take forever to get a clean pull or took several attempts to get one and had horrendous lag time. As the years have gone on (Moore's Law is a thing) the technology has gotten better, faster and more reliable.
Types Of Biometric Gun Safes
Biometric safes come in a few different styles.
There are some cabinet-style safes for long guns, but pistol safes are far more common. Since biometric safes are electronic, they require power. Some have a battery pack (which you'll have to remember to periodically change) and others can be plugged into a wall outlet.
One of the most common is the top-loading style, with the door opening vertically.
Vault/lockbox-style safes, with the door opening outwards, are also common. These typically have the combination/reader pad on the door or the top of the safe.
There are also a few wall-mounted pistol safes that you must mount to the studs in your wall. When opened, they drop down and release a pistol or two.
You'll also find a number of portable biometric gun safes, similar to any other portable safe only with a more advanced locking system.
Drop-style safes are also out there, though a little less common. They have a hinged floor that drops down when the lock is activated.
Obviously, the benefit to a biometric safe is that you can—ostensibly—keep anyone out of it that isn't you or a person whose fingerprints you also programmed into the safe.
Each design has some advantages and disadvantages. Top-loader safes are perfect for hiding in a drawer but don't work very well elsewhere. Vault-style safes, depending on the dimensions, may be too large or heavy for more discrete locations (such as atop a closet shelf) and wall-mount safes are a no-go if you're a renter and you want to keep your deposit.
Vehicle safes are a Gordian Knot. They either have to be conspicuously mounted in the vehicle (such as those that mount next to a car seat) or they're the small portable variety that anchors to the seat frame. The former is easily seen and can therefore be targeted for theft. The latter is easily stolen if discovered.
Almost all biometric safes have a backup, typically a barrel lock with a key that is supplied to you. Some also include an RFID tag or dongle if they have both systems onboard.
Features, of course, all depend on the safe, but what you must determine is how any gun safe fits your lifestyle.
Is A Biometric Safe Worth It? What Are Their Weaknesses?
Every type of gun safe has a weakness, the question is whether it can be used in a manner that renders them moot or mitigates them to a point of acceptable risk. The most secure safes of any kind are vault-style safes with mechanical combination locks, but they are heavy, expensive and slow to open.
Some biometric gun safes are glorified lock boxes. Thin sheet metal walls can be broken into and the door possibly pried open with a crowbar if it were to be taken in the event of a burglary.
Further, many of them also have cheap barrel locks little better than a common bicycle lock. Easily picked with as little as a paperclip, or simply opened if an unauthorized person gets a hold of the key.
These are all failings common to many different kinds of gun safes. These issues are by no means endemic to biometric gun safes only. Therefore, it's imperative that you select one that has a pry-proof or heavily pry-resistant door design, and a strong mechanical key lock.
Another potential downside is the biometric technology itself.
How often does the fingerprint scanner fail on your phone? Can you guarantee a perfect print if you need to get the safe open in a hurry?
Granted, modern biometric safes are leaps and bounds more reliable than they were a decade or two ago. As software and the reader hardware have improved, error rates have dropped and the quality models have gotten less touchy.
RFID safes can lack those issues and so can digital combination safes, but even those have lag time.
Then we come to the issue of hacking. Biometrics can be easily hacked, and an RFID system can be easily hacked as well. Any electronic system has a way to exploit it.
You need to consider what kind of safe best fits your needs. Biometric safes are just one option. Even affordable models of today can work well, but they have weaknesses like any mechanical or electrical system. Understand them and make your choice accordingly.
What To Look For?
The ability to quickly retrieve a firearm is paramount for many interested in a biometric gun safe. For fast access, the top-loader style is best and it can be easily concealed. The wall-mount pistol safe and drop-down styles are also a good fit, so long as you can install one (again, renters may not be able to) or you can have a safe that drops open, meaning you need to mount it under something.
Also, look for the read time. You'll usually find the time to unlock advertised by the manufacturer. Less than 3 seconds is good, less than 2 is better.
Look for safes that have at least one backup access type. A simple barrel lock is not the most secure thing in the world, but it's better than having to rely on human memory.
Look for the strongest possible locking mechanism. Vault-style safes with solid steel locking bars are more secure than lockboxes with simply barrel locks or hook locks, as they are far harder to break.
Interior illumination is a good feature to look for too, and for obvious reasons! So is the ability to run on a power supply rather than batteries.
What you want to find is a safe that offers the greatest amount of security that you can get, balanced with the potential speed of access.
So, what are some good biometric safes to look at?
The 5 Best Biometric Gun Safes
Barska Biometric Security Safe
This safe is a compact front-facing safe with dual steel locking bars, 2mm steel walls and a 5mm steel door. Interior dimensions are 16.4 inches wide, 12.25 inches deep and 6.8 inches tall, which is enough to accommodate up to two pistols.
The time to open is 2.5 seconds, and the lock is powered by 4 AAA batteries with an anticipated runtime of 1 year. The secondary lock is a hexagonal key, of which two are included. The safe has additional holes if you wish to mount it to a shelf or nightstand.
This would be a good pick for a nightstand or shelf top safe for one or two handguns, with a good mix of speed and security. Street prices are just under $200.
SecuRam ScanLogic By Liberty Safes
One of the best, most trusted and most popular gun safe manufacturers in the US is Liberty Safes. Any one of their gun safes can be upgraded by adding the company's SecuRam ScanLogic lock, which includes both a digital keypad and a top-mounted fingerprint scanner.
The SecuRam lock by ScanLogic processes prints in as little as 1 second, and can be added to any Liberty-brand safe that has an electronic lock system. You can either have a safe upgraded by Liberty when you order it, or have a factory dealer technician upgrade your existing Liberty safe.
The lock is an extra $275 and runs off of either a 9V battery or AC power.
OSPON Portable Gun Safe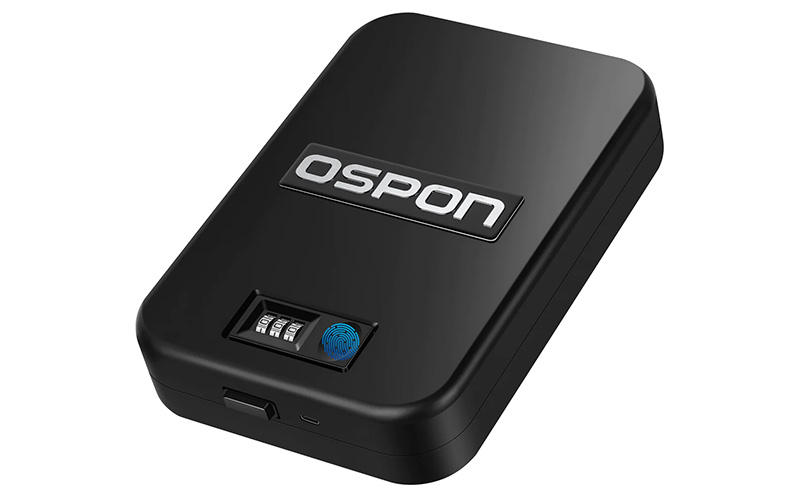 The OSPON Portable Gun Safe is, as the name states, portable. It's essentially a high-tech lockbox that can serve as a vehicle safe. It's compact, so it can slide under a car seat, and includes a steel tether cable.
It has an onboard thumbprint reader, powered by a rechargeable battery cell that charges via USB-C, and a mechanical combination lock as a backup. The shell is 16-gauge steel.
It can accommodate one full-size pistol, or possibly two micros, and will stow easily and can be tethered under a car seat. Prices are usually around $50.
Viking VS-12BL Biometric Wall-Mounted Safe
The VS-12BL is a good pick for a wall-mounted safe that will fit one to two pistols and some valuables. It has a solid feature set and a reasonable price tag. While not designed to be set in the wall, it could be.
The safe is 14.5 by 11.75 by 5 inches, with a recessed 5mm steel door and a removable interior shelf. The interior is carpeted and has an integrated LED light. The biometric lock uses an optical sensor rather than a semiconductor for more reliable reads, and a digital combination pad and key lock (with keys included) are also on the safe as backup access methods.
The VS-12BL is powered by four AAA batteries and registers prints in less than 1 second for fast access. Prices start around $200.
Vaultek RS
The Vaultek RS series are biometric rifle safes, with storage space for long guns and modular storage racks for storing magazines, ammunition and handguns.
The steel door (which is spring-assisted for fast opening) has four steel deadbolts, operated by the biometric scanner. A digital PIN pad is also included as is an emergency access key. Interior LED lighting and proximity-sensing lighting for the access pad are also included, as is WiFi connection for remote monitoring.
An RFID SmartKey can be added, as can other accessories. Power can come from an 18650 battery or the safe can be plugged into an outlet. The two-gun model starts at $1,299, but five- and eight-gun models are available as well.
---
Secure More Gun Safe Knowledge: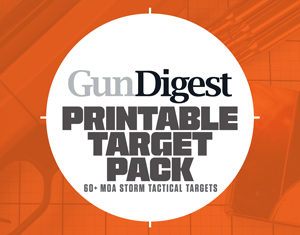 Next Step: Get your FREE Printable Target Pack
Enhance your shooting precision with our 62 MOA Targets, perfect for rifles and handguns. Crafted in collaboration with Storm Tactical for accuracy and versatility.
Subscribe to the Gun Digest email newsletter and get your downloadable target pack sent straight to your inbox. Stay updated with the latest firearms info in the industry.