Texas Parking Lot Gun Law Under Attack
September 1, 2012 was the one-year anniversary of Senate Bill 321 taking effect in Texas. Supported by the National Rifle Association (NRA), SB 321 was an employee parking lot gun law, signed into law by Governor Rick Perry in June of 2011.
In a nutshell, the law prohibits employers from banning storage of firearms in employee vehicles parked in company lots.
Recently, NRA asked Texas gun owners to be on the lookout for employers not following this parking lot gun law. As an NRA press release noted, "We have already received information about companies that are misinterpreting the [parking lot gun law] or ignoring it altogether."
"In order to comply with this [parking lot gun law]'s provisions, most employers in the state have amended their policies to allow the transportation and storage of firearms in locked, employee-owned motor vehicles parked on company-controlled parking lots. However, the NRA needs your help to ensure that no hard-working, law-abiding Texans remain disenfranchised by employers who refuse to abide by this [parking lot gun law]. Please notify the NRA-ILA by email of any examples of company policies that continue to violate the spirit and intent of the statute, and any instances of employees being disciplined or terminated under such policies."
Of note, SB 321 did not authorize an employee to possess firearms on any property where such possession was prohibited by state or federal law. In addition, the provisions of the parking lot gun law did not apply to vehicles owned or leased by the employer and used by the employee for work purposes.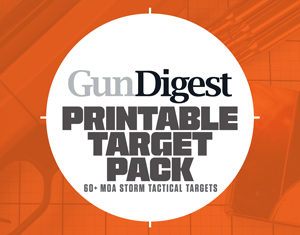 Next Step: Get your FREE Printable Target Pack
Enhance your shooting precision with our 62 MOA Targets, perfect for rifles and handguns. Crafted in collaboration with Storm Tactical for accuracy and versatility.
Subscribe to the Gun Digest email newsletter and get your downloadable target pack sent straight to your inbox. Stay updated with the latest firearms info in the industry.