Guns, gear and ammo found at the first day of SHOT Show 2020.
The first day of SHOT Shot 2020 is under our belts and there was plenty to see. As for any major world-shaking announcements or releases? Not so much. But that doesn't mean there was some cool new guns, gear and ammo coming down the pipeline.
Underwood Ammo
That single round of 9mm Underwood Xtreme Defender might not seem like big news, but it'll get fans of the solid copper ammo soaring. Why? Because it has the same incredible performance shooters have come to expect, but at a much more affordable price.
Company owner Kevin Underwood said a box of 20 would run around $10 less than they currently do, averaging around $20 per box. At two years in the making, it wasn't an easy project for Underwood to pull, having to do with how the bullets are machined. But expect the manufacturing process to hit more calibers and save you money as time marches on.
Mossberg 940 JM Pro

Mossberg's new competition shotgun was at range day, but it was one of the few guns I didn't shoot. Not out of disinterest, but the thongs lining up to squeeze its trigger. Dry running the floor model's controls, it's partly understandable why the 12-gauge proves so popular. The gun is intuitively laid out and made to shave seconds. Of particular interest was the loading gate, which was made wide as possible and easier to load. A key point in shotgun stages and something Mossberg put a lot of thought in giving shooter an edge with.
Kimber K6s DASA 4 Inch
It was unfortunate Kimber missed Range Day. After handling the 4-inch DASA K6s DASA revolvers in the booth, it felt like I missed out on something at the firing line. Both the Combat and Competition models are well balanced with what might be one of the smoothest double-action triggers around today.
I found the Combat the more intriguing of the two, given its sights. The sights are low profile. Really low. But when you build a sight picture, it's as clear as if they were target sights. Kimber achieves this by milling out the top of the frame a bit. Simple, but elegant.
Fort Scott Munitions 6.5s
A somewhat newer ammo company, Fort Scott has come on strong. They load spun copper bullets, mainly for hunting, and with devastating results. Tumble Upon Impact (TUI) ammo does exactly what its name suggests, creating a vicious wound channel along the way.
The company is now bringing this terminal advantage to the 6.5 Grendel this year with a wicked 123-grain option. Moving 2,538 fps at the muzzle, it should prove a potent hog round. Also for six-and-a-half fans, Fort Scott added a 130-grain 6.5 Creedmoor option alongside its existing 123 loads.
Uintah Precision
Uintah Precision occupies a unique place, producing bolt-action upper receivers for AR-15 rifles. This year the company has expanded into full rifle builds with the UPR-15 and UPR-10, chambered in .224 Valkyrie and 6.5 Creedmoor respectively. They're feather light, thanks in part to a Proof Research carbon-fiber wrapped barrel, and seem like just the thing if you're looking for a mountain gun.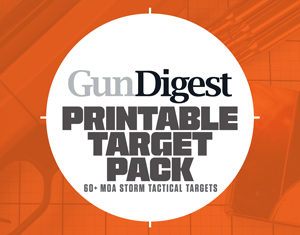 Next Step: Get your FREE Printable Target Pack
Enhance your shooting precision with our 62 MOA Targets, perfect for rifles and handguns. Crafted in collaboration with Storm Tactical for accuracy and versatility.
Subscribe to the Gun Digest email newsletter and get your downloadable target pack sent straight to your inbox. Stay updated with the latest firearms info in the industry.